Just when I let go, I entered the flow
and began to see I was being led

from one lesson to the next,
preparing me for the next adventure to come.
~ Amanda Salsman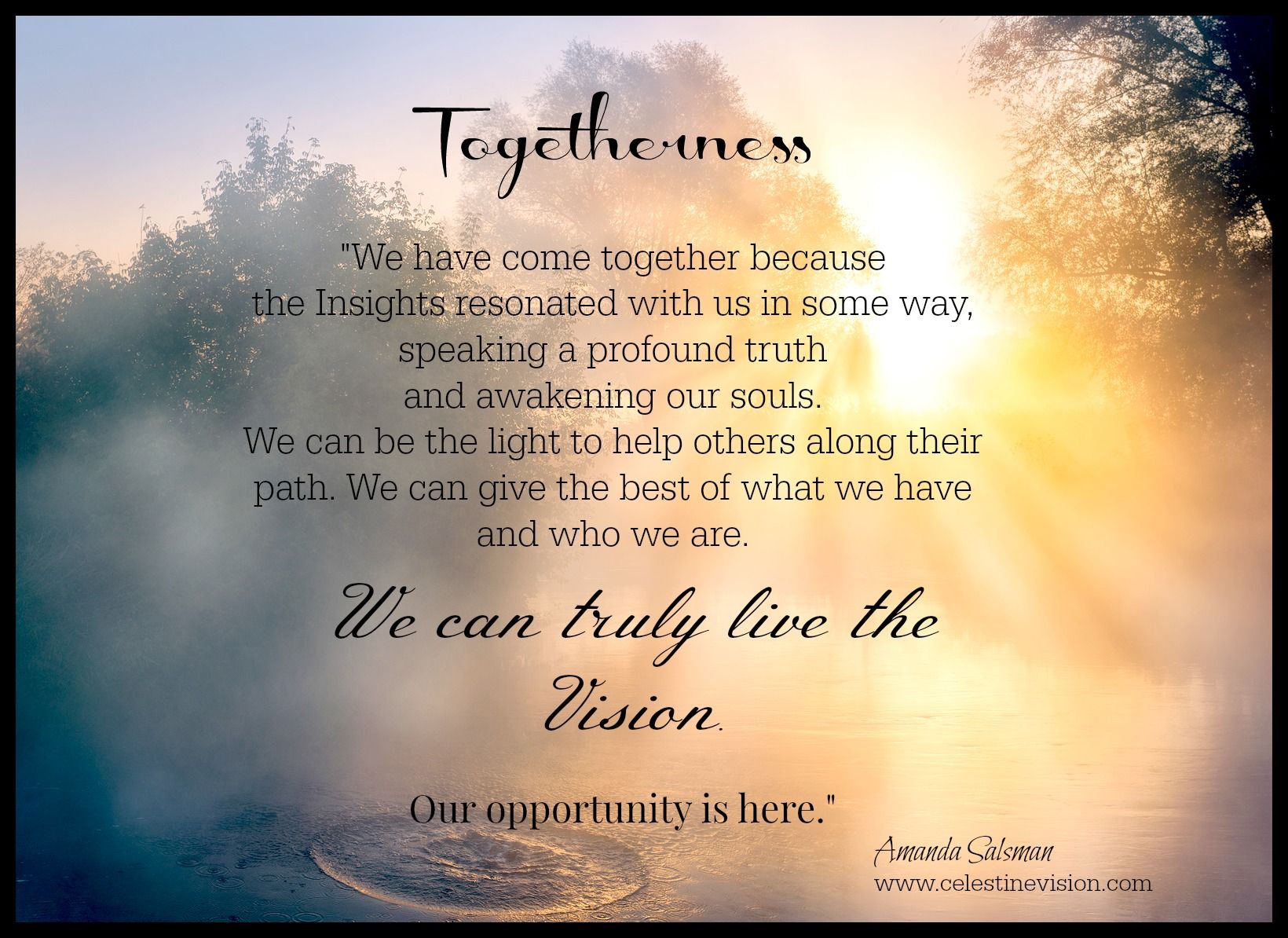 The Celestine Prophecy tends to be a book that finds you only when you are ready to hear its message. For me, it remained elusive for 20 years after it was published, until, quite coincidentally, it was unknowingly given to me by my sister. For most people, after reading the book, there is a surge of energy, a knowing, a familiarity, and a drive for more. It took me almost a year to find out there was a series of books and Experiential Guides too. But, one of the first and greatest discoveries I made was the online communities. 
Being in the Synchronistic flow opens doors to you, opportunities are plentiful, and you are shown the way towards manifestation. All you need to do is to stay in your truth, trust your Intuition, and let the flow guide you towards your destiny. And, bucket loads of patience if the timing is just not right.
I instantly knew I was home when I joined The Celestine Prophecy Insight Chatting group. This was the place I dreamt of my whole life. Candella, the creator of the group, the admin team, and a sense of community were the answer to a lifelong prayer.
It took me a few months to find my way, but as I learned how to embrace the Eighth Insight, I realized that I found the family I always wanted growing up. This was a group of people who: accepted me for who I was—loved me despite my imperfections—have known the insights for years and were willing to teach me the way—embraced me—supported me through my struggles—cheered me on through my victories—taught me about life, relationships, respect, boundaries, bonding, and harmony within a group.
A Sense of Community
All these books James has written are a beautiful gift to the world, but it wasn't until I joined a community that I really began to learn and grow and implement the insights into my life. I believe James has provided a destination for us and the books serve as a map to get there. Throughout our lives we will each read that map differently, traveling on a distinct path that calls to us.
It is in the togetherness that those paths light up for us. Some of us may be crawling in the dark, some may be learning how to stand, some may be walking steady, and some may be running along. We are where we are meant to be. This journey isn't a competition. It is our lives; each one unique, yet, at its core, the same, making us all One.
We have all come together here because the insights have resonated with us in some way, speaking a profound truth that has awakened our souls. We already witness them happening in our lives. We see it. We feel it. We are living it.
The Critical Mass is rising…
…and we recognize that it is time for Celestine Vision to grow and expand with a space for us to come together as One, to learn, to grow, "to lead global change and bring spiritual awareness to our world." Our Celestine Community has been created for all of us to help deepen our spiritual connection and find a more inspired and meaningful life.
Now it is the time that we share it.
There are so many people out there still feeling the restlessness of their lives and searching for a better way. There are even some that know about the Insights, and read the books, which have yet to experience the blessings of being part of a supportive community. We can show, by our actions, what the Vision is. We can be the light to help others along their path. We can show unconditional love by reaching out a hand to walk side by side for a while until they find their way. We can give the best of what we have and who we are. We can speak our truth, follow our intuitive guidance, enter the flow, and let our destiny unfold.
We can truly live the Vision.
Our opportunity is here.
"By sharing our positive energy within our communities, we can ignite sparks of inspiration in others."  

You can join our Free Facebook Groups here:
Celestine Vision Community      Celestine Prophecy Insight Chatting.
---

We would also like to invite you to subscribe to our Celestine Community—a private social networking and learning platform—offering a sacred space to connect with others, raise the collective vibration, and find support through life's struggles. Because this exclusive area is offered for a monthly subscription, we want to ensure that you receive value from your membership. With your privacy as our priority, The Celestine Community is built on a secure platform, free from ads so you can be assured to never be distracted from your community interactions.
This is a place where you can: 
Interact in conscious conversations with James, the Celestine Team, and our Community Members in the discussion forums
Participate in Q&As on Zoom video
Attend exclusive Live Video Community Events and Workshops 
Join James for a private gathering after each public FB Live Global Prayer Meditation.
Obtain free admission to our exclusive offerings and content
Gain instant access to our growing Video Library
Attend webinar's hosted by Kelly Redfield


BONUS!!  Receive free entry to the Inspiration Tour Events. Due to having to cancel the "in-person" Inspiration Tour, future events will be held exclusively in our Celestine Community

and much…much more to come!!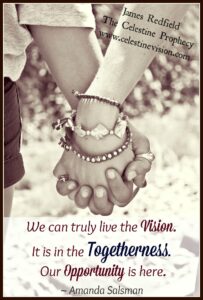 As the community grows, our members will be the first to hear about all of our new initiatives, offerings, and content. Some future initiatives we are excited about are hosting guest speakers of some of your other favorite authors and influential speakers, introducing the enneagram before James' next book is published, various courses and workshops, group coaching, contests and challenges. 
We envision the Celestine Community as the place that connects the Critical Mass on a global level, a place that gives everyone that feeling of coming home, where we can all truly feel seen, heard, known, and accepted for who we truly are.
.
---
.