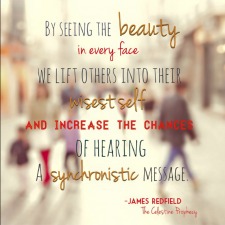 synchronistic flow
I just returned from an interesting trip to Sedona, Arizona, a long time favorite place of mine. Sedona never fails to surprise me. Driving into the larger Oak Creek Valley, surrounded by huge, towering, red rock formations, I was immediately lifted into a state of high alertness and Spiritual Connection. Almost automatically, I found myself waiting for the first Synchronicity. The only thing holding me back was a pulled neck muscle, which had been bothering me since an errant golf swing strained something a couple of days earlier. I tried to ignore it.
As soon as Salle and I arrived, we wandered uptown and found ourselves in a "Rock Shop," which has hundreds of mineral rocks, important in the mythology of Native Healing. They had everything from crystals to mood enhancing Lapis. I looked for my favorite, Blue Celestite, commonly called "Celestine," but they did not have any. Just then, I overheard the manager talking about Madagascar, the island off Africa. Salle and I had just been talking about our dog, Toby, a "Coton," whose breed is from Madagascar. We looked at each other.
"Was that a Synchronicity?" I asked myself. "Blue Celestine" also comes from Madagascar! Where is all this leading?"
When I talked to the Manager, he said he believed he had some of the Blue Celestine at his other store, a few blocks away and told me to ask for his wife.
When we arrived, believe it or not, she was also on the phone talking about Madagascar!  Indeed, Synchronicity was at work here. But I quickly found out it wasn't about the Blue Celestine. When I glanced on the wall, I could see she was an energy healer.  I believed  Synchronicity was pointing me to this healing, and I booked a thirty-minute appointment. The strain in my neck never bothered me again. Sedona at work.
Unfortunately, while it is easy to catch the Synchronicity in Sacred Sights, such as Sedona, most of us live in lower energy locations, where staying alert for mysterious coincidences is much harder. What is the key? We all have to "remember to remember" that Synchronicity exists!
Human culture is waking up from a mostly materialistic outlook in life. Granted, gaining a material focus was an important step for humankind by creating the habit of using logic and eliminated most of the more damaging human superstitions. But this step in human evolution also dishonored intuition and the miraculous nature of our Spiritual Connection.
So, to be spiritual today, we need to shake off the lulling sleep of the material world and remember that the Universe is really much more mysterious. To live the most exciting life we can, we have to remind ourselves that our spiritual birthright is to be Divinely guided and protected by a mysterious flow of Synchronistic Information.
This information usually arrives at just the right time, to uplift our existence with a burst of aliveness.  It is the way we gain solutions to everyday problems and a piece of the puzzle concerning our life purpose. To keep this flow going, we all have to remember to wake up each day expecting a mysterious guidance to arrive. Do whatever it takes. Put a sign on your bathroom mirror. Have a friend call each morning. Set an alarm message on your phone. Just remember to pay attention to the mysterious coincidences that are coming into your life.
By the way, I also bought some Blue Celestine, and I was reminded about its key esoteric property: Helping us stay in touch with our higher guidance. Is this fun or what?
To learn more, listen to the CV Podcast: The Big Picture – The Keys To More Synchronicity