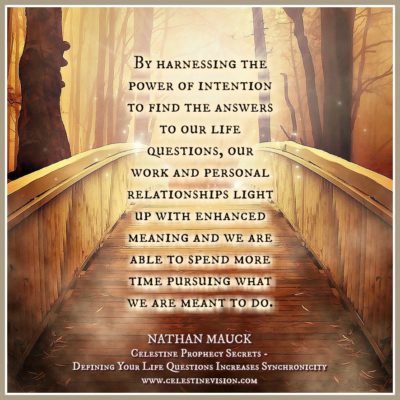 Leading up to the birth of our first child, my wife and I thought a lot about our parenting goals. We realized that we most wanted to be useful guides for our kids, especially on big picture issues. It became clear that first I needed to think more seriously for myself about the timeless questions. A wide variety of preoccupations made it all too easy to try to shove away life questions in favour of the safety of the familiar.
At that point, I was not familiar with the word synchronicity and I wasn't clear where to begin. My dad had read The Celestine Prophecy and gave me his copy, but it sat unread on my bookshelf. After I had clearly defined my most pressing life question, I remembered the book and reading it seemed like a natural next step. The Insights from the book lead me to new questions, which encouraged me to explore more resources and skills as I began to move from insight to ability.
For me, once I clarified my life questions and realized that true comfort only comes from a pursuit of a deeper spiritual path, synchronicities started to flow. From that point forward I've had many similar experiences of receiving answers after identifying questions.
How To Stay In The Synchronistic Flow
We begin our exploration of a spiritual path as described in the First Insight by recognizing there is more to the world than the purely secular. This awakening leads us to ask about our purpose. We intuit that there is something important for us to do.
If we continue to explore our mission, we find that certain topics are particularly pressing at that moment. By keeping life questions front of mind, synchronistic events unfold and we quickly find answers. Our purpose in life will come into focus and we will receive the help we need to realize our vision of our best selves.
Following this process is a sustainable and interesting way to stay in the synchronistic flow. Identifying and remembering our key goals will activate more synchronicity and keep us from sliding into distraction.
Opening Up New Possibilities
Ideally, we would be able to utilize all of our day as an opportunity to learn and deepen our spiritual approach. Instead of ploughing numbly through the day's activities, we can remember our life questions and see how our to-do list fits. In this way, we harness the power of intention to find answers. Our work and personal relationships will light up and become more meaningful.
The more success we have seeking and finding, the more we learn to trust the power of focusing on life questions. A state of expectant awareness where we wait for answers often speeds the rate at which synchronicities come our way. Our personal evolution moves steadily forward and we are able to spend increasingly large portions of our time pursuing what we are meant to do.
Getting Started
While understanding the process is important, actually taking steps to put knowledge into practice is the key. The best way to start is to make time to see what questions are most relevant to us right now.
The beginning and end of the day are good opportunities to take some time and ponder our goals. As you make discoveries, keeping track by writing in a journal can really get things moving. For some it is easy to remember, but for me I know that making and reviewing notes helps me to focus and make connections I would otherwise miss.
Once we've identified the most pressing questions in our lives, we are ready to establish a method to continue bringing synchronicities through intention. Experiment with this and find what works best for you. Sometimes it is tempting to rigidly hang onto one question and ignore everything else. This can be limiting as sometimes answers come in ways we wouldn't expect. It is even possible that we will receive answers before the questions are clear to us.
Communicate with people who share a serious interest in establishing and maintaining a flow. Sharing authentically can give us needed energy and lead to more synchronicities that often come from interactions with others. Not everyone is there yet and you'll find many people who laugh at the idea of synchronicity. But, if we continue to explore our life questions we will quickly discover the unfolding answers for ourselves. The result will be positive change for ourselves and the world.
To be kept up to date with our latest Celestine initiatives, subscribe to our CV newsletter.