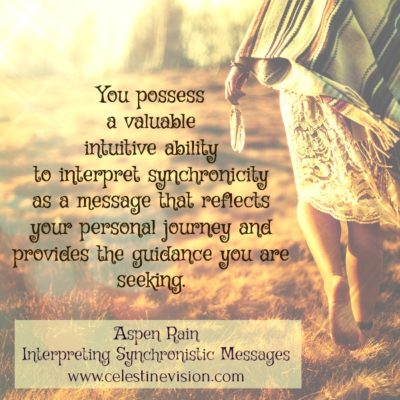 Recognizing the synchronicities of the universe is often the first step to discovering and mastering your internal compass. Growing up Native American, I was taught to look for signs or messages and to pay attention to dreams and intuitions. As a young child, I was already recognizing the synchronicities of the universe as a way to find direction and meaning in my life. Some people may know this practice as a Vision Quest.
The Vision Quest 
A Vision Quest is essentially when someone enters the wilderness in isolation to gain insight regarding their purpose in this lifetime. Entering the wilderness in isolation is an important aspect because it decreases the effect of co-creation. When a person is isolated, they (alone) create their immediate environment. This allows for their immediate environment to respond only to their energies. The environment will be free to produce synchronicities that reflect the individual. When the individual recognizes these synchronicities as messages, the messages can provide the guidance the individual was seeking.
This practice is not only for youth. It can occur multiple times in a lifetime. The first Vision Quest is a big event because it is when we learn to use synchronicities as an internal compass. Afterwards, synchronicities can become daily occurrences wherever you go.
Everyone possess valuable intuitive gifts
Native Americans believe that certain animals are messengers from the Creator. When one of these animals is witnessed during a Vision Quest, it means they have an important message for us. We, as the individual, will observe the message and then interpret it. Messages can come from elemental spirits, our ancestors, or our spirit guides. Interpreting the message requires the use of one's intuition so it is necessary that one learns how to discern it from their Ego. This is often the tricky part. There is a common belief that only certain gifted people are psychics or intuitives. This is just not true – everyone is intuitive. Many of us have unintentionally learned to question, or even to completely disregard our intuition. It is understood in Native American culture, that everyone possesses valuable intuitive gifts.
Recognizing the synchronicities and interpreting the messages gets easier with practice. The benefit of a Vision Quest is that you can learn the difference between your intuition and your Ego relatively quickly. During a Vision Quest it is customary that the individual has been fasting for several days and thus the Ego is mostly dissolved in this state. Other methods may be used to dissolve the Ego such as trance (as done in the Sun Dance), the use of entheogens, meditative practice, etc. Despite all these methods, I found the best way to recognize one's intuition is to just simply use it.