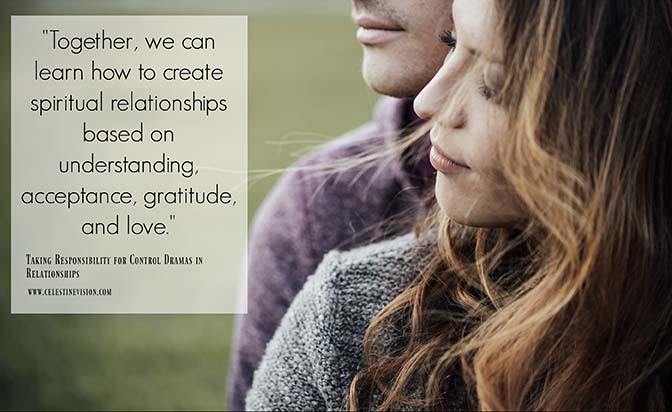 As Autumn and I were discussing her article, Letting Go of Anger in Relationships, we realized how much it resonated with my own relationship. Our stories may all be slightly or even totally different, but we can all relate to each other once we have an understanding of how we compete for energy.
I think knowing this is amazing because it proves to me that every one of us has worth in our own unique way. We each are holding a piece of the bigger picture. By sharing our authentic truths through our unique stories, we are able to extend a hand out to those who are struggling and may need to be reminded that they are not alone. Together, we can learn how to create spiritual relationships based on understanding, acceptance, gratitude, and love.
My fiancé has no interest in spirituality, which has caused some arguments since I began my own journey. We have different perspectives on what is right and true for each of us, how to raise our children and the validity of the spiritual teachings I have been learning. In addition to the difference in opinions, we also had various other common relationship issues. The struggle for power was so great that I lost everything about who I was to the point that I didn't recognize myself anymore. My friends and family had been telling me about the warning signs they had noticed through the years, but I was so caught up in my Poor Me Drama that I couldn't see a way out.
Eventually, I found the courage to make the decision to end our relationship. While we were separated, I felt just enough freedom from the control he had over me to be able to see how I gave up all of my power and had fallen into a pattern of blaming him for all the choices I made for myself. I knew that he needed to understand how he had contributed to the problem, but I was determined to find out where I also went wrong.
Together, we read The AIR In My Bubble, (an article on celestinevision.com by Candella). In her article, Candella discusses being open to each others' different perspectives, how to recognize when we were not communicating respectfully, and the benefit of relationship counseling. Over time, we chose to keep our family together. Even though my fiance' still has no interest in joining me on my spiritual path, we do share a common goal to improve our relationship and support each other in breaking the cycle of our pasts that would, in time, negatively affect our children.
It's not always roses and sunshine, and we still use our control dramas, but we have taken the first step towards a deeper Spiritual Connection by deciding to invest in creating a more loving relationship.
CREATING AWARENESS
Everyone has their primary drama, but we are capable of using all four of them, depending on which one works in the moment. I believe the first step we must take, as stated in the Experiential Guide, is to create awareness of why we use our control dramas so we can understand how we continue the cycle and patterns of seeking control.
My primary drama is Poor Me, and my fiancés' primary drama is Aloof. We play these out on a regular day-to-day basis as if it's just naturally who we are. We learned them while growing up, and they are so ingrained into our psyches that we hardly notice when they are happening. Yet, we can easily identify when the other is playing the role.
If you and your partner are looking to create a more harmonious relationship and want to overcome your control dramas, working together as a team will make it easier to acknowledge when you are both falling back into old patterns. For this to be successful, it may help to set some guidelines that you both can agree on, such as:
Upon noticing the drama, ask how your partner is feeling.
Stay calm and speak with kindness, without calling out, shaming, or blaming.
If needed, detach to refill your energy and come back when calm and rational.
Be gentle with yourself and your partner. Show compassion and empathy.
Listen without interruption and give each other space to express yourselves fully.
Allow the process to create a stronger bond between you, letting go of resentment, which will bring you closer to unconditional love.
For many of us, unfortunately, the ability to work together with our partner toward overcoming how we are competing for energy in our relationship is just not possible. Try as we might, if we are on a spiritual journey and our partners are not yet ready to transcend the old worldview, it can feel like we are constantly fighting a losing battle.
At this point, I have to accept that he is not yet ready to clear the past and overcome his drama, and that is okay. What I can do is begin to take responsibility for my own reasons for stealing energy.