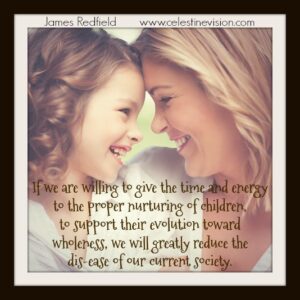 The Eighth Insight stresses that children, as the end points in evolution, need unconditional energy flowing toward them in order to evolve. In order to thrive, they need to be around adults who can give them physical, emotional, and mental nourishment. As the Insight points out, draining their energy while correcting them creates control dramas.
To develop into successful adults themselves, they require one-on-one interactions with people of higher maturity levels. Children learn to trust the world and their own place in it when they are spoken to honestly and included in conversations and decision-making appropriate to their level of understanding.
What Really Is Happening
The problems children are experiencing today are the outgrowth of a profound change in parenting. In the past eight decades, the urbanization of our society has completely altered the foundation of how children learn to become adults. Humans have traditionally been tribal beings, creating communities for survival.
Up until the 1930s, children were predominantly raised in families with a range of adults at various stages of life – uncles, aunts, cousins, parents, and grandparents – spending several hours a day together. But the nuclear family has been disintegrating, bringing, in many cases, debilitating isolation and fragmentation. Today the interaction between child and parent has been reduced to a few minutes, and this is often mainly spent in assigning tasks or negative and accusative dialogue ("Where have you been?" "Why don't you do your homework?" "Put away your clothes"). In many cases, the child does not feel unconditional love or acceptance and must compete for his harried parents' attention.
Self-Worth Is Declining
Not only are children left to fend for themselves as parents work, but their self-esteem also suffers from a lack of meaningful activity. In previous times, boys and girls had jobs to do that were important contributions to the overall maintenance of the family. Gardening, tending animals, cooking, washing and hanging clothes, caring for siblings, and cutting hay were activities that had consequences if they were not done. Doing them automatically built a sense of competence and taught the value of following through.
Today's children are too often raised in a passive way. This gives them little or no opportunity to find their identity and recognize their talents before they are thrust out into a society that is increasingly more specialized and technical. Through television, films, phones, and video games they participate in life only as spectators or consumers of entertainment. Their ideas about problem-solving and coping with life are learned from larger-than-life heroes who plunge through experiences with arrogance, violence, and magic.
In the past, with an extended family, children had more opportunities for learning about the opposite sex and integrating both sides of their nature. Without these options children turn away from inadequate adult connections toward their peers, in whose midst they feel significant and energized. However, they cannot learn how to be an adult from those who know no more than they.
What Can We Do To Improve The Parent-Child Relationship?
In many ways it seems as if the causes of delinquency, violence, and intellectual deterioration are mysteriously beyond our control. But if we are willing to give the time and energy to the proper nurturing of children, to support their evolution toward wholeness, we will greatly reduce the dis-ease of our current society.
What we must share with our children is our own spiritual process – teaching them our own understanding of the world. After that, we need to let them go on to their own path. At times, it may look as if they are going to extremes. However, if we have done our job of helping them believe in themselves and their capacity to live life according to their own values, then we need to trust them to find balance.