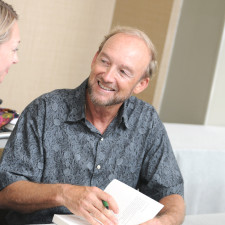 Why is this informational website (celestinevision.com) initiative so important to you?
We launched the learning platform on Celestinevision.com in 2015 because we feel humanity has reached a pivotal time in history. Millions of people are searching for a higher, spiritual consciousness. This is happening because we are no longer satisfied with a materialistic or Atheistic outlook. At the same time, others are locked into a fear-based pursuit of war and hatred. The course to breaking out of fear is for enough of us to live and talk about the experiences of Spirituality, as well as finding and connecting with the Divine part of ourselves. This gives us the inner security and life purpose that can spread this awareness to others.
This higher consciousness is growing, person to person, at local levels. Celestinevision.com is dedicated to bringing together all of the relevant information needed to build spiritual awareness and a healthy way of life. We aspire, through this website, to help create a community of people who, together, can spread a new vision of life and higher calling, just by exemplifying and living this consciousness.
What are your plans for your website?
The website is in the infancy stages. We hope to have a large scale, conscious-living website with daily content added content from many different writers/bloggers. We are developing many new projects starting with:
A community area for The Global Prayer Project, which will feature a weekly organized group Prayer for the World with discussions, forums, and prayer circles. It will also feature a Prayer Wall where users can ask for personal prayer request and members can pray and send their love through the comments option.  Lastly, The Global Prayer Project community will feature a journaling application which can be shared with the group or left private.
See More about The Global Prayer Project
We are working to develop an Online Study Course, which will provide further education on all aspects of life and spirituality, including the 12 Celestine Insights and the Control Dramas.
A Find-Your-Dream platform area for cultivating your talents, passions, goals and dreams for your life.
Lastly, one day we hope to have a Profit Sharing Effort to support each other as we purchase goods to enhance our life (from organic food and supplements to our children's school supplies, to our household needs, etc).
What are your plans for the Celestine Vision Community Radio Show, and how can we participate?
The Radio show is currently on hold for the moment, as I am focusing mainly on my new book (see my book blog.)
We have recently created a podcast of each show. You can find these podcast available through www.celestinevision.com or on Itunes.com and Stitcher.com.  I am currently planning to incorporate video – webcast teaching and meditation sessions and eventually lead interviews with others working to make positive changes in the world.   Please send your questions, comments and thoughts to webdirector@celestinevision.com.
Listen to The CV Radio Show Podcast
Is The Celestine Prophecy real? Did it really happen?
All of the insights are true. The Celestine Prophecy is a novel based on my actual spiritual experiences and the experiences of others. It was meant to illustrate the very real human spiritual consciousness and see spirituality lived through a fictional, adventure story.
Read my article – The Deeper Meaning Of The Celestine Prophecy
How did you come up with the concepts in your books?
My ideas grew from my spiritual interest, and by educating myself. Also from the trend in psychology to talk about the human potential: everyone has to grow, expand, and transform into a greater person than thought possible. I found a place there to assert that the process is not just psychological, but a spiritual process of growth as well. I believe it always happens through these steps of awakenings as described through the insights in the Celestine series of books, totaling now 12.  I think we now know all that is necessary to open up to a greater Spiritual Consciousness.
Read My Story
For the novice, can you explain Celestine Insights and Messages?
In my book, THE CELESTINE PROPHECY, I describe a series of Insights that are fundamental to a true Spiritual experience. To live a fully spiritual life, we must individually discover these Insight experiences for ourselves. These revelations are not difficult to encounter and are rapidly becoming more recognizable with people from all cultures and religious backgrounds. Each Insight marks an inspired step forward in personal spiritual consciousness.
Over the four books of the Celestine Prophecy series, what is the significance of the 12 Key Insights you describe?
These Insights consist of becoming aware of one's Life Purpose, Inner Intuitive Guidance, the Control Dramas that might be holding us back, and most importantly, a force called SYNCHRONICITY that operates in our lives.
To learn more visit the 12 Celestine Insights Page