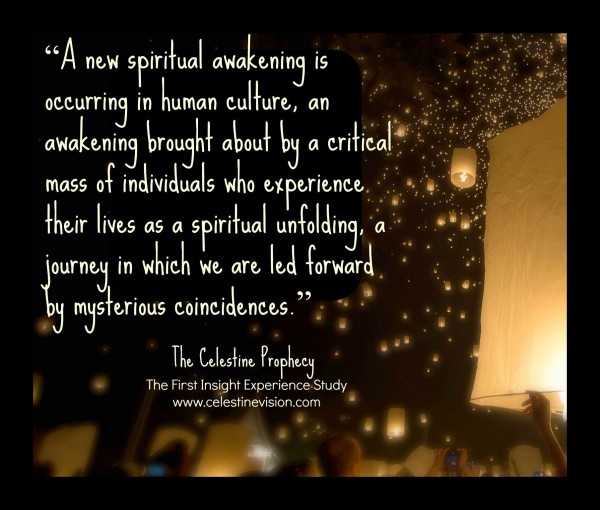 The First Insight: Experience Study
"I don't think that anything happens by coincidence. No one is here by accident. Everyone who crosses our path has a message for us. Otherwise, they would have taken another path, or left earlier or later. The fact that these people are here means that they are in our lives for some reason."
The Celestine Prophecy

Have you ever experienced a coincidence you can not explain?
Have you ever had a hunch or intuition concerning something you wanted to do? -A course you wanted to take in your life and wondered how it might happen? And then, after you had half forgotten about it and focused on other things, you suddenly met someone or read something or went somewhere that led to the very opportunity you envisioned?
These coincidences are happening more and more frequently and…when they do, they strike us as beyond what would be expected by pure chance. They feel destined, as though our lives had been guided by some unexplained force. The experience induces a feeling of mystery and excitement and, as a result, we feel more alive.
You can get in touch with the most exciting part of life. That is, watching the mysterious coincidences happen that lead us toward a particular destiny and in believing that our lives are going somewhere that will help to make the world a better place.
The First Insight occurs when we become conscious of the coincidences that are meant to fulfill our potential and purpose.

What Happens First
The transformation is beginning with the First Insight, and…this insight always surfaces, unconsciously at first, as a profound sense of restlessness.
Most of society's recent ills can be traced to this restlessness and searching. But this problem is temporary, and it will come to an end because we're finally becoming conscious of what we are actually looking for, and of what this other, more fulfilling experience really is.  We're all looking for more completion in our lives, and during this search, we won't put up with anything that seems to bring us down.
We begin to glimpse an alternative kind of experience… the moments in our lives that feel different somehow, more intense and inspiring.  We don't always know what this experience is or how to make it last, and when it ends we're left feeling dissatisfied and restless with a life that seems ordinary again.

Chance coincidences are meant to happen.
"Meaningful coincidences" are tiny miracles steering us toward the good life and showing us that there is another side of life we have yet to discover–some other process operating behind the scenes. They are always seeking first, to awaken us, and then to allow us to be guided by a spiritual connection.
Such events, when they happen to us personally, always give us a sense of unfolding purpose.  What's more, we are understanding now that this flow of destiny is always there, whether experienced for the first time or rediscovered after being sucked back into the banal life of everyday struggle for a time. Age has no relevance here. The key is to grab hold of this awareness and not let go. You will have a Divine sense of what most inspires you, and it is always waiting to open up in your life.

Learning to Notice Synchronicity
We have been disregarding miraculous or chance happenings as nothing to seriously consider or as anything that could remotely have an intended purpose or provide a sense of direction. The first insight occurs when we become conscious of the coincidences in our lives and understand their meaning.
Such Synchronicity is easy to see in retrospect, as we look back to the fateful twists of our pasts: the family experience that shaped us, the people who influenced our early interests and educational choices, the forks in the road that led us to where we are today.
Much harder is to keep this awareness fully operative in the present. Whom will we meet today? What information might arrive that will shape our life direction?
A Synchronistic event can be information leading you to an opportunity made possible or a dead end and complete change in direction. Both occurrences are meant to guide your life and serve your destined path. So continue to stay inspired and to keep the feeling of "destiny unfolding" around you as you proceed even if you feel let down by the experience.