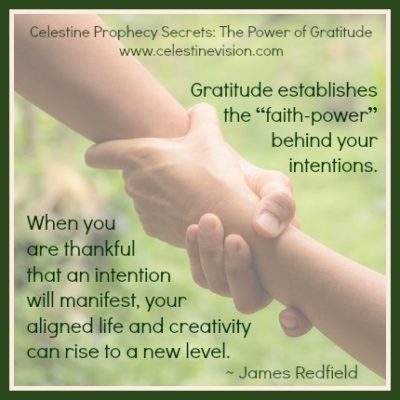 Gratitude can power our creativity in the world.
The secret of using this power is exactly as you might think: We merely have to remember to activate it.
To use Gratitude, first align yourself on the side of good, and the helpful.  There is a Karmic Design in the Universe that increases your personal power based on the motivation to uplift others and to help them live more fully.  The mere "asking" of how you might help another opens up your channel of intuitive guidance. You will receive the thought that shows you exactly what to do.
Stay aligned with this Karmic Design and you will also be given guidances that will help you as well.  You will be shown how to breakthrough what is holding you back, how to discover your best talents, and how to find the perfect place to push spiritual reform in a particular workplace.
Staying in Gratitude accelerates the process.  Your intentions are grounded and strengthened when you acknowledge that you are being guided by a Divine Connection that feels like a download of a greater part of yourself.  Gratitude establishes the "faith-power" behind your intentions.  When you are thankful that an intention will manifest, that it is meshed with the Divine intent of helpfulness, your aligned life and creativity can rise to a new level.
All together, gratitude keeps us on the right side of spiritual evolution, and in the best life we can have.