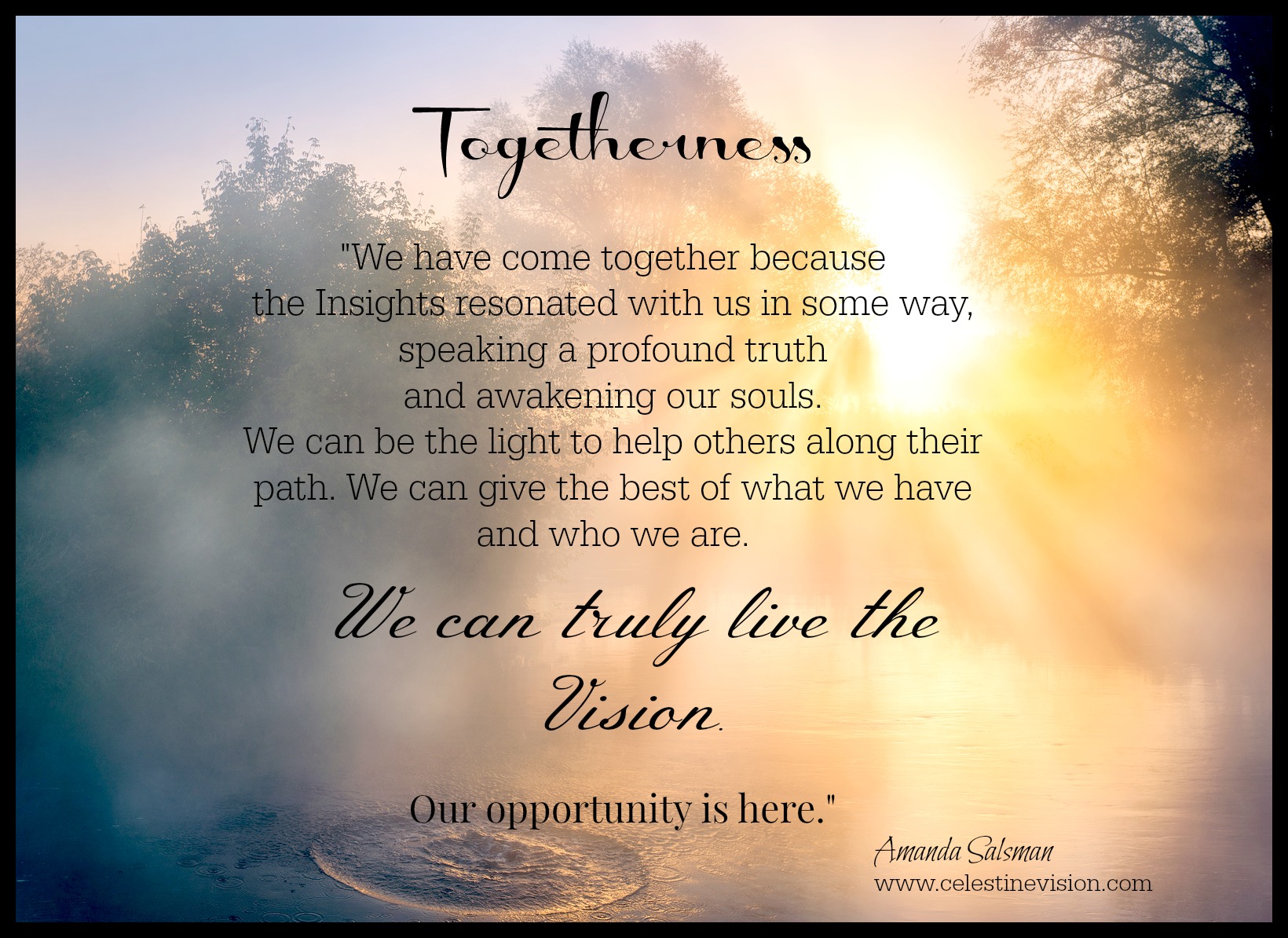 by Amanda Salsman
My spiritual journey began two years ago after my second daughter turned one year old. As I look back, I see how I was guided from one synchronistic moment to the next. I received The Celestine Prophecy from my sister who was downsizing her library. She gave me four boxes of books, and by the time I got around to looking through them, it was the only book that was salvageable. Once I started reading it, I couldn't put it down until I finished every page.
James Redfield gave me all the answers I had been seeking for 20 years, which coincidentally was when the book was first published. Where, oh, where was this book back then? Through the pleas for answers and guidance, the insights stayed elusive to me. I have since learned that this book finds you only when you are ready to hear its message.
The Sixth and Eighth Insights stood out to me the most.
I was eager to learn about the control dramas and the whole process of Clearing the Past and finding my Personal Mission, so I created my own exercises to work through it but quickly realized that I needed more. I did not know at the time that there were more books including Experiential Guides, which to me, have been one of the most precious gifts James has given us.
Reading how there should be only one child per adult stopped me in my tracks. I believed this wholeheartedly and was the main reason for me starting this spiritual journey. My children each needed my undivided attention, and I was already seeing power struggles developing. My fears of becoming just like my mother were coming true, and I could see my oldest daughter already testing out all the control dramas as she was learning which ones worked best. As I created a conscious awareness of my family dynamics, I sensed I was both the root of the problem and the solution, and I knew that to help my children through this stage and stay in the light of love, I needed to overcome my own control dramas.
I searched relentlessly to find more information and joined groups on Facebook. Although what I was searching for was out there, again it eluded me. The information wasn't giving me the answers I was seeking, and the groups had no activity or discussion. I spent eight months with the Law of Attraction Support Group where I met my friend Essence. I participated in and helped create gratitude journeys for her page, Beautiful Happy Peaceful. I wrote articles for The Purple Bridge which led to creating a personal development workshop. As I saw the road I was traveling down, I started to consider giving up on these insights and this book….
And then JACKPOT!
Just when I let go, I saw the flow. I saw how I was led from one lesson to the next preparing me for the next adventure to come. On Facebook, in my "suggested groups", I saw the Celestine Prophecy Insight Chatting group. I joined, and after a quick look through, I instantly knew I was home. This was the place I dreamt of my whole life. Candella, the creator of the group, the admin team, and a sense of community were the answer to a lifelong prayer.
Quickly after joining, I put my skills to use and made myself at home. It wasn't my goal to become an admin but one night the thought was just there, floating around. I questioned where it came from and shrugged it off. Seriously, how preposterous and presumptuous of me to think that I had a chance at this possibility, especially so soon after joining the group.
The funny thing about being in the Synchronistic flow is that doors are opened to you, opportunities are plentiful, and you are shown the way towards manifestation. All you need to do is to stay in your truth, trust your Intuition, and let the flow guide you towards your destiny.
Again, I let go. This time, I release this admin idea and within five minutes, to my surprise, I was asked to join the team. It took me a few months to find my way, but as I learned how to embrace the Eighth Insight and become a better admin, I realized that I found the family I always wanted growing up. This was a group of people who: accepted me for who I was 
- loved me despite my imperfections
 – have known the insights for years and were willing to teach me the way
-embraced me –  supported me through my struggles – cheered me on through my victories
-taught me about life, relationships, respect, boundaries, bonding, and harmony within a large team.
A Sense of Community
All these books James has written are a beautiful gift to the world, but it wasn't until I joined a community that I really began to learn and grow and implement the insights into my life. I believe James has provided a destination for us and a map to get there. Throughout our lives we will each read that map differently, traveling on a distinct path that calls to us.
But it is in the togetherness that those paths light up for us. Some of us may be crawling in the dark, some may be learning how to stand, some may be walking steady, and some may be running along. We are where we are meant to be. This journey isn't a competition. It is our lives; each one unique, yet, at its core, the same, making us all One.
We have all come together here because the insights have resonated with us in some way, speaking a profound truth that has awakened our souls. We already witness them happening in our lives. We see it. We feel it. We are living it.
The critical mass is rising and it is time for us to come together as One, to learn, to grow, "to lead global change and bring spiritual awareness to our world." Our communities have been created for all of us to help deepen our spiritual connection and find a more inspired and meaningful life.
Now it is the time that we share it.
James says, "I do not believe you can ever convince someone to seek a spiritual direction with your words. This almost always ends in stubbornness and even anger.  I believe you must show the beauty of a spiritual awakening through the examples of your own personal experience.  The power of knowing a spiritual existence and living in the peace of His presence is beautiful and powerful. 
So, we have to display our happiness and bliss from our spiritual experiences and live every day to the fullest. Show the comfort and abiding energy you receive and then watch how others will respond to you.  If there is love in your relationship and you are healthy and happy together, find other common interests that will allow you to grow.  One's spiritual path is found in perfect timing.  Be loving, and hold your faith."
There are so many people out there still feeling the restlessness of their lives and searching for a better way. There are even some that know about the insights and read the books which have yet to experience the blessings of being part of a supportive community. We can show, by our actions, what the Vision is. We can be the light to help others along their path. We can show unconditional love by reaching out a hand to walk side by side for awhile until they find their way. We can give the best of what we have and who we are. We can speak our truth, follow our intuitive guidance, enter the flow, and let our destiny unfold.
We can truly live the Vision. Our opportunity is here.
Join our Facebook Groups:
Celestine Prophecy Insight Chatting