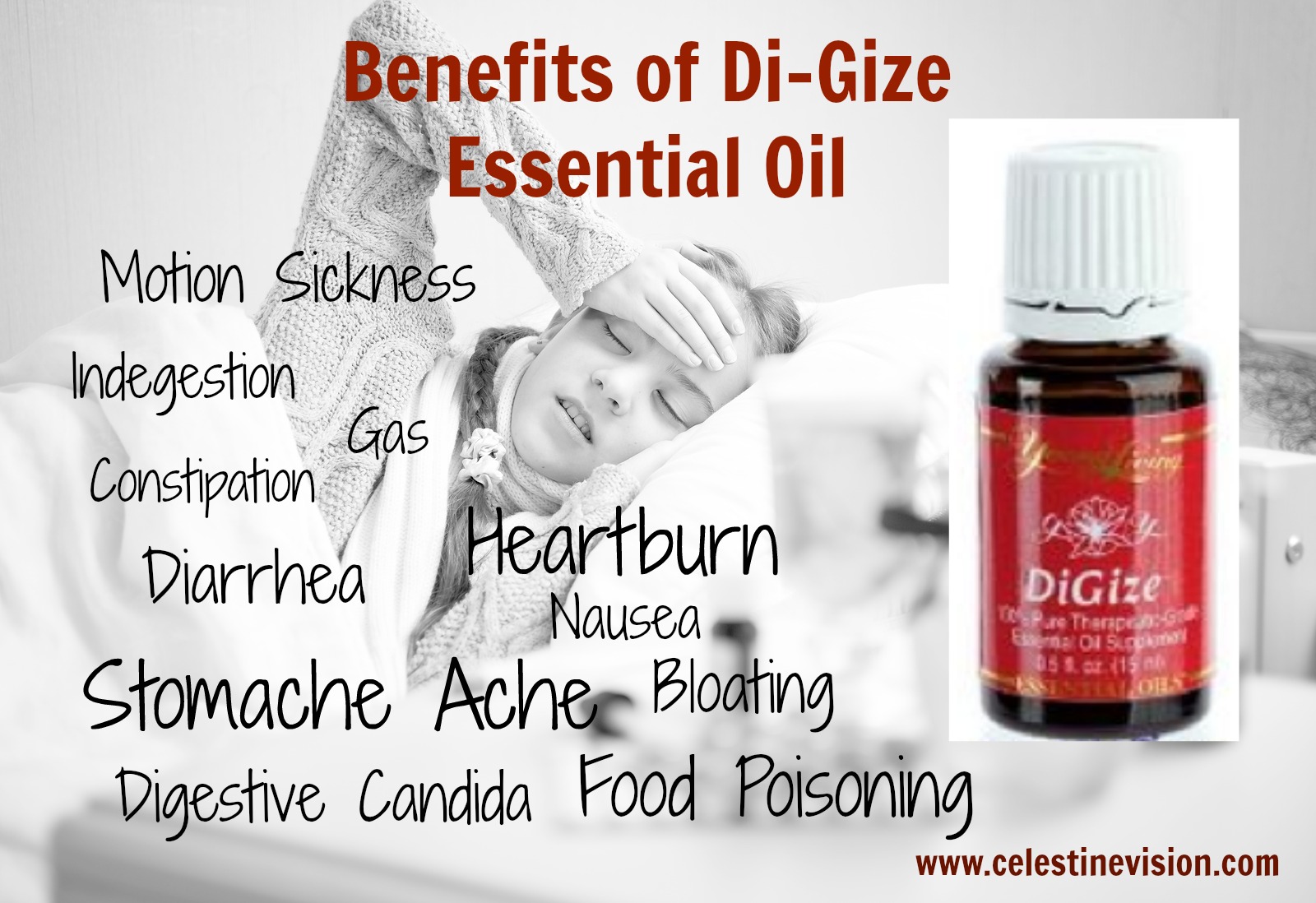 We were hit with the stomach flu this week and as I ran around washing and disinfecting the house, I also went through to our stash of essential oil to find any possible relief.  There is one essential oil in particular that worked quickly to ease our symptoms. This is an essential oil blend called DiGize.  There are eight different essential oils in the DiGize essential oil blend, which are listed below along with a brief description.
Peppermint Essential Oil (Mentha piperita) is one of the most highly regarded herbs for supporting normal digestion, including promoting healthy intestinal function and gastrointestinal system comfort. Peppermint is shown to kill bacteria, fungi, yeast, and mold.
Lemongrass Essential Oil (Cymbopogon flexuosus)  is anti-fungal and anti-inflammatory and used to improve digestion.
Juniper Essential Oil (Juniperus osteosperma) works as a detoxifier and cleanser, is beneficial to the skin and supportive to the urinary system. It is a natural cleanser and detoxifier that amplifies kidney function.
Patchouli Essential Oil (Pogostemon cablin) is a powerful digestive aid that combats nausea.
Ginger Essential Oil (Zingiber officinale) is supportive of the digestive system; ginger is commonly used to soothe, comfort, and balance digestive discomfort and nausea.
    
Fennel Essential Oil (Foeniculum vulgare) The advantages of Fennel date back to the ancient Egyptians. Fennel is an antiseptic that stimulates the circulatory, glandular, respiratory, and digestive systems. During women's natural cycle, it can be used to support feelings of well-being.
   
Tarragon Essential Oil (Artemisia dracunculus) is antiseptic, used to combat intestinal parasites and urinary tract infections. Tarragon helps to support the overall health of the digestive system.
Anise (Pimpinella anisum) antispasmodic and antiseptic qualities are shown to increase bile flow.  It is used to combat spastic colitis, indigestion, and all kinds of digestion pain. Anise supports a healthy digestive system.
Here are 5 benefits and ways to use the DiGize Essential Oil Blend™.
DiGize Essential Oil is known to be valuable for a number of digestive concerns and is also used to help maintain an overall healthy digestion system.  DiGize is found to have a spiritual influence as well. It can help those who are lacking empathy or hope with it's uplifting and energetic aroma. DiGize will help release past beliefs that are being held in the stomach, large intestine and small intestine. DiGize can also be associated with our "intuitions".
1. To relieve immediate stomach discomfort:
Dilute it -one part DiGize and one part vegetable or carrier oil. Then, apply several drops (2-4) on ears, wrists, neck, forehead, temples, or feet.
–Apply DiGize to chakras/vita-flex points.  Directly inhale or diffuse DiGize.
You can massage DiGize directly to your stomach when feeling symptoms from constipation, gas, diarrhea, or bloating.  It is believed that rubbing DiGize on your stomach in a clockwise motion will get things moving and in a counterclockwise motion will it slow things down.
2. Support Your Immune System
When traveling, use DiGize as a dietary supplement. Add 2-3 drops to your drinking water or honey.  (Never in a plastic cup.)
3. Indigestion
DiGize has an antispasmodic, anti-inflammatory, and antiseptic quality that combats indigestion.  Take 5-6 drops in an empty gel capsule after meals or add to your drinking water. When experiencing symptoms related to indigestion, heartburn or bloating apply 1-2 drops under your tongue or apply directly to your abdomen.
4. Eliminate Candida or Parasites
DiGize can be helpful to eliminate parasites for pets and people. When combating digestive candida or parasites, rub on the bottoms of your feet and take 5 drops orally in a capsule as needed.
5. Nausea
Take one capsule twice a day as needed to aid in symptoms of the stomach flu or food poisoning.  This works best if alternated with Thieves Essential Oil Blend™.  Place one drop in your hand and rub behind your ears to assist with nausea or morning sickness.
Testimony:
I suffered from acid reflux throughout high school and college. I lived on Zantac, Rolaids, and Pepto-Bismol.  A new physical therapist started at the clinic I was working at and saw me downing the Pepto and asked me to try something different. She whipped out an essential oil called DiGize.  She put 10+ drops in my hand and had me rub it on my stomach…to my amazement my pain was gone in 10 minutes! After that, I was sold on alternative methods to become healthier…I then did a colon cleanse with the cleansing trio, and then went on to the liver cleansing products, periodically using the DiGize along with the Alkalime…I am happy to say I have not had an episode for over eight years, and now I rarely have to use DiGize!!
http://www.oil-testimonials.com
Testimony:
Last week my son had the flu for two days. So this week I was determined to support my own immune system as much as possible. Here is what I did last night when I started not feeling so well….
9:30 PM: My stomach and bowels were starting to bother me, and I had some loose bowels. So I used DiGize essential oil blend under my tongue and on my tummy.
11:00 PM: I repeated the DiGize protocol plus added Thieves essential oil blend under my tongue and applied Sacred Frankincense essential oil on my brainstem. I also took the following supplements: Inner Defense, Life 5, AlkaLime, and MegaCal. I was feeling fair at this point.
1:00 AM: My stomach was feeling a little unsettled. I used DiGize and Thieves under my tongue, Thieves on my throat, DiGize on my tummy, Sacred Frankincense on my brainstem, and all three essential oils on my feet.
I repeated the above protocol again at 4 AM and 6 AM. I was feeling okay at 8 AM but am laying low this morning… not pushing it.
Wow, I am glad that I never threw up several times like my son did last week!
http://www.oil-testimonials.com
"The lack of toxicity and potent specific inhibition ability make the essential oil a possible antiviral drug for influenza virus proliferation control and treatment."  www.biomedcentral.com
The verdict is in!
I am happy to say we have all recovered from the stomach flu! We are so thankful for DiGize essential oil! It is an amazing essential oil blend from Young Living Essential Oils that works wonders to not only help with stomach pain but also to support your overall health.
Recommended Reading:
See other articles:
Why I love Essential Oil
Young Living Essential Oils