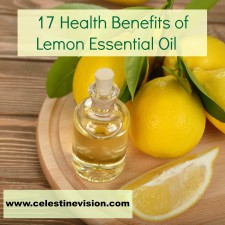 This week we are focusing on Lemon Essential Oil, (Citrus Limonum) as it has amazing health benefits! After spending some time working with Lemon oil in many different ways, we have been thrilled to know that this yummy citric fruit not only increases our mood and concentration but can also be used to help with fever, infections, asthma, obesity, skin disorders, hair conditions, stomach problems, and tiredness – just to name a few.
Lemon oil is stimulating while it is calming. It has anti-infection, astringent, detoxifying, antiseptic, disinfectant, and antifungal properties.  Lemon oil works in many areas of your life, from household cleaning to supporting brain energy and freshening the air.  As an extra bonus, lemon oil adds flavor to your water or your favorite foods, all while helping you get rid of bacteria!
Lemon oil blends well with many other essential oils including lavender oil, rose oil, sandalwood oil, peppermint oil, geranium oil, and tea tree oil, making it a popular oil for herbalists and those who practice the healing art of aromatherapy.  We have gathered the 17 most popular health benefits of Lemon Essential Oil and also have a few recipes and testimonies below from others who love it!
Put Lemon Oil to work for:
1. Spiritual Experience: Diffuse or add lemon oil to your water for spiritual and psychic awareness, the connection between spirit (consciousness) and soul, and for conflict in your thoughts and intellect.
2. Stomach illnesses:  Lemon oil is carminative, it works to support various stomach problems, including indigestion, acidity, upset stomach, and cramps. Add three drops of lemon oil to water to help reduce heartburn and acid indigestion.
3. Body Cleanser: Add two drops to 8 ounces of water for a gentle, natural body cleansing in the morning of your liver, kidneys, and digestive system.  Also add lemon oil to public water to help the kill germs.
4. Concentration: Lemon oil helps in increasing concentration and alertness. Diffuse in the office or while your children are doing homework to stay focused and on task. Good for energy and mind clarity: You can also rub the lemon oil on your hands and inhale for a quick pick-me-up!
5. Insect Repellent: Mix lemon oil with Peppermint and Eucalyptus to repel ants and other insects.
6. Immune system: Lemon oil is high vitamin content, which makes it incredible for the body's immune system. It further stimulates white blood cells, thus increasing your ability to fight off diseases. Lemon oil also improves circulation throughout the body.
Fever: Lemon oil is effective against infectious diseases such as fever, malaria, and typhoid. Add one drop of lemon and peppermint oil to the bottoms of your feet to reduce fever and provide infection relief.  Combine with Thieves essential oil for additional support.
7. Disinfectant: Since Lemon oil has antibacterial and antifungal properties, Lemon is a good cleaner!  It is used for cleansing the body, metal surfaces, dishes, and clothes.
Homemade all-purpose vinegar cleaner: Add lemon essential oil to this citrus vinegar cleaning solution for a fresh and very effective cleaner.
8. Soothe a sore throat: Add lemon essential oil to hot water and honey to soothe a sore and scratchy throat.
9. Keep cut apples and avocado fresh: Use lemon oil in water to keep sliced apples or avocado from turning brown.
10. Taste Enhancer: According to organicfacts.net, "Lemons are one of the most popular citrus fruits in the world and are widely used for culinary purposes since they are a good source of vitamins and aid in digestion. It also adds a pleasant taste and aroma to food. Furthermore, lemon juice is one of the most popular drinks in the world as it is very healthy, delicious, and inexpensive."
Add a couple drops of lemon essential oil to softened butter and use on fish, and steamed vegetables. Add lemon oil to sweet treats: Lemon frosting, lemon meringue, lemon cakes, lemon squares, lemon cookies, and of course lemonade!
11. Hair/Nail care: Lemon oil is also a powerful hair refresher. Many people use lemon oil to get strong, healthy and shiny hair. Lemon oil can also be used to eliminate dandruff.
Hair highlights: Add a few drops of lemon oil to a spray bottle of water and spritz hair and go out in the sun for natural highlights.
Nail Rescue: apply lemon oil to your nails to soften cuticles and restore health to your nails.
12. Weight loss: Lemon juice is very helpful in reducing weight, and satisfying your appetite. Adding Lemon oil to water or your favorite beverage can help reduce the chance of overeating.
13. Asthma/Allergy: inhaling the aroma of lemons can clear the nasal passages and sinuses, promoting good air flow and steady breathing. Allergy Bomb: Combine 3 drops of Lemon, Lavender and Peppermint Oil to the bottoms of feet, behind the ears and neck every day.
14. Softens calluses, corns, and bunions: Apply lemon essential oil consistently to your hardened skin conditions, and the lemon oil will soften those areas.
15. Gum, label and crayon remover: Lemon oil is great for removing gum from hair, or carpet. Remove sticky residue from labels on bottles and jars. Lemon oil will also remove crayon marks from walls.
16. Skin Care: Lemon oil is astringent and detoxifying in nature, and its antiseptic properties help in treating pimples and various skin disorders. Lemon also reduces excessive oil on the skin.
Skin Brightener: Add lemon oil to your facial cleanser to help remove dead skin cells and create a fresh clear complexion.
17. Mood Uplifter: Combine lemon and lavender and use topically or diffuse in your room to uplift your mood, and chase away the blues.
Add a few drops to your bathwater to help with typical stress and fatigue. Lemon oil is calming in nature and, therefore, helps in eliminating mental fatigue, exhaustion, dizziness, anxiety, nervousness and nervous tension. It can refresh the mind by creating a positive mindset and removing negative emotions.