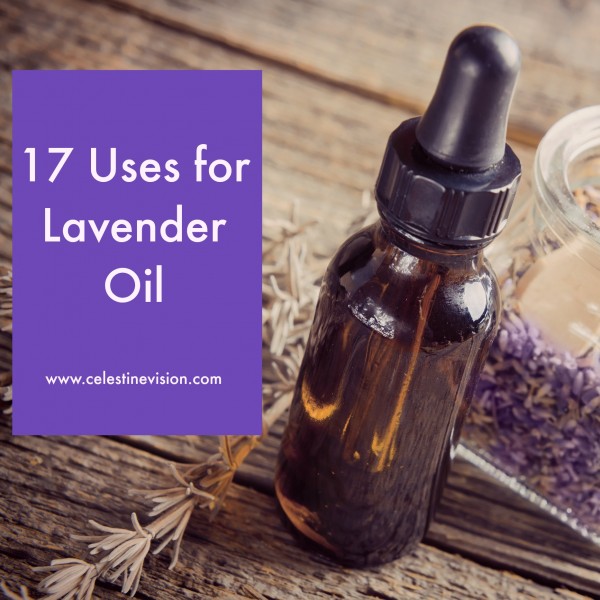 Celestine Vision Staff Notes:
Essential Oils are simply amazing. This week we are focusing on Lavender Essential Oil (lavandula angustifolia) as it is one of the most versatile of the essential oils.  Lavender is gentle, non-toxic and non-irritant. It has both soothing and reviving properties with a pleasant and calming scent that has numerous health benefits. It is one of the most recommended essential oils for skin care and is often used to help insomnia as its scent can induce sleep. It may be used to cleanse cuts, bruises, and skin irritations.
The fragrance is calming, relaxing and balancing – physically and emotionally. Carrying a bottle of lavender around with you is like having your own personal first aid kit, perfume, and immune booster. When diffused, therapeutic grade lavender can be used to aid all sorts of respiratory problems, and assist in promoting good blood circulation and stimulate the production for gastric fluids to treat stomach ailments. It also increases mental stamina and calms exhaustion. Keep in mind the oils that you'll find in a health food store just plain are not anywhere near as pure, safe, or therapeutically effective as Young Living, and they have the potential to do you more harm than good. You can read more about why I choose these particular essential oils and find out how to order them here.
Put Lavender to work for: ADD/ADHD, Alcohol, Drug, & Work Addiction & Withdrawal, Allergies, Alzheimers, Anxiety, Asthma, Muscle, Joint & Back Pain, Bed Wetting, UTI & Bladder Infections, Blood Pressure, Bug Bites & Stings, Burns, Cellulite, Chicken Pox, Colds, Cough, Chest Congestion, Flu, Dandruff, Diabetic Sores, Ear Infections, Eczema, Fatigue, Fever, Fibromyalgia, Gout, Hair Loss, Hangover, Headache, Heatstroke, Impetigo, Insomnia, Itching, Jet Lag, PMS& Cramps, Measles, Mumps, Poison Oak/Ivy, Psoriasis, Rashes, Scarring, Stress, Teeth Grinding, Tonsillitis.
"I had difficulty staying asleep for the past three years until four months ago when a friend told me that she applied lavender oil to the bottom of her feet. So I ordered lavender oil, applied to my feet and have been sleeping all night every night. My mother in law has not slept all night in years, I gave her a bottle of lavender, she now sleeps all night but told me that it works so well she doesn't want to get out of bed in the morning.
I love lavender because it has so many uses. My cousin burned her fingers while we were baking Christmas cookies, and I put lavender on the burn followed by peppermint oil. The burn never blistered, and the pain subsided within 1/2 hour.My husband cut himself shaving, and I applied lavender to the area and it stopped instantly. I love the essential oils, and it's awesome to use them and the results are amazing. Hope this helps, especially those who can not sleep."
-Bindy Hollenbeck
Read 17 ways you can incorporate Lavender into your daily life and the testimony from people who love it:
1. Bee Sting / Insect Bite
Before you start oiling yourself up after a bee sting, first you'll want to take care to remove the stinger.
Put a drop of Lavender oil on a bee sting or insect bite to stop itching reduce swelling.  Also try this recipe:
2 drops Lavender
1 drop Peppermint
1 drop German Chamomile
1 drop Vetiver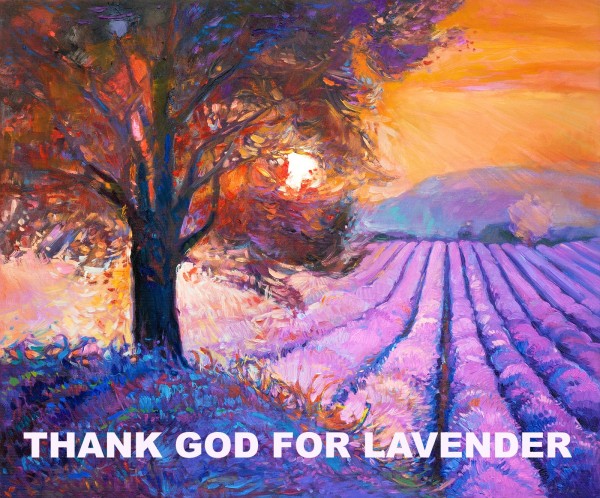 Some people might find it a little hard to believe that essential oils can serve as an effective treatment for something like a painful bee sting. Check this site called YLSearch.com, where there are tons of links to information and personal testimonials from people who use Young Living oils, for every possible ailment you could imagine. Here's one we found on the very same bee sting treatment referenced:
"While out in the potato field, I sustained a bee sting on the back of my neck. My husband was able to get the stinger out, but it left a large area of redness and a large welt at the sting site. Luckily, I had some Young Living Purification blend essential oil with me, which I applied immediately.
Upon arriving home shortly thereafter, I checked the EODR for suggested oils to use for bee stings. It suggested applying a bee sting blend of Peppermint, Lavender, German Chamomile, and Wintergreen every 15 minutes for 1 hour. Although I didn't have German Chamomile on hand, I began applying Peppermint, Lavender and Wintergreen every 15 minutes as suggested.
To my complete amazement, the stinging began to subside immediately, and after only the 3rd application – 45 minutes after beginning the bee sting regimen – there was absolutely no sign as to where the injection site had even been! No stinging, no welt, no redness. Amazing!!"
-Clara R. (source)
Here's another testimonial from someone who simply used Lavender to successfully treat a sting, and another from someone who treated a child's bee sting with oils. Of course, if you suspect someone is having an allergic reaction to a bee sting, seek medical treatment immediately. Just use your oils on the way to the hospital. 😉
2. Relaxation and Calming
Rub 2-3 drops of lavender oil in your cupped palms, then use the inhalation method to draw the scent to your brain to calm the mind. Then, rub on the feet, temples, wrists (or anywhere) for an immediate calming effect on the body and great for headaches. Use in crowded areas or when you are traveling to create your personal escape with protection from germs.
Read Testimony  "Head Aches for Years"
3. Sleep Aid
Sleeping does not always come easy for me. I think of myself as a night person naturally. I especially struggle when I know I have to wake up early the next morning.  I find myself laying awake, thinking of the to-do list, and my mind has a hard time turning off.  Lavender works wonders when you are having a hard time sleeping.   Again, use the cupping and inhalation method or diffuse.  Rub a drop of Lavender oil on your palms and smooth onto your pillow to help you sleep.
Read Testimony  "Lavender for insomnia and migraines"
4. Cuts and Scrapes
"I used Lavender when my 4-year-old fell off her bike. It did not burn at all, and she felt better almost instantly!"- Kelly
Use one drop Lavender oil on a cut to stop bleeding, clean wound, and kill bacteria.
Read Testimony
"Teething-baby-also-had-a-scraped-knee"
"Lavender-helped-stop-the-bleeding"
5. Minor Burn
"Put 2-3 drops Lavender oil on a minor burn to decrease pain. I recently did this after I burned my hand on the oven and luckily had my lavender with me. Conclusion: NO redness, swelling or pain. NO sign of being burned. Lavender works miracles!" -Cheryl
Read Testimony
"Lavender-for-any-kind-of-burn"
6. Allergies

With allergy season in full force, we wanted to see how well Lavender would work to help our symptoms.  We put 2 drops of Lavender, Lemon and Peppermint in a capsule and took it for 4 days.  Not only were our symptoms better but we found it dramatically helped our energy. Also rub a drop of Lavender oil between your palms and inhale deeply to help alleviate the symptoms of hay fever.
Read Testimony
"Lavender-helps-with-allergies"
"My whole family suffers from allergies"
"Lavender-for-allergies"