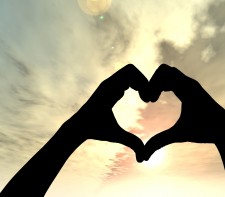 Previously, we have set the stage for seeing how a "Giving Attitude" impacts our lives.  In short, a giving attitude means staying alert to how we can help or give timely information to others. This attitude allows us to create a Synchronicity for those who cross our paths — where we deliver timely aid at just the right time to positively change their lives. 
On the upcoming Community Radio show,

next Monday 3/16/15

, we will discuss more precisely how a giving attitude creates more positive events in our own lives — actually making us luckier, and increasing the Synchronicity that we experience. A GIVING attitude changes your Karma!

Here are some questions you might ask yourself concerning your own experience of "Giving:" 
1. Think back to when you last felt good about helping someone.  Was the good feeling actually a deeper spiritual connection that you developed?
2. Did that uptick in your Spiritual Connection then allow you to notice more of your own Divinely given Synchronicities?
3. When someone has asked you a question about how to handle a problem, did you ever feel as though the answer arrived inside you spontaneously or intuitively?
4. Did you afterward feel more intuitive about your subsequent life decisions?
Also during the show, we'll discuss "tips and updates" on how to bring more Synchronicity, Intuitive Guidance, and Physical Wellness into your life. We'll also have more comments on your Spiritual experiences! Keep sending in you Synchronicity Stories!