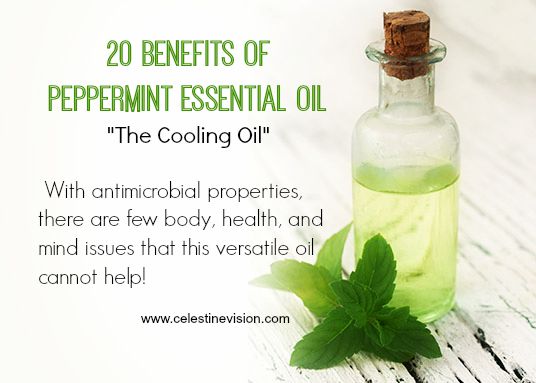 Celestine Vision Staff Notes:
This week we are focusing on Peppermint Essential Oil, (Mentha aquatica).  Peppermint oil contains vitamins A and C, omega-3 fatty acids, and minerals including potassium, manganese, iron, magnesium, calcium, and copper. (1) With antimicrobial properties, this versatile oil helps almost all body, health, and mind problems we may face.
After spending some time testing peppermint oil in many different ways, we found that it not only relieves our headaches instantly, it can also be used to help stomach aches, mental focus, allergies, sore muscles, fever, and boost our energy – just to name a few.
According to Draxe.com (2), "Peppermint is a hybrid species of spearmint and water mint (Mentha aquatica). The essential oils are gathered by steam distillation of the fresh aerial parts of the flowering plant. The most active ingredients include menthol (35–45%) and menthone (10–30%).
Clinically speaking, peppermint oil is recommended for its anti-nausea benefits and soothing effects on the gastric lining and colon because of its ability to reduce muscle spasms.
Not only is peppermint one of the oldest European herbs used for medicinal purposes, but other historical accounts date its use to ancient Chinese and Japanese folk medicine. It's also mentioned in Greek mythology the nymph Mentha was transformed into an herb by Pluto who had fallen in love with her and wanted people to appreciate her for years to come."
(Draxe.com)
We have gathered the 20 most popular health uses and benefits of Peppermint Essential Oil and also have a few recipes and testimonies below from others who love it!
Top 20 Peppermint Oil Uses
1. Body Pain Relief
Peppermint essential oil is a natural painkiller and muscle relaxant. It soothes an aching back, sore muscles, and melts away a tension headache. A study shows that peppermint oil applied topically has pain relief benefits associated with Fibromyalgia and Myofascial Pain Syndrome.(2)  It is believed that the presence of calcium antagonism in peppermint oil helps remove pain from affected areas. (1)  It is called a "refrigerant," meaning that it can provide a strong cold feeling. In case of injury, wound, or healing process, apply peppermint oil to the area to reduce swelling, and relieve pain and protect from infection.
2. Sinus Care
Inhaling diffused peppermint oil can often instantly unclog your sinuses and relieve scratchy throats. Peppermint acts as an expectorant and may provide relief for colds, cough, sinusitis, asthma, and bronchitis.
3. Reduce Hunger Cravings
Inhaling peppermint essential oil can stave off the munchies and can help you feel full faster. If you can't have a diffuser with you at dinnertime, try applying a couple drops on your temples or chest, or deeply inhale from the bottle.