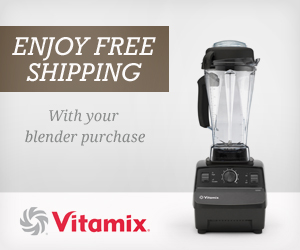 Vitamix is my favorite blender of all time. I've had one for years. Its big, powerful, and durable. When I first read Dr. Blaylock's recommendation to drink your vegetables, I bought one. I now use it every couple of days, blenderizing raw, organic vegetables and adding water to create a drink of juice and pulp. It's a convenient way to get all the detoxifying veggies you need to stay healthy and young.
All the details:
The company Vitamix produced its first blender in 1985, and the company has seen nothing but success since then. They have received 10 awards since 2010, including Best in Class from Foodservice Equipment and Supplies magazine three years in a row.
Today, as in the past, Vitamix aims to promote healthy living through easy, whole food recipes. Their blenders are specially designed to continue working for years, even when used in commercial kitchens. Though superior in design in every facet, businesses and homes alike find themselves benefiting from the efficiency of every Vitamix blender.
While businesses require far more rigorous standards for their blenders, the design for the in-home models are no less impressive. This allows the blenders to be long-lived without costing nearly as much. The blades are stainless-steel and hardened, while the containers allow for the efficient internal rotation of ingredients. The motors are an equalized combination of speed, torque, and power. Owners are also provided with a tamper, an accelerator tool and processes for thicker mixtures. Even though two of the series' are not dishwasher safe, they are self-cleaning. Users simply add a drop of dish soap in warm water, and the blender cleans itself in less than a minute.
While Vitamix is the general term used for all of their blenders, there are three different series—S, C and G. The S-Series is fondly referred to as the personal blender and currently only has one model. The S30 comes with a five-year warranty and is best suited for individuals as the container sizes are only available in 20 and 40 ounces (optimal for small batch sizes). In addition, the overall size of the unit is far more compact with a height of 14.55 inches and a width of 5.9 inches. As mentioned above, there are two container sizes. The 20 ounce container comes complete with an additional lid that turns it into a portable travel cup. The 40 ounce is much closer to a typical blender container with a handle and spout, making it ideal for small family meals, soups, and sauces. The containers are BPA-free and insulated to regulate temperature. The blade base is interchangeable between the two containers, and the 790 watt motor is strong enough to crush ice and whole foods. Users also receive a full-color recipe book. It's best feature, however, is that its blades and containers are dishwasher safe, a feature the other two Series do not have.
The C-Series is a lineup of the classic blenders. Warranties run from five to seven years. The containers are normally 64 ounces, perfect for medium sized batches. Unlike the S-Series, these are larger and come in a wider variety. Featuring the 5200s, Professional Series, Creations and eponymous Vitamix, this series is designed for those that blend a lot and often. Many stand at about 17.4 to 20.5 inches tall and 7.25 inches wide. The containers are BPA-free, and the blades measure 3 inches in diameter. The lids are spill proof and vented with a plug to aid in the addition of ingredients while blending is occurring. All come with a 2-peak HP motor and a radial cooling fan and thermal protection system.
For those that often entertain or have large families, the G-series, or next generation blenders, are specifically designed for the largest batches. Warranties range from five to seven years. The container sizes are 64 ounces but are designed as low profile, meaning they are shorter and wider as opposed to taller and more slender. There are six different models, including the Vitamix 7500, Professional Series 750, Professional Series 300, Creations Elite, Certified Reconditioned Next Generation and Certified Reconditioned Next Generation Programs. The latter two are like-new and receive certification after undergoing two additional quality control tests before being shipped. Each G-Series stands about 17.5 inches tall and 7.7 inches wide. The motor is a 120 volt, 2.2-peak HP complete with a thermal protection system and a radial cooling fan. The 64 ounce containers are BPA-free and contain blades with a 4 inch diameter. They are ergonomically designed with a soft-grip handle, and the lid is spill-proof and vented for the adding of ingredients during blending. A tamper is provided with a collar to prevent it from hitting the blades when used.
Aside from the high-quality machines, users have access to countless recipes and ideas. Including smoothies, healthy snacks, vegetarian entrees, raw foods, vegan options, meals to go, family feasts and juicing, there is no limit to what the Vitamix line can make. One of the more popular uses is making dough for bread. Owners can register their machine online, access their owner's manual, ask customer service for assistance, and send the machine back for servicing should something go wrong. Vitamix also provides users with a 30-day, risk-free trial on any one of their blenders. If it is not satisfactory, it can be returned for a full refund, including shipping. Any returns after thirty days, understandably, must pay shipping and incur a restocking fee. 60 to 90 days is a restocking fee of 15% of the purchase price. 91 days to 6 months is 25%. 6 months to one year is 35%, and there are no returns accepted after one year from the date of purchase.
The service center is very knowledgeable and will repair broken machines at no cost, including two-way shipping, so long as the blender is still under warranty. They are even able to service blenders up to 20 years old. At that point, they will let you know the cost of the repair before you decide if you want to proceed.
Visit Vitamix Website At https://www.vitamix.com/Home