Monthly Astrology
Read how the movement of planets, New and Full Moons, Mercury Retrograde, Eclipses, Void of Course Moons and other fascinating nuances of the stars affect your sign; astrological tips for when to move forward with opportunities and when to stay put.  See The Signs of the Times below and more about Albert Gaulden.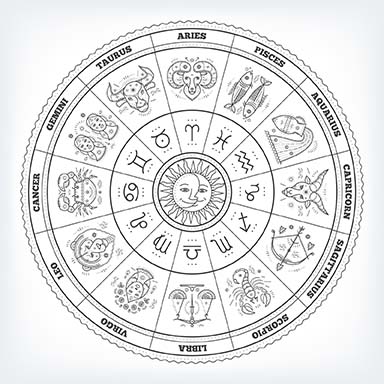 Click On Your Sign For Your Monthly Horoscope
The Signs of the Times
by Albert Gaulden
The Cancer Solar Cycle promises to be full of surprises mainly in the political arena. Cancer can be extremely nurturing and also known to be too hands-on in all situations. We all have to live life through the lens of whatever sign rules the Solar Cycle. All of us this month will feel a bit more like Cancer than our own sign. It is called living life on life's terms. All signs get 30 days more or less to strut their stuff and then it is on to the next and different Solar Cycle.
There will be a Full Moon on June 27 at 6:43 PM EDT at 6 degrees of Capricorn. Forewarned is forearmed. This is going to be one of those harsher aspects and requires total honesty in all areas of the lives of Capricorns and Cancers. Full Moons, by nature, cause a lot of depression and introspection which is not always the most pleasant past time. One of my favorite teachers from ages ago reminded me that "everything that has a beginning has an end." When I disagreed (pre-sobriety days), she said that some people do not know how to let go so they pay a huge price when something or someone is ripped out of their lives.
There is a Solar Eclipse New Moon at 20 degrees of Cancer on July 12 at 4:48 PM EDT. Eclipses are more impacting and oftentimes life changing than ordinary lunations. This transit will affect Cancers and Capricorns most severely. Other sings more positively affected will be Scorpio and Pisces; and to a minor degree, Earth Signs, Taurus and Virgo.
There are a lot of retrograde planets this Solar Cycle. When a planet goes retrograde it diminishes the effect it has on us all. The retrograde planets this Solar Cycle are Mars in Aquarius, Jupiter in Scorpio, Saturn in Capricorn, Neptune in Pisces and Pluto in Capricorn. That's half the planets. Mercury goes retrograde at 23 degrees of Leo on July 26.
Founding Director, the Sedona Intensive(TM) Astrology has been dated to at least the 2nd millennium BCE with roots in calendrical systems used to predict seasonal shifts and to interpret celestial cycles as signs of divine communications. As an intuitive therapist using Jungian constructs to counsel clients, I look at planets in signs in Angulation and other configurations as a celestial GPS or a sky map.
All of us travel the same highway, but our past lives distinguish what challenges we have that differ from someone else in the same sign. And as in the School of Life on Earth we are not all in the same grade.
Our attempt will be to bring weekly astrological information in the vernacular of millennials. The term or designation, millennial, refers to a generation born from the early 1980s to late 1990s that believe in a coming millennium, as of prosperity or justice.
Astrology does not follow the Gregorian calendar but rather aspects are given according to when the Sun moves into the subsequent Sign. With each sign's forecast, we will let you know when the Sun moves into the various signs of the Zodiac.
These daily horoscope entries are general aspects for all of us. To get specific insights about your personal astrological birth book a private astro-intuitive sessions on Skype or to inquire about the Sedona Intensive program please contact info@sedonaintensive.com or call 928-301-0780.
Important News Flash! 

Five Days that will Change Your Life- Find Out Who You Really Are… Discover Your Authentic Self
Click HERE  to see this program and all of the services available by Albert Gaulden. 
or call 928-282-4723 or email  albert@sedonaintensive.com.
Copyright © 2015 Albert Clayton Gaulden