Monthly Astrology
Read how the movement of planets, New and Full Moons, Mercury Retrograde, Eclipses, Void of Course Moons and other fascinating nuances of the stars affect your sign; astrological tips for when to move forward with opportunities and when to stay put.  See The Signs of the Times below and more about Albert Gaulden.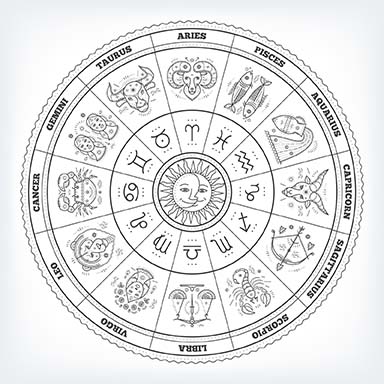 Click On Your Sign For Your Monthly Horoscope
The Signs of the Times
by Albert Gaulden
We get a lot of comments about the unrest that seems to have gripped the world in the last year or so. Saturn and Pluto in Capricorn have a lot to do with that, especially here in the land of the red, white, and blue as we are a Cancer nation and Capricorn opposes Cancer. An opposition challenges to see if being put under the microscope can stand the close inspection. No matter how much any of us says that we learn far more through trial and error and times of difficulty, most of the country wants to eat large and drink itself into a stupor. 
Jupiter in Sagittarius, Saturn and Pluto in Capricorn all continue to retrograde throughout this Solar Cycle. Retrograde diminishes somewhat the harshness of the planet in sign. For instance, Sagittarius will feel less of the bounty of Jupiter, and Capricorn will not feel the heaviness as much whilst Saturn and Pluto are retrograde.
There will be a New Moon in Gemini at 12 degrees on June 3. With Mercury also in Gemini until June 5, the Twins are going to have a nice run of luck for two weeks.
There will be a Full Moon at 25 degrees of Sagittarius on June 17. With Jupiter retrograde in Sag and this Full Moon, those born between November 12 and December 20 will find this Solar Cycle to be trying at best. Your dark side teaches you more than the hot lights of heaven.
ALBERT CLAYTON GAULDEN IS CELEBRATING 40 YEARS OF SOBRIETY WITH A SPECIAL 15% DISCOUNT! CLICK HERE TO LEARN MORE
Founding Director, the Sedona Intensive(TM) Astrology has been dated to at least the 2nd millennium BCE with roots in calendrical systems used to predict seasonal shifts and to interpret celestial cycles as signs of divine communications. As an intuitive therapist using Jungian constructs to counsel clients, I look at planets in signs in Angulation and other configurations as a celestial GPS or a sky map.
All of us travel the same highway, but our past lives distinguish what challenges we have that differ from someone else in the same sign. And as in the School of Life on Earth we are not all in the same grade.
Our attempt will be to bring weekly astrological information in the vernacular of millennials. The term or designation, millennial, refers to a generation born from the early 1980s to late 1990s that believe in a coming millennium, as of prosperity or justice.
Astrology does not follow the Gregorian calendar but rather aspects are given according to when the Sun moves into the subsequent Sign. With each sign's forecast, we will let you know when the Sun moves into the various signs of the Zodiac.
These daily horoscope entries are general aspects for all of us. To get specific insights about your personal astrological birth book a private astro-intuitive sessions on Skype or to inquire about the Sedona Intensive program please contact info@sedonaintensive.com or call 928-301-0780.
Important News Flash! 

Five Days that will Change Your Life- Find Out Who You Really Are… Discover Your Authentic Self
Click HERE  to see this program and all of the services available by Albert Gaulden. 
or call 928-301-0780 or email  info@sedonaintensive.com.
Copyright © 2019 Albert Clayton Gaulden