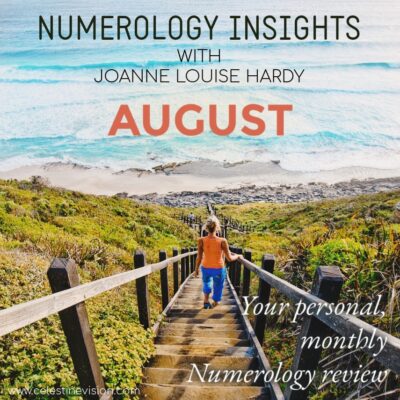 Welcome to Celestine Numerology Insights for August!
Below you'll find readings for each Personal Year/ Personal Month combination in play this calendar month. To discover which reading is applicable to you, we first need to do a quick calculation to find what Personal Year you're currently in. To do this, we take your birth day, and your birth month, and add it to the calendar year, and then we add the digits of the result together until we find a single figure.
So, if your birthday is 1st July, we add 1 + 7 to the calendar year e.g: 1 + 7 + 2021 = 2029. We add 2+0+2+9 = 13, and then we add 1+3 = 4. Here we find the result 4, which means for this year, you would be in a Personal Year 4.
Once you know your Personal Year number, you can scroll down through the readings and find the one that's applicable to you.
As we're already into August, it'll be interesting to see if you already feel this energy around you at this time.
I hope you find this an insightful experience!
. 
Personal Year 1 
As August arrives, it brings the Personal Month 9 energy into your chart, offering a period that carries an aspect of closure. You're likely to be wrapping up some kind of minor project, be it at work or at home, which sees you dotting i's, crossing t's, and tying up loose ends. This should produce a sense of satisfaction as you look back and consider what you've achieved. 
When September arrives, it will open up a whole new chapter, which combined with your 1 year makes for a dynamic and refreshing new start. In accordance, this month you find you're called to do what is necessary to close down this cycle (which has been in play for the last eleven months) so that you can move into next month putting your best foot forward.
As the 9 carries an energy which inspires us to let go of that which no longer serves us, this is a time where you'll naturally reflect upon your relationships and question those which are not aligned with your best interests. With your 1 year encouraging independence and boldness, it's a time to trust your instincts, take courage, and release that which you have outgrown or is harming your health. In this respect, August may take an emotional toll on you; heavy feelings that are difficult to process, and deep questions weighing on your mind. Rest assured, a new light is emerging on the horizon, and when September arrives, you'll sense that a new dawn is breaking around you.
As the 9 energy has a charitable quality, this can be a time where you find real joy in being of service to others. Pay forward acts of kindness, and know that with every person you assist, you're making a difference whilst also putting good deposits in the bank of Karma. Have courage, faith in yourself and the greater good, and know that when you move forward aligned with your own authentic truth, Synchronicity will support you in manifesting your best life.
.
Personal Year 2
With August's arrival, the Personal Month 1 arrives in your chart and delivers the birth of a whole new cycle, which will be in play for the next eleven months. If last month was emotionally difficult, this month should see you feeling much brighter as you sense that any aspects of your life that you let go of needed to be released. You've taken a deep breath in, and as you now start to exhale, you release self-doubt and sense that positive things are coming your way.
With a spring back in your step, you shine with natural optimism; however, make sure that you keep your sensibilities about you this month to avoid making naive moves. The 2 Year in play sees you wanting to trust others, but as always, it's important that we don't trust blindly without having done the groundwork to ascertain the strength of the foundations your trust is built upon. 
The 1 month loves to plant seeds, introduce you to new people, and often brings with it the opportunity to get involved in exciting new ventures. So this is a time when brand new circumstances can emerge, which over time can develop and become a significant part of the year ahead. 
Romance is looking perky this month, and for those who are single, this may well be a month when you find yourself falling for a new love interest. This encounter is to be enjoyed, no doubt, but again, try to keep your feet on the ground as you get to know this person, their life, and their values before you allow yourself to fall head over heels. It could be the start of something beautiful, but it doesn't hurt to tread carefully before declaring your undying love. For those already in a relationship, August will likely be a light-hearted month as your partner bounces off your renewed optimism, and you naturally find ways to regularly make each other smile. 
Enjoy August and all it has to offer as you welcome this fresh energy into your life.
.
Personal Year 3
After July opened up a new chapter in your life for you, August arrives and brings the Personal Month 2 into your chart. The 2 is the number of partnership, but it's also a sensitive number. Its influence this month may well see you taking criticism to heart more than usual as feelings of vulnerability creep in. Try not to take your emotions too seriously right now, nor let things which niggle at you blow out of proportion. At times you may find yourself getting a little dramatic as you react to circumstances around you, so as always, make sure you take time to meditate regularly to keep your energy grounded. Your intuition is running high this month, so pay attention to inner guidance that arrives with you, particularly during meditation. 
The 2 loves for us to work in partnership with others, and although that can sometimes result in us having to wait on others to deliver their contributions, it's wise to remember that patience is a virtue and trust that everything will happen in good time. With the 3 year still strongly influencing you, creative endeavours are highly supported, especially when it involves mind-melding with another to develop your projects.
Your natural sensitivity makes it easy for you to adopt the role of the peace-maker at work and nurture those around you, developing healthy collaboration and resolution of conflict. As far as romance is concerned, this is a highly optimistic month. For those in a relationship, it's a time to revel in deep and meaningful conversations which bring you and your partner closer together. For those who are single, you may well find a social event introduces you to someone who arouses attraction and kindles the flames of excitement and mystery.
.
Personal Year 4
You don't need me to tell you that you've been working hard this year! With a lot on your plate, there might not have been much time for R and R as of late. However, as August brings the Personal Month 3 into your chart, it delivers a renewed sense of optimism and an energy which you can really bounce off. Sure, your hard work continues, but the ever cheerful 3 puts a spring in your step and you sense an opportunity to get out there and make things happen. 
The 3 is a highly creative number, and it loves for us to network and socialise. It's time to dust off your shoulders, put your smart clothes on, and meet the world with a smile. Networking brings interesting connections this month, which can develop over time and further your career, so make sure you make the effort to practice conscious conversation and discuss your projects when opportunities arise. 
For those in committed relationships, this is usually a time when romance is well supported. As the sturdy 4 underpins the lighthearted 3, it's a time to relax and simply enjoy your relationship and the love you have for each other. For those who are single, social events provide an opportunity to let your hair down and mingle. 
It's a great time to go on holiday if you can—unwind for a week, enjoy dinners at restaurants and take your foot off the pedal for a few days. The break will do you good and help to restore the energy you've given out, so that you can come back and continue diligently ploughing away at your projects and manifesting your ambitions for the rest of the year!
.
Personal Year 5
After experiencing the free-spirited nature of July, August brings the energy of the Personal Month 4 into your chart which offers a grounding energy. The 4 can be seen like a square, sturdy and strong, but maybe also a little dull at times? This whole year carries a theme of change, but this month is less likely to deliver big surprises, and rather gives you a chance to work hard and give your plans strong foundations. There's likely lots of work to be done this month, you may well need to put in overtime or spend nights burning the midnight oil. So, ensure you make self-care a priority, take breaks when you're tired, meditate, and walk in nature to keep your energy levels topped up.
With the playful year 5 still tugging at your sleeve, it's likely that the chance to party won't completely disappear. However, this month it's clear to you that your social life takes the back seat whilst your work and responsibilities consume your attention.
At home and at work you radiate a sense of dependability, you are an unshakeable rock that others can rely upon, and this is appreciated both by your team, managers, and your family. As you make progress, diligently pouring your effort into your endeavours with your nose at the grindstone, this is a month which will see you making great progress towards your goals. And when the end of the month comes, you can look back with a sense of achievement at everything you've done. 
If, at times, it feels like you're going round and round the square of the 4 and getting nowhere fast, take comfort that when September arrives you'll be presented with a period of significant change. The opportunity you crave to break out and find adventure is just around the corner.
.
Personal Year 6
As August arrives, it brings the Personal Month energy 5 into play, which is a free-spirited number that thrives on change. This is a month to surely expect the unexpected! With your Personal Year 6 still strongly influencing your chart, it's likely that your family and loved ones continue to consume a lot of your time and attention. But this month has a light feel to it, and as the 5 loves a good party, opportunities to socialise are very well supported. The 5 can, however, tempt us into overindulgence, so it's prudent to remember there's wisdom in the old adage 'everything in moderation'!
At work you should find some interesting ventures presenting themselves, which can benefit your career in both the short and long term. Your ability to think outside the box is high this month as you pursue creative ambitions, and you may well make interesting new connections.
As the 6 loves the homelife and the 5 loves change, this is a great time to move house! However, as the 5 is a number that doesn't care for sticking to your plans so much, expect things will likely crop up to surprise you as you make your way through this month.
The 5 asks us to relax our mindset so that we go with the flow and trust in the direction you're guided. So, as always, pay attention to Synchronicity and affirming signs from the Universe as you ride this month out and see where it wants to lead you.
.
Personal Year 7
August brings the Personal Month 6 into your chart, and as the most nurturing of all the numbers, you can be sure that this month you will be called to invest significant time and energy into caring for others. Maybe your children need your attention more than usual, or a relative calls on you for support. Either way, you can expect work to be on the back burner whilst your home-life takes centre stage.
As the energy of the 7 year is still strongly influencing you—which is well known to call forth our inner hermit—you may well wish you had more alone time this month, so you could focus on your contemplations and plans. However, this is a time to give yourself generously to others, and in return, you'll find joy in the experience of connecting deeply with others.
At work, it's likely that you receive compliments and recognition from colleagues who appreciate all the efforts that you've been making in recent months. You shine, but you're also aware that there is much more work to be done to take you to where you want to go.
If you're in a relationship, your partner may be going through something which causes them to lean on you. They look to you for your support and with your natural ability to nurture others this month, you sweep them up and give them the sense of safety they crave.
Whilst you're busy looking after everyone else this month, don't forget to practice regular self-care activities too to keep your own energy topped up! Meditation, as always, should be a priority, and taking early nights with a good book could be just what the doctor ordered.
.
Personal Year 8
Ok, breathe. Take your tongue down from the roof of your mouth, relax your shoulders and just breathe. This year has been all go, but now August arrives, it brings with it the Personal Month 7 which carries the themes of reflection, recuperation, and rest.
You've likely felt as if you've been working like a whirling dervish so far this year, and while your plans are not yet completed, it's important to take time to recharge your inner batteries. Next month, the Personal Month 8 will team up with your Year 8, offering a significant opportunity to implement something BIG, so you want to make sure that you take care of your needs energetically this month so that you're ready to meet September with gusto when it arrives.
The 7 likes to see us scrintinsing the details of our plans, and reworking things where necessary in order to ensure we're best equipped to travel in our highest direction. It's likely that your work consumes you mentally and you're less interested in socialising this month.
As the 7 likes to see us taking time alone with our thoughts, quiet nights at home are the flavour of the month—many which you'll likely spend pouring over your work projects and considering how you can create the sense of security that you require.
There's a strong spiritual essence that the 7 delivers too, making this an excellent period to deepen your spiritual knowledge, and, of course, to meditate. If you've got questions in your mind, ask the Universe to bring you the answers, meditate, and pay attention to synchronicities and intuitions when they crop up. Your connection to the Universal flow is strong, so try to up your meditation practice during these weeks and let your connection to love guide you forward.
Whilst the 7 no doubt calls forth your inner hermit, romance is well supported this month. Your serious, contemplative nature leads to deep and meaningful conversations with your love interest, which take your relationship to a deeper level.
.
Personal Year 9
As August arrives it brings the Personal Month 8 into your chart, and this is a great time to finalise plans, particularly those relating to business and your career. Next year, as you know, your Personal Year 1 will open up, birthing a whole new life stage. But there's still much to be done this year to put everything in place to wind down this cycle and set you up for the new.
You're likely considering making big changes next year; maybe you have entrepreneurial ambitions, or ideas to overhaul your life in some way. It's a time when you're starting to dream big and clearly visualise the direction you want to take. Finances will come into focus this month, so do what is necessary to smooth this area of your life. Identify your budgets, consider financial investments carefully, and make responsible decisions, so that you leave this month knowing exactly how your balance sheet stacks up. The 8 is concerned with the material world and likes to see you investing your assets wisely—knowing that your assets include your time and attention, in addition to your money.
Romance is generally brighter this month as you come more out of your shell in search of warmth and human contact. If things have been shaky between you and your partner, this month will likely be calmer during this time.
.
***Please note these Numerology readings are provided for your own contemplation and entertainment as you analyse if Numerology resonates with you. The responsibility for your own life and actions remains fully with you, and neither the author nor Celestine Vision accepts any responsibility for any action you may take based upon these readings.
If you'd like to read a sample of Joanne Louise Hardy's debut novel, ANA, with foreword by James Redfield, click here!  You can also follow Joanne on Facebook or Instagram