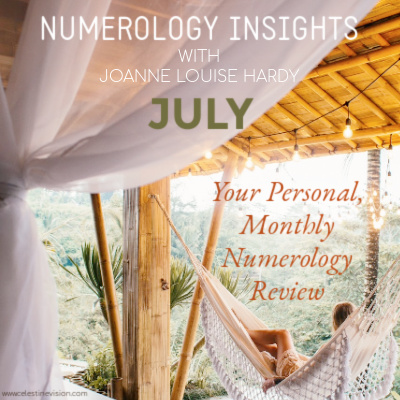 Welcome to Celestine Numerology Insights for July!
 Below you'll find readings for each Personal Year/ Personal Month combination in play this calendar month. To discover which reading is applicable to you, we first need to do a quick calculation to find what Personal Year you're currently in. To do this, we take your birth day, and your birth month, and add it to the calendar year, and then we add the digits of the result together until we find a single figure.
So, if your birthday is 1st July, we add 1 + 7 to the calendar year e.g: 1 + 7 + 2021 = 2029. We add 2+0+2+9 = 13, and then we add 1+3 = 4. Here we find the result 4, which means for this year, you would be in a Personal Year 4.
Once you know your Personal Year number, you can scroll down through the readings and find the one that's applicable to you.
As we're mid-way through the month, it'll be interesting to see if you already feel this energy around you at this time.
I hope you find this an insightful experience!
Personal Year 1 
With July's arrival the energy of the Personal Month 8 arrives in your chart and brings with it a go-getting attitude that should see you filled with determination. The number 8 loves to see us implement projects or plans, bringing our hard work down to earth with the act of manifestation. The fruits of your labour are now coming to the point of harvest, and as 8 has a Karmic quality about it, the results you yield will be aligned to the energy that you've invested previously during this year. 
The Personal Year 1 offers the birth of a whole new chapter in your life, and you can expect the seeds that you sow this year to keep on developing and maturing for the next 8 years as your plans and ideas evolve in line with the synchronistic flow. So whilst this month offers a chance to implement something, it is more of a milestone achievement stage than an outright closure or end of something you've been working towards.
Your confidence is high; your entrepreneurial spirit raises your game, and at work, you may well have the opportunity to network with influential people, making for some interesting connections to develop. You're hard at the grindstone, working with diligence this month, and if you carry out your duties with care, paying attention to details, you should be able to deliver the high quality results you envisage. 
Whilst a great combination for work, your romantic life may be a source of frustration this month. Your attitude could ruffle your partner's feathers, and any previously unspoken issues may well surface to provoke resolution. Although your work sees you stepping forward as a natural leader this month, at home your partner seeks your love, not your direction. It's a time to shake off irritations through open communication, stay in your highest state of mind by connecting with love, and then letting this love flow out of you to reach your partner and everyone else around you. 
Sure, you've got lots to do this month, but don't let that stress you out, nor subsequently take that stress out on your loved ones via minor quarrels. Keep your energy high by meditating, eating well, exercising and resist the temptation to burn that midnight oil too much. Remember that a good night's sleep will make your work flow more efficiently the next day, and help you to avoid any crankiness that comes from depleted energy. Good luck!
Personal Year 2
After June saw you instigating a change or implementation of some kind, July arrives bringing the Personal Month 9 energy into your chart and offers a period of completion/closure. There's a new start waiting for you in August, and July is here to provide you with a winding down cycle so that you can prepare yourself to move into next month in the best possible way.
There's a quality about the 9 month that asks us to review our life and to make changes to bring about improved health. It's a time when we're called to let go of aspects of life that are no longer serving our highest path; to clear away the cobwebs with a round of inner-world housecleaning.  
The Personal Year 2 brings our partnerships and closest relationships into focus. If your relationship has been a source of heartache in previous months, this energy combining with the 9 month may have you looking at your partner and wondering if you're each what the other really needs. It's a time when you may be feeling emotionally vulnerable, as the Two Year always calls forward our most sensitive side. This can be a challenging period to ride through. If you and your partner come out of it together, your relationship will be stronger for it, and you'll find a lighter energy arrives with you as August comes.
If you're single, this isn't typically a month when you're likely to meet someone new. However once July passes, you'll find the remaining summer months could prove more interesting in that respect as the weather heats up your appetite for fun and sociability. 
Take good care of yourself this month, ensuring you keep your meditation practice up to steady those emotions, and invest in self-care activities as a high priority.
As the 9 calls upon you to provide service to the greater good, any work you can do on a voluntary or charitable basis this month will likely prove highly beneficial and enjoyable. Remember, when we give freely to others, Karma likes to see that same kindness returned to you in the future, so any acts of kindness you invest now are all positive deposits in your karmic bank account! Getting out there and giving selflessly to others can also prove soothing to the soul and provide an opportunity to centre yourself through sharing your time and energy for a worthy cause. 
Personal Year 3
As July arrives, it brings with it the Personal Month energy 1 and the opportunity to open a fresh new chapter in your life. Last month may have seen you dealing with heavy issues as some part of your life came to a point of closure. However, now the 1 arrives in your chart, those niggling feelings of doubt or anxiety can be washed away and replaced by a mindset which feels much more positive and buoyant.
Overall, the Personal 3 Year likes for us to be creative, sociable and to consciously network, helping us to find our tribe and the people who spark our inspiration. When combined with the 1 Month, which likes to see us step out there with enthusiasm and entrepreneurial confidence, this can prove a time when highly interesting connections are made.
The 1 month offers a period to sow new seeds, and with the highly creative 3 Year backing it up, July will likely see new ideas and opportunities coming into your flow. It's a time to brainstorm, to draw up some conceptual ideas—take that blank page, and let your imagination pour out. Pull those big ideas down from the ether and imagine what they might look like, what you'd need to do, what help you might need, and what your next steps might be… 
As the summer starts to heat up, you'll likely feel like playing the role of the social butterfly this month with events and gatherings filling up your agenda. Romance also features positively at this time, and if you're single, you may well find an exciting new attraction arriving in your life.


Personal Year 4
Now over half way through your 4 year, July brings the Personal Month 2 into your chart and calls your sensitive side forward. In the workplace, your diligent effort continues to go well, and as the 2 is the number of partnerships, this can be a great time to mindmeld with others to progress new ventures. 
If you manage your self-care regime and keep your energy strong and centred (knowing you need to make time to meditate, eat right, and sleep well), this month can be highly productive. With your natural compassion for others heightened by the 2 and the secure nature of the sturdy 4, you find yourself in a position to bring harmony to your workplace. You are solid, dependable, and well trusted.
However, if you push yourself too hard and let your energy lapse, the 2 influence (which can bring on over-sensitivity) combined with the 4 (which can easily give way to feelings of frustration), can leave you feeling wobbly and wondering where your sense of self-assurance has disappeared too. This may be a month where you look at molehills and perceive them as mountains while feelings of vulnerability surface. If so, try not to take yourself too seriously. You've been working hard this year, and yes, there's a lot on your plate, so make sure you invest in self-care activities and take rests to recharge your batteries when your energy dips down. 
Keep going and stay centred. You got this.


Personal Year 5
With July's arrival, the Personal Month 3 sweeps into your chart, offering a period of high creativity and sociability. Now over half way through your 5 year—during which Change is the name of the game—you may well be chomping at the bit, eager for deep change to manifest. As the 3 energy loves to see us networking and meeting new people, you'll likely be drawn to situations where you're given the opportunity to encounter fresh faces and have interesting conversations which spark your inspiration. Pay attention to synchronistic events and affirming signs given to guide you on your path, and as always this year, expect the unexpected.
The 5 is a number that encourages our perspective to shift, so that we can evolve our projects and plans to our highest potential. It has a free-spirited nature and it also loves adventure, so as it teams up the charismatic, playful 3, July is a month that you can expect will offer fun in a variety of forms.
The 3 provides us with an opportunity to put our best foot forward and make moves and connections to further our dreams. It's time to dust your shoulders off, get your hair styled, and put on your feel-good outfit. Get out there and meet the world with a smile on your face.
Take care to manage your energy levels so that you don't end up feeling irritable from too many late nights or parties. Meditate your way through the month, eat healthily, and sleep well, and you'll sail through the month knowing a highly creative flow.


Personal Year 6
As July arrives, it brings the Personal Month 4 energy into your chart, and gives you a stable, sturdy flow which you can utilise to further your work and support your loved ones. Your Personal Year 6 is in full flow, calling upon you to nurture your family and find joy in doing so. And quite simply put, this month will see you being the rock which your loved ones can depend on for unwavering support. 
You have responsibilities to tend to and may be required to take care of others more than usual. This may result in you finding aspects of this month a little square-like—as if you go round and round the square, sometimes feeling boxed in, or maybe even a little trapped by circumstance. However, although box-like, the square has solid foundations which encourages us to stay grounded—sometimes, a dose of solid dependability is exactly what's called for.
If feelings of boredom or frustration creep in, find a way to get creative with your down-time (whenever you find some) and invest your energy in working on an activity or project which makes your inspiration energy run high. Next month, the 5 personal month energy will arrive, offering an opportunity to break out of your square and find a little adventure so, don't worry, this feeling of all work and no play won't linger in the air forever! 
For those in committed relationships, this is likely to be a time which draws you and your partner ever closer together. With romance in the air, your feelings deepen, and intimate conversations make for delightful nights spent together.
At work, it's likely your responsibilities are vast and there is much you want to accomplish. The 4 encourages us to be diligent, to invest our best efforts to hone our projects with a centred energy. So, stay balanced by investing in self-care activities, and make sure you nurture yourself as much as you're nurturing those around you.


Personal Year 7
After all the hard work that June saw you investing, July arrives and brings the Personal Month 5 energy into your chart, offering an opportunity for change and a dose of adventure. Your Personal Year 7 is now over half way through. You've likely spent much of this year making plans and revising projects, getting yourself geared up for some kind of breakthrough that you sense is coming next year. July provides a period which challenges you to widen your perspective and evolve your plans so that they'll take you in your highest, most creative direction.
The 5 likes for us to travel and the 7 year likes for us to rest and recuperate, so when we mix these two energies together, it makes for an excellent time to take a holiday! A change of scenery and a week off work can make for just the tonic, helping you to unwind and recharge your inner battery, whilst that fresh air brings fresh thinking to your contemplations.
As the 5 likes to spice things up, July is a month where you should expect the unexpected, and stay open to new information and opportunities coming your way. The 5's adventurous side can also see us feeling more drawn to hedonistic activities and over-indulgence in the party lifestyle more than usual. Keep your energy balanced by investing time in creative activities and conversations which raise your inspiration energy, meditating, and getting enough sleep—you don't want to end up feeling cranky from too many late nights.


Personal Year 8
July brings the Personal Month 6 into your chart and you're called to focus your attention on your home and family life. You've no doubt been working hard all year to manifest your projects and there's still much that you know you need to do, however, July asks you to move work to the back burner for just a few weeks and be present for your loved ones when they need you. This is a month which will see you looking after members of your family—maybe you'll need to stay home with children, or you'll be called to look after a relative in a domestic setting. Someone needs you, and as the 6 encourages our most nurturing disposition, it's a time to let this side of your life take centre stage, and also to find joy in the process of doing so.
At work, you're starting to get the recognition that you deserve. Recommendations that you have made are considered with appreciation, and you may even find yourself getting a promotion as a direct result of the dedication and effort you've poured into your projects. You're taken seriously in the workplace; you're confident in your abilities, and your colleagues are beginning to realise exactly what you're made of and trust your capabilities. Take care not to get over-confident with your words, stay tactful and true to yourself, respect differing opinions and you'll come through July, finding August on the other side, waiting to offer you an opportunity for rest, relaxation and a chance to charge up your batteries.


Personal Year 9
July brings the Personal Month 7 energy into your chart, and offers a period for deep reflection and recuperation. Much of this year has been spent trying to move things to completion or closure, and along the way, you've likely felt emotions running high as you've tried to ascertain your best path forward. However, as the 9 merges with the 7, you've asked to simply pause and breathe. Slow down, rest, and contemplate deeply upon the questions that have been racing around your mind. 
The 7 is a very spiritual number, it encourages us to connect with the Universal flow and get in touch with our Higher Self, making this a great time to meditate and ask the Universe to provide you with inner guidance. You are highly intuitive at this time. Take time to listen for intuitions arriving within you—ideas that seem to come to you out of nowhere—and follow synchronistic clues to further your understanding of what you need to do and the route you need to take.
There may be others in your life who will be impacted by the choices you make, so as well as listening to your intuition, pay attention to the advice that's coming to you from those who understand your situation and what you want to achieve. Stay open to their suggestions and feel your way forward to discern your highest path.
You may feel some nervousness mixed in with your inspiration; this only comes from fear of making the wrong choices, so don't rush yourself. Next month will offer a period where you can implement changes. This month, simply focus on planning to the best of your ability, whilst taking time to invest in yourself and your own self-care. Walks in nature to calm the mind and connect with Earth energy are particularly revitalising this month.
.
***Please note these Numerology readings are provided for your own contemplation and entertainment as you analyse if Numerology resonates with you. The responsibility for your own life and actions remains fully with you, and neither the author nor Celestine Vision accepts any responsibility for any action you may take based upon these readings.
If you'd like to read a sample of Joanne Louise Hardy's debut novel, ANA, with foreword by James Redfield, click here!  You can also follow Joanne on Facebook or Instagram