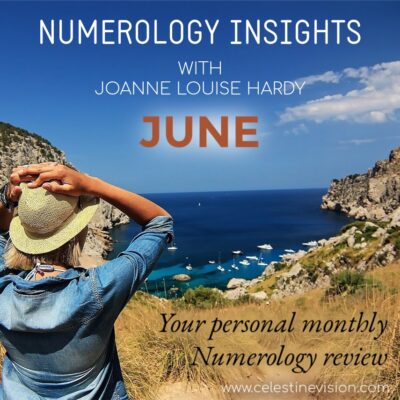 Welcome to Celestine Numerology Insights for June!
 Below you'll find readings for each Personal Year/ Personal Month combination in play this calendar month. To discover which reading is applicable to you, we first need to do a quick calculation to find what Personal Year you're currently in. To do this, we take your birth day, and your birth month, and add it to the calendar year, and then we add the digits of the result together until we find a single figure.
So, if your birthday is 1st July, we add 1 + 7 to the calendar year e.g: 1 + 7 + 2021 = 2029. We add 2+0+2+9 = 13, and then we add 1+3 = 4. Here we find the result 4, which means for this year, you would be in a Personal Year 4.
Once you know your Personal Year number, you can scroll down through the readings and find the one that's applicable to you.
As we're mid-way through the month, it'll be interesting to see if you already feel this energy around you at this time.
I hope you find this an insightful experience!
Personal Year 1: 
With June's arrival, the Personal Month 7 comes into your chart, bringing with it an opportunity to calm down, rest, and reflect. May likely called you to invest significant time and energy in your family and loved ones, now June sees you being offered time to focus on your own self-care. Whilst, of course, it's likely that work commitments and daily responsibilities continue as normal, if you can take some time off during June, it's a great time to do so. There are likely many things that you're considering right now, thoughts and ideas that are whirling around in your mind, which need to be processed. It's not a time to forge ahead, rather it's a time for deep contemplation. Take a step back from the action to reflect and refine your plans and desires, so that next month you can move forward with greater clarity and gusto.
Despite the many things you want to do, this month you are encouraged to rest and recharge your inner battery. Take time to get out in nature and connect with Earth energy, meditate regularly, and nurture yourself with wholesome food to raise your vibration. This is a great month to study and read books that speak to your soul. Journaling can also be highly beneficial—you're looking to get clarity of mind so writing down your thoughts can be a great way to do this. Make lists of Pros/ Cons, etc to help you practically weigh up decisions and possible directions, but remember to use your spiritual intuition to help define your plans. If you have a question in your mind, ask your question to the Universe and then open yourself up in meditation to receive ideas about where you might go, or what you might do to move forward in the highest possible light. Remember to look out for synchronicity working it's magic around you as well as signs that affirm your intuition. 
As your Personal Year 1 (which encourages your independence and individual growth) teams up with the reflective Personal Month 7, your tendency to be somewhat of a hermit this month is high. This month social activities and romance take a back seat, however deep and meaningful conversations with people you love can prove nourishing, bringing both insight and enjoyment to boost you during this reflective period.
Personal Year 2
After spending May in a period of rest and reflection, June arrives bringing the Personal Month 8 energy into your chart and the opportunity to press forward. If you've planned well, you know what you need to do—especially in your work and career. With the Personal Year 2 putting focus on your relationships, it's likely that your plans involve you working with others to bring about the result you want to achieve. As your confidence is high and diplomatic abilities are strong, you're in a great position to nurture those around you at work. You can handle any dramas with grace and create a harmonious working environment which supports your team and enables you to deliver your goals. If you work in an organisation where you have a management team above you, this is a good time to speak to your boss and let them know where you stand and what you want from your career. You're shining bright and proving your capabilities as you meet your milestone achievements—and if there's a promotion that you're after, it's a great time to put your name forward. 
Romance might be tricky at this time with trivialities becoming irksome, but cooperation is the name of the game to keep things smooth. Don't fret too much on minor irritations, it's OK for romance to take a back seat this month as you focus on your career—just make sure you don't ignore your loved ones and go into a mode of all work and no play. Stay balanced by working hard when it's time to work, but also by putting your phone down some evenings to relax, wind down with loved ones, and recharge.
Personal Year 3
With June's arrival, the Personal Month 9 arrives in your chart and this can see you feeling a little tired and shaky. It's likely you expended considerable energy last month as you implemented some kind of project, and there may be residual fatigue that's hitting you now as a result. What goes up must come down, and you're probably feeling that this month. You may even feel a bit moody or overly guarded and defensive. Relationships can be rocky at this time as the 9 asks you to review your life and clear out or let go of any aspects which are no longer serving your best interest. You may find yourself starting hard discussions with your partner in order to address issues that have been weighing on your mind.
Combat your tiredness by taking a step back from your social life this month and invest in self-care activities. Up your meditation practice to centre your energy and shake off insecurities. Take long soaks in the tub, get some early nights, and exercise in a way you enjoy to raise your energy levels. 
With your Personal Year 3 in play, you've likely had many creative projects whirling around your mind. You may feel as if your brain is like a web-browser with dozens of open pages. This month, the 9 energy is encouraging you to work through those pages to establish which are realistic and which you can close down for now, so that you can better focus your attention for the rest of the year and wisely invest your time to bring about the best results in your work. In July, the Personal Month 1 will arrive in your chart and will see the opening of a new chapter in your life, which should see you feeling much brighter. 
Personal Year 4
After May saw you bringing something to closure (most likely work related), June arrives and brings the Personal Month 1 into your chart, seeing the dawn of a whole new chapter. This is a month when new seeds are planted, which will take the best part of the coming year to develop. Any frustrations or niggling negativity that you may have felt last month willnow likely dwindle away, as June sees you feeling much brighter and optimistic.
At work, promises of new ventures are exciting, and your natural ability to lead others in a positive direction is strong.There are initiatives to be scoped out and ideas to pull down from the ether to be developed. Plus, your intuition is strong regarding your work endeavours and practical projects. There is a vision that you're developing now, and it's a vision which feels realistic and achievable–given time, there's nothing you can't do, and you know instinctively where to place your attention.
The 1 is a dynamically independent number, so take care not to pull away from your loved ones during this time as you concentrate on your work. Balance your energy by investing your downtime in loved ones, laughing, and loosening up—remember what they say about all work and no play… you don't need to stay in the serious go-getter mode all the time. If you're single, you might feel a new attraction hitting you this month, however if that attraction happens in the workplace, just take care that a romantic encounter won't jeopardize your career; being cautious where lustful behaviour is concerned is prudent at this time.
Personal Year 5
After all the excitement that May brought in opening a new chapter in your life, June arrives bringing with it the Personal Month 2, and this can see you feeling more sensitive and vulnerable—you may well wonder where the spring you felt in your step last month has gone. There is change in the air this year, and as the 2 likes to bring our relationships into focus, this is a time when you may find yourself soul-searching and assessing if your romantic encounters are actually giving you what you need—particularly if you started a new relationship recently. The 2 likes to see us opening up and talking with others, and your ability to communicate really is key at this time. If you're in a committed relationship which you have no intention of breaking from, there will still likely be issues that are niggling at you that you'd be wise to address with your partner. 
But as the 2 can bring out our insecurities, it would serve you to meditate regularly and centre your energy before stepping to your partner with your issues. Rather than provoking dramatic scenes, ground yourself in love, then approach your partner in an open and honest way, so that you can address your truths and concerns in a way that will best support the love that you have for one another. Tact, diplomacy, and cooperation will be your allies, providing you invest in your own energy and keep yourself balanced. Use this month to release anything you've been bottling up, and if you have any opportunity for travel this month, a little time away and a change of scenery can do wonders for your clarity.
Personal Year 6
May might have had you feeling a little vulnerable or overly sensitive, now June arrives bringing the charismatic Personal Month 3 into your chart, and this should see you feeling much brighter. 
You're feeling more confident and sociable this month and your creative energy is high. This is a great month to unwind and take life a little less seriously. Go on holiday with your loved ones if you can, take a trip to the beach, go out for dinner—simply invest in play time where you can. 
As the Personal Year 6 focuses our attention on family and loved ones, and the 3 likes to see us let our hair down, combining the two elements of life together is sure to bring about fun; it's a time where family gatherings and leisure activities can really be enjoyed. You feel a sense of togetherness, which nurtures both yourself and those around you.
As your creative energy is flowing, you may be daydreaming and brainstorming ideas this month. And although this energy may be lighting up fires within you regarding work, it's also a time to enjoy being artistic simply for the enjoyment of art alone. Paint, play musical instruments that you haven't touched in a while, make a sculpture, or create a scrapbook of photos—for no other reason other than to enjoy the experience. Happiness can be found in the simplest of things at this time. If you involve your family in your creativity, you'll likely find it even more soulful and rewarding. Laugh, love, and be happy; June is here to be thoroughly enjoyed.
Personal Year 7
As June arrives, it brings the Personal Month 4 energy into your chart, offering you a period to concentrate on your work, roll up your sleeves, and get the necessities done in order to give your projects a solid foundation. The energy of 4 can be seen as a square; it's a strong and sturdy number, which is great for making practical advances. However, its nature can also give rise to us feeling boxed in and somewhat frustrated by it's unexciting form. As you work hard, you travel around and around the square, continuing to plough your effort in, perhaps without feeling a great sense of reward or accomplishment. You keep going but may feel like you're getting nowhere fast. Diligence is the name of the game here—keep going, that's all you need to do. Keep investing your energy in work that you believe in; the effort you expend this month will come back to you in the future. 
You might feel boredom creeping in as you must frequently take care of work tasks that you don't really feel like doing—maybe your administration needs to be handled and your to-do list is long. But, once you've invested your energy into those necessary tasks and keep checking off the boxes, you'll feel much lighter as you continue to make progress and see the list start coming down. Take courage, this month is only here for a matter of weeks before the Personal Month 5 energy will sweep in and offer some opportunity for adventure. Work hard, apply yourself, give your best effort to all your endeavours, and at the end of the month, you'll look back and feel pleased at all you've achieved.
Personal Year 8
After all the hard work you invested during May, June arrives bringing the Personal Month 5 energy into your chart and, with it, an opportunity for an adventure of some kind. As much as you may like to follow your plans and stick to targets, you should expect the unexpected this month. Use this exciting energy to be guided forward, taking impromptu detours or changing direction. Maybe you've been heading West all year, and now you're called to go East—that's the 5 shaking things up so that you can refresh your perspective and bring new ideas and possibilities into your vision. If you cling too much to your preconceived notions, this month may bring challenges your way. But, if you stay open to change, and resist closing your mind to things simply because they weren't on your list or plan, this can be a really interesting time. Personal flexibility is key this month. Watch out for synchronicities as they appear on your path, and pay attention to your intuition as the month unfolds.
This is a nice month for parties, being sociable, and finding enjoyment in the lighter side of life. Travel is well supported as the 5 loves for us to explore the world and discover new places. Romance is also vibrant at this time. If you're single, it's a great month to meet new people, and it's highly likely that you'll meet someone who will turn your head so quickly you'll have to be careful you don't crick your neck! Enjoy June and all it has to offer, go with the flow, and it'll be interesting to see where you end up by the end of the month.
Personal Year 9
As June arrives, it brings the Personal Month 6 energy into your chart, pulling your attention to your home and family life. With your Personal Year 9 currently in play, you are undergoing a period of completing a cycle, whilst also letting go of elements of life that no longer serve you—and you're doing this in order to facilitate a new life chapter beginning next year in the healthiest way possible. Whilst you may want to stay focused on your important work project this month, you will likely find your loved ones asking for your help and support, and you would be wise to invest time in nurturing them rather than responding distantly or with aloofness. The Personal Year 9 likes to see us serving others selflessly and giving time away freely for the greater good. If you apply that to your family and colleagues, they will surely appreciate your sound advice and support as you help them to review their plans. 
If you're in a rocky romantic relationship, this month may well prove challenging for you and your partner, and it will test the strength of the foundations of your relationship. Relationships that need to come to a close will likely do so at this time, but if you make it through this month together, your bond will be all the stronger for it. It's a time of assessing what you really want from a loving relationship and to be honest with yourself and each other about whether you can really give what the other needs…and if you're receiving what you need in return. Overall, June is a month to develop your personal strength. Believe in yourself, and also enjoy creative activities when you get the chance. Remember next year, a whole new life stage will be opening up to you, and that's a hugely exciting prospect.


.
***Please note these Numerology readings are provided for your own contemplation and entertainment as you analyse if Numerology resonates with you. The responsibility for your own life and actions remains fully with you, and neither the author nor Celestine Vision accepts any responsibility for any action you may take based upon these readings.
If you'd like to read a sample of Joanne Louise Hardy's debut novel, ANA, with foreword by James Redfield, click here!  You can also follow Joanne on Facebook or Instagram