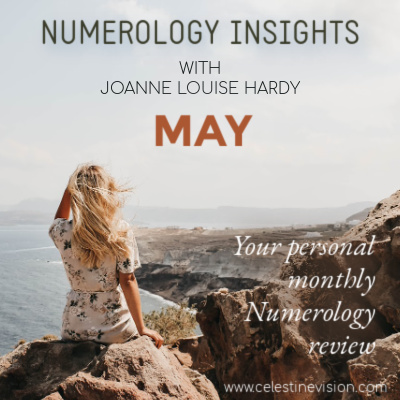 Welcome to Celestine Numerology Insights for May!
Below you'll find readings for each Personal Year/ Personal Month combination in play this calendar month. To discover which reading is applicable to you, we first need to do a quick calculation to find what Personal Year you're currently in. To do this, we take your birth day, and your birth month, and add it to the calendar year, and then we add the digits of the result together until we find a single figure.
So, if your birthday is 1st July, we add 1 + 7 to the calendar year e.g: 1 + 7 + 2021 = 2029. We add 2+0+2+9 = 13, and then we add 1+3 = 4. Here we find the result 4, which means for this year, you would be in a Personal Year 4.
Once you know your Personal Year number, you can scroll down through the readings and find the one that's applicable to you.
As we're mid-way through the month, it'll be interesting to see if you already feel this energy around you at this time.
I hope you find this an insightful experience!
.
Personal Year 1 
It's likely last month you experienced some kind of change in your life, and now with May's arrival, the energy of 6 comes into your chart, pulling your focus onto your family and homelife. If everything at home is peachy perfect, this can surely be a joyful time where you find your relationships with loved ones deepening. However, if there are issues with loved ones, then this month will likely bring all problems to the surface. As always, honesty is the best policy, so take courage to air your feelings with your partner, rather than taking what may seem like the easier option of keeping your mouth shut (or lying) for peace's sake. In the long term, keeping things hidden will always be harder, as well as unhealthier. Even if a break-up is the necessary outcome, follow your intuition and find the healthiest way forward for the pair of you. 
This month, you may find your family depends on you a little more than usual—maybe you have your kids at home more or you need to look after relatives with health issues, either way you can expect someone to lean on you. As the 6 energy tends to bring out our most nurturing side, any additional responsibilities with loved ones will likely not phase you. 
Whilst work generally takes a back seat in your mind this month (as your mental narrative focuses on your homelife), this can be a rather lucky month in your career and you may find yourself being offered a promising opportunity at work, or a being on the receiving end of a surprising financial payout. Legal issues may also come to a resolution this month.
Personal Year 2
After spending April focusing on your family, May now arrives and brings with it the energy of 7, calling you to switch your attention to your own self-care. As much as we may want to always keep ploughing ahead with projects and goals, we all need to rest at times, and this month is offered to you as a sabbatical period, during which you can reflect and recharge. 
This is a great time to take a week or two off work if you can, however, if that's not possible then take care of yourself by spending as much of your downtime as possible in activities that nourish your soul. It's a good month for taking early nights to catch up on sleep, indulging in long soaks in the bathtub, and walking in nature to connect with the Earth's energy—appreciating the beauty of nature as spring comes into its full beauty can do wonders for a weary soul. This is also a great month to read, study, and receive insightful information that helps you to expand your horizons by expanding your mind.
As you're in a Personal Year 2, you'll likely find yourself feeling more sensitive and vulnerable than in recent years. However, as you focus on looking after yourself this month, May can offer a welcome period where you do the work necessary to release painful emotions, addressing your own trigger points and beginning to feel a welcome sense of inner healing taking place. June will see you moving forward with vigour, so take these weeks during May to reflect upon all areas of your life and define your plans thoughtfully, so that next month you can truly put your best foot forward.
Personal Year 3
April likely caused you to take a period of reflection and asked you to recharge your batteries, now May arrives and brings the energy of 8 into your chart, encouraging you to get out there and go get 'em! This is the time to put plans into action and implement something that you've been working towards for the last year. The time has come to harvest seeds sown last year, and as the 8 has a karmic quality, the results that you reap will be proportional to the effort you have previously invested. As the Charismatic Personal Year 3 energy teams up with the confident 8, this is a key time to focus on your career and prove yourself and your capabilities. It is a time of focus, diligence, and following through on the goals that you've set out for yourself to reach that next milestone in your current career plan.
Romance takes a back seat this month as your career takes centre stage. However, if you're single, watch out for someone who caught your eye in the past making an appearance in your life once again. Sociable occasions are favoured and spending your days off work with friends and loved ones is an ideal way to balance your energy, 
Personal Year 4
As we've discussed in previous months, the Personal Year 4 is here to call you to work hard this year so that you can manifest your ambitions going forward—and this month is no exception to that rule. With May's arrival, the Personal Month 9 comes into your chart and the 9 will often bring closure to a certain aspect of your life. This happens so that you are mentally prepared for the new cycle that will open up in June, when the 1 energy comes once again into your influence. With the 4 year in play, it's likely this closure is related to your work/ career. Whether it involves seeing a project through to completion, deciding to move jobs, or change your role, you spend this month wrapping something up so you can start some kind of new direction next month.
Sometimes this month will bring challenging situations to a head so that you can let go of an aspect of life that no longer serves you. And, in that respect, it can be a challenging month. Keep yourself centred by remembering to meditate regularly. Forgive others and yourself where you need to and commit to the following the highest path forward which can best nurture you and those around you. 
The 9 is also a number which likes to give attention to the greater good and being of service to others, so if you take part in voluntary activities this month, you'll surely find the experience rewarding and somewhat cathartic as the energy you invest comes back to you and lifts your spirits.
Personal Year 5
After April saw you bringing some aspects of your life to a closure, May arrives and sees the dawn of a whole new chapter. Whether the change is impacting your personal life, your work life, or both, this month sees heaviness dissipate and a spring arrive in your step. This is likely a month where an unexpected opportunity comes to surface and it's yours for the taking. It's a time to have courage, knowing that you can 'walk the walk' as well as 'talk the talk' and make bold moves when the chance arrives. Be prudent with your finances, but know that investing your time in entrepreneurial ventures is highly supported this month.
For those who are single, you may well meet someone who excites you and sparks a flame in you this month. As the thrill seeking 5 enjoys mingling with your renewed sense of self-confidence stimulated by the 1, you may find an element of play-time opening up to you this month, bringing about some much appreciated fun. New love affairs started this month will likely manifest hot and heavy, and whilst there's a chance this new person is the next love of your life, the encounter may fizzle out just as quickly as it began. For those in a relationship, this will likely be a time when you relax into each other's company and your partner will bounce off your renewed zest for life. 
As 5 is the number of Change, and 1 is a number that opens doors, this is a key month in your current nine year cycle, during which you should expect the unexpected. Follow synchronistic clues when they arrive, investigate your intuitions with a practical mindset, and be prepared to adapt and flow with situations as they arise.
Personal Year 6
With May's arrival, the Personal Month 2 arrives in your chart and brings your relationships to centre stage. The 2 loves to work in partnership with others, whilst the 6 calls forth our nurturing side. As these two energies team up, you'll likely find May seeks your assistance with bringing harmony to a variety of situations with people in your life.  
When a 2 month arrives, we often find it softens us a little and makes us a more sensitive than usual. Sometimes the 2's sensitivity can cause us to feel a little wobbly if we feel criticised and take things too much to heart. However, now aligned with the year 6, it's likely that your sensitivity is focused towards the needs of others, more than yourself. And, this heightened perception regarding what others need or want is very much a strength, rather than a weakness. As you pick up on subtleties of situations, you can make an excellent peace-maker this month. With your diplomatic abilities running high, combined with your desire to see harmony between others, you can expect to find yourself mediating or working with others to help bring about cohesion. This applies not only to your family/ home life, but particularly to the work place too. Have confidence, patience, and seek the highest outcome, and you'll sail through this month with distinction. 
Romance will also likely feature positively on your radar this month as you feel drawn to pay special attention to your partner and show them what they mean to you. For those who are single, it can be an exciting time where a date may lead to uncovering something deep and meaningful.
Personal Year 7
After April may have seen you feeling somewhat sensitive, May arrives and brings the 3 energy into your chart, which sees your spirits picking up and you feeling naturally sociable. As the 7 year (which calls for us to take a year out to reflect, revise, and re-energise), teams up with the fun-loving 3, this is a fantastic month to take a holiday if you can. You feel more light-hearted this month, which your loved ones will likely remark upon. Your company is enjoyable as the Universe encourages you to take a load off your mind and just enjoy the delights of being alive. Go to BBQs, social gatherings, and enjoy nights out with your friends/family, and let the laughs that you share together lift you up—the smile on your face really suits you.
Workwise, it's not generally a time for steaming ahead with projects, however the 3 loves for us to network, so this is also a time when furthering your connections is highly supported. As the 7 year calls us to reflect deeply upon our work and the plans we're making, you may be feeling a little unsure of some aspects of the work you're planning. And, although the 7 often draws us into ourselves, the sociable 3 in play this month makes this a great time for opening up with others whose counsel you trust. Talk through your plans with your confidant and seek their perspective on the choices you're trying to sort through. 
Romance is usually playful under this influence too, so use the light energy of this month to recharge your inner batteries, enjoying each day to its fullest. Remember, Rome wasn't built in a day, you've got time to make all your decisions. Refine your plans and you'll come out of this month with a better sense of exactly what you want to do going forward.
Personal Year 8
After all that creative energy that you enjoyed last month and the new contacts that you gained, May arrives bringing the energy of 4 into your chart, calling for you to now knuckle down and give your creative ambitions solid foundations. This whole year focuses on bringing your projects to fruition, so now combining the confident energy of the Personal Year 8 with the methodical and sturdy Month 4, this is a time to work like there's a fire in your belly which powers up your inner engine to go all out to develop your work and creative endeavours. 
You may feel there's another gear in you that you've not been able to fully engage in the past, as if you've not been able to stretch your wings wide enough to do all you want to do. However, now the time arises for you to shift up into that next gear with ease. You stretch your wings and find they now can fully extend, and the time has come for you to fly. It will take effort. It will take hard work, courage, and determination, no doubt. But, it's time to take all that energy and capability that you know you have inside you and to see what you can do.
Sometimes the energy of 4 can make us feel a little trapped or boxed in, and you may wobble emotionally at times if you find yourself doubting if you can make things happen. But keep going. As the year progresses, you'll be pleased to look back and see that all the effort you expend this month was worth it. You may also find yourself a little bogged down with admin tasks that you'd rather not do, but once you do tick those off your list, you'll feel better that they're done and your mind will be that bit freer to continue creatively. Romance will likely feature positively in your life at this time too.
Personal Year 9
After all the hard work you invested during April, May arrives and brings the number 5 into your chart, which enables you to sense that great changes are ahead of you. You may feel a little unsure of your footing this month as you sense the world changing around you. It may seem like you're in a period of great flux, but deep down you feel you are ready for real progress and a new direction. You may struggle to make total sense of the world around you at times, but hold tight and ride with the flow, letting it guide you in the direction you should now take. It's best to not try to force things this month unless you are totally committed to your conviction, better to wait things out a little while and see what emerges. 
This 9 year offers you the opportunity to bring a chapter of your life to a close, so that next year you are ready for new doors opening up and a whole new nine year cycle commencing. This year can challenge us to keep our feet on the ground and our head above water as we, at times, must come face to face with releasing ourselves from a part of our lives which no longer serve us. But trust in yourself, trust in your capabilities, and stay confident in your sense of self as you progress through this month knowing that, ultimately, you will make the right choices to manifest your most inspired and fulfilling life.
The 5 is a number which loves company and is fond of a good party, so take the chances when they arise to get together with loved ones and let your hair down. Being sociable and sharing laughs with friends will do wonders for your spirit and offer welcome respite from any confusion which you're holding in your mind. Intense reflection and contemplation of serious issues can wear you down, so remember to have some fun this month, stay in touch with your sense of humor, and try to enjoy the lighter side of life as much as you can.
.
***Please note these Numerology readings are provided for your own contemplation and entertainment as you analyse if Numerology resonates with you. The responsibility for your own life and actions remains fully with you, and neither the author nor Celestine Vision accepts any responsibility for any action you may take based upon these readings.
If you'd like to read a sample of Joanne Louise Hardy's debut novel, ANA, with foreword by James Redfield, click here!  You can also follow Joanne on Facebook or Instagram