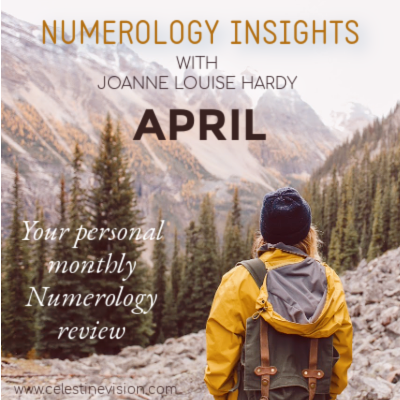 Welcome to Celestine Numerology Insights for April!
 Below you'll find readings for each Personal Year/ Personal Month combination in play this calendar month. To discover which reading is applicable to you, we first need to do a quick calculation. We take your birth day, and your birth month, and add it to the calendar year, and then we add the digits of the result together until we find a single figure.
 So, if your birthday is 1st July, we add 1 + 7 to the calendar year e.g: 1 + 7 + 2021 = 2029. We add 2+0+2+9 = 13, and then we add 1+3 = 4. Here we find the result 4, which means for this year, you would be in a Personal Year 4.
 Once you know your Personal Year number, you can scroll down through the readings and find the one that's applicable to you.
 As we're mid-way through the month it'll be interesting to see if you already feel this energy around you at this time.
 I hope you find this an enjoyable experience!
Personal Year 1 
After all the hard work you put in during March, April arrives, bringing the personal month energy of 5 into your chart, offering you the opportunity to break through to clearer skies. If you can travel this month, the change of scenery will make for a refreshing change, and any whiff of adventure will likely highly appeal. The energy of 5 loves to shake things up a bit and encourages change; just when you thought you were going East, something happens, and you feel drawn or pushed to go West. It's a month to expect the unexpected and try your best to be unfazed by change. Going with the flow of synchronicity and watching out for signs from the Universe will help you to see that you're being guided through this period, and you don't have to figure everything out by yourself. 
Your energy may feel a bit scattered this month; remember to take time to meditate to stay centered and grounded. It's also a good month to bear in mind the old adage of "everything in moderation;" as the 5 loves a good party, this month can make overindulgence appealing. That being said, when the Personal Year 1 teams up with Month 5, letting your hair down and shaking loose the restrictions that you felt last month can feel refreshing and offer a much needed boost. Overall, you should have a light-hearted energy about you during April, and it can be highly enjoyable. This month can feel exciting as new perspectives now open up for you as you consider the direction in life you wish to take.
Personal Year 2
After all the change and excitement of last month, April brings the Personal Month energy of 6 into your chart, and calls your attention to your family and homelife. The Personal Year 2 is a year that encourages us to focus on our relationships and partnerships in general, but now as it's teamed up with the 6 month, it's likely your relationship with your partner or immediate family at home takes centre stage during this time. 
Relationships founded on true love flourish and deepen this month,and may well see you getting married, engaged, or further committing to your partner in some way. However, for relationships that are already strained, the cracks in the foundations become more visible this month, allowing you to consider if you want to do the work to rebuild, or if you'd prefer to force the split and go your separate ways. Take heed that when May arrives, it will bring the energy of 7 into your chart which will offer you a chance to pause, rest, and reflect for a month, before you'll likely implement some kind of project or life event in June. 
Meditate regularly to keep your energy strong. If you have children or dependent parents, expect that they will likely need you more this month and rely on you for support. This additional expense of energy shouldn't faze you at this time as the 6 energy encourages us to nurture others and to naturally be present for the ones we love. You'll likely find it's a month where you take pleasure in cooking for others, nurturing them from the inside out with wholesome food, whilst connecting with your loved ones. As well as caring for others, it's a time when your own health and diet come into focus, and you feel compelled to make positive changes to better take care of yourself.
Personal Year 3
As April arrives, it brings with it the Personal Month energy of 7, and calls you to take your foot off the accelerator for a month and to get in touch with your inner hermit. Although you'll likely have a cheery disposition for much of this month, you may find yourself experiencing mixed emotions, with elements of self-doubt creeping in. However, this is a month where the Universe offers a time-out to rest, recuperate, and reflect upon our lives. There are likely big questions in your mind at this time, so investing more time in meditation is highly beneficial to help you as you find your centre and open up to intuitive guidance. 
Consider the path that's most illuminated with inspiration energy—where do you want to take your creative endeavours? Then, reflect upon how you can plan to move forward. Romance and relationships are quieter during this time, allowing you the time to focus on yourself and invest more in your own sense of well-being. It's a great time to read, write in your journal, and study subjects that intrigue you. Taking walks in nature, practicing yoga, and taking a few early nights will also help to expel any stress you feel while recharging your inner batteries.
Personal Year 4
After your period of reflection in March, April arrives, bringing the Personal Month 8 energy into your chart, and offering the chance to implement some kind of project that you have been working towards for considerable time. There is a karmic quality attached with the number 8, and it likes to see balance in our lives, meaning that now in this time of harvest we will reap what we have sown and our rewards will be appropriate to the level of effort we have invested in the project to date. 
The Year 4 encourages us to work hard, be disciplined with our time management and put our nose to the grindstone to give our work strong foundations—and this month is no exception. April will likely see you doing overtime at work as you commit to your deadlines with gusto and demonstrate determination to accomplish your goals. This is important work that you're doing now, but be careful not to be so focused on your career that you lose your sense of work/ life balance and neglect your loved ones. 
Make sure to take at least one day each week where you mentally switch off from work-mode, put your phone down, and focus on enjoying the company of your family and friends—the break will do you good and help to recharge your batteries so that you can greet your work with fresher eyes on Monday morning. Meditation and walks in nature are also highly recommended to keep your energy levels strong and prevent you from burning out or exhausting yourself from nights spent burning the midnight oil. Bon courage!
Personal Year 5
After all the high energy expended in March, April arrives, bringing with it the Personal Month energy of 9, and encourages you to wrap up certain endeavours and finalise your current work in progress. There is a call to dot the i's and cross the t's this month and to do what is necessary to move your current project into the state of completion. It's a month to blow away cobwebs too, as the 9 calls upon us to do inner "housework" and prepare ourselves for a new chapter which will open up next month. It's a time when you naturally look at your life and see which elements are serving you and which are not; and then, decide what you're prepared to do to change those things that do not bring you joy or support you in your highest life mission. 
You might find yourself testing your relationships to ascertain their strength. If your relationship with your partner is already strained, this might be a volatile time for the pair of you; however, if you come out of this month together, you'll likely find you're all the stronger for it. The Personal Year 5 encourages positive change, and the 9 likes for us to let go and let live. It may well be a time when a toxic relationship reaches its end. This can be emotionally challenging to process—take heed that when May arrives, it will bring with it a lighter energy and the dawning of a new chapter. For those who are single, this isn't usually a month associated with starting new relationships; however, once you get to May and the summer months, the chances of meeting someone new are much more supported.
Personal Year 6
As last month closed and saw the completion or finalisation of some element in your life, April arrives and brings with it the Personal Month energy of 1, which opens up the start of a whole new chapter. You are now sowing seeds that will take time to develop over the next year, and you may feel as if a new energy has breezed into your life to uplift you. Last month may have seen you feeling somewhat drained and exhausted, but April sees you finding a spring in your step and makes for a pleasant change. As the Personal Year 6 focuses us on our life at home, this month's combination with 1 energy, may well have you wanting to redecorate your home, change around furniture, or start new renovation projects—this breathing new life into the 4 walls around you, which is both agreeable and satisfying. 
There's an independent streak about you this month, which calls you to take your ideas forward and progress your work with renewed vigour. This can be a month where financial struggles ease and new opportunities open up. If you're single, April offers the opportunity for a new love interest entering your life, which bears real promise for a significant romantic relationship. For those with a fiancé(e), this is an excellent month to tie the knot and to start your new life together as newlyweds—congratulations if that's the case!
Personal Year 7
After confidently striding ahead with new endeavours last month, April arrives bringing with it the Personal Month energy of 2, which may have you feeling a little more vulnerable and sensitive. You may feel a little self-doubt creep in as you reflect upon your actions and accomplishments, however, it's best to not take yourself so seriously this time if you can help it. Lighten up on yourself and keep going forward. You might be forced to wait on others for things you require, which can be frustrating, but keep your cool and trust that good things come to those who have patience. 
Your intuition is high this month and you will likely be acutely aware of others and their needs and feelings. It's a time when you find you are able to offer support to others, whilst at the same time receiving support yourself. Your peace-keeping skills are appreciated, particularly at work. With your 7 year encouraging you to take the time to rest, recuperate, reflect and deepen your inner spiritual connection, make sure you continue to practice meditation and read books that offer you insights into the areas of life that you want to explore. Rest to recharge your inner batteries when the opportunities arrive without feeling guilty, and continue working through any inner healing that needs to take place.
Personal Year 8
As April arrives, it brings with it the Personal Month energy of 3 which offers key opportunities for creativity and networking. This is the time to dust off your shoulders, put on your best attire  and go meet the world with a smile on your face. It's time to talk to others about the work you've been doing in order to stimulate connections that will naturally further your career/ projects. There's an artistic flavour to your energy this month, which will see you getting creative with ideas and manifesting tangible results with an eye on details and how to bring out the best in your work. Anything that involves innovation or design is highly supported and should be naturally enjoyable to undertake. If things have felt a little shaky regarding your finances so far this year, April should cause you to pause and reflect on your needs and priorities; and, with a shift in perspective, you can begin to discover more stability. 
During this time, the energy of the 8 year calls us to understand the karmic quality of money, and encourages us to not try so hard to control it. So long as you're not operating solely with the intention of making money, April should bring about positive change of flow in the financial arena. The energy of 3 really likes for us to socialise and find joy in connecting with friends and family. It's a great month for hosting barbecues (if your weather permits!), dinner parties, or attending gatherings—you also may find new friends arrive in your life at this time.
Personal Year 9
After the flurry of creativity that was March, April arrives, bringing with it the Personal Month energy 4 which calls upon you to invest your energy heavily in your work. There is much that you want to get done and accomplish this month to further your projects, and you may find yourself working day and night to meet the timelines you want to achieve. 
Sometimes the energy of 4 months can be frustrating as we feel it box us in, however at this point in your 9 year, as you sense a new chapter in your life due to start next year, it's likely that frustration is replaced by sheer determination and commitment to your goals. Your intuition tells you that some kind of change is coming, so now is the time to put in the effort to push forward endeavours and meet your existing responsibilities, so that you're ready for next year when it arrives. 
Whilst the 4 can make us feel trapped at times, there is a chance this month to craft a solid rock in the foundation of your future. The 4 is stable, sturdy, and dependable, so use this energy to your advantage as you give your projects all you've got. Remember to take breaks when you're tired, meditate to keep your energy topped up, and find some time to have fun with loved ones so you avoid the situation of "all work and no play" bringing you down. Next month will be bringing some kind of important change into your life, and perhaps the opportunity for travel or adventure, which should soothe the intensity of April's nature.
.
***Please note these Numerology readings are provided for your own contemplation and entertainment as you analyse if Numerology resonates with you. The responsibility for your own life and actions remains fully with you, and neither the author nor Celestine Vision accepts any responsibility for any action you may take based upon these readings.
We are delighted to announce that Joanne Louise Hardy's exceptional debut novel, ANA, with foreword by James Redfield, was published in February 2021, and is now available to purchase in english on Amazon international marketplaces, in addition to a selection of other vendors. Follow Joanne on Facebook or Instagram