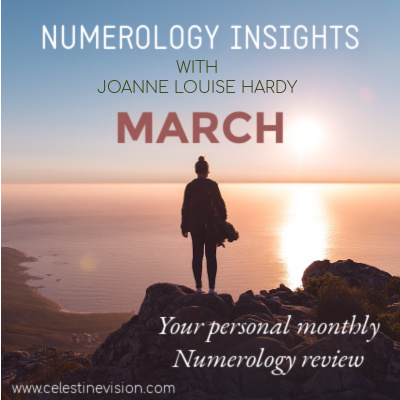 Welcome to Celestine Numerology Insights for March!
Below you'll find readings for each Personal Year/Personal Month combination in play this calendar month. To discover which reading is applicable to you, we first need to do a quick calculation. We take your birth day, and your birth month and add it to the calendar year, and then we add the digits of the result together until we find a single figure.
 So, if your birthday is 1st July, we add 1 + 7 to the calendar year e.g: 1 + 7 + 2021 = 2029. We add 2+0+2+9 = 13, and then we add 1+3 = 4. Here we find the result 4, which means for this year, you would be in a Personal Year 4.
 Once you know your Personal Year number, you can scroll down through the readings and find the one that's applicable to you.
As we're mid-way through the month it'll be interesting to see if you already feel this energy around you at this time.
 I hope you find this an enjoyable experience!
.
Personal Year 1: 
This month, as the energy of the 4 teams up with your Personal Year 1, is the time to put your nose to the grindstone and show the world what you're capable of. You've likely got big ideas that need grounding with diligence, and now you're ready to focus your energy on doing just that. Your hard work this month is paving the way for success, and the effort you input during March, along with the results you manifest, is impressive as others see how serious you are about reaching your goals.
The potential downside to this month is the possibility of feeling frustrated at times, as the month 4 can be seen like a square, boxing us in as we go round and round with tasks which must be done, but aren't necessarily the most exciting way you could imagine spending your time. You might find yourself yearning for an opportunity to break out of the four walls confining you, but don't worry, when April arrives the 5 will deliver the opportunity for the change and adventure that you desire. Your independent streak is running high this year, and if you feel anyone around you is trying to clip your wings or reign you in this month, try conversing with them to clear the air and get them onboard with your visions.
Overall, your relationships should be in good shape and social interactions will help to give you a break from your intense workload. Make sure you take time to balance your energy so you don't exhaust yourself—meditate, take walks in nature to earth your energy, as well as have some early nights to keep yourself fresh. 
.
Personal Year 2
This month we find the energy of 5 arriving in your chart, offering a significant period of change, which can feel exciting—but also maybe a little daunting if you find yourself faced with changes that you weren't anticipating (especially as the 2 energy can leave us feeling a little vulnerable and sensitive at times). After all the hard work you put in during February, this month should bring a refreshing new wind in your sails, encouraging you towards fresh perspectives and horizons. Going with the flow can make this period easier and more enjoyable.
Watch out for Synchronicity at play, bringing you surprising encounters and situations to help you along your path—the 5 month loves to spice things up with a sprinkling of adventure! Where new business opportunities present themselves, be diligent in checking all the facts before making a decision. Overall, this is a time to be social and to get out there and promote your work with confidence. Your energy is attractive to others as you mingle and enjoy 1-to-1 conversations with substance.
Romance is buoyant this month, and if you're single, it could well be a time when you're swept off your feet by a new love interest—keep your wits about you and your feet on the ground as you explore this new chance of romance. For those in a committed relationship, things between you and your spouse are light-hearted as your partner bounces off your energy and finds you in a playful state of mind. Enjoy!
.
 Personal Year 3
This month the energy of 6 arrives in your chart, bringing your focus to your family and relationships. Whilst, of course, your work is still demanding, March sees you be asked to give your time and attention to your loved ones. Maybe your children or parents need more from you this month—someone is relying on you for support. However, with your nurturing side naturally stepping forward, this extra responsibility shouldn't faze you, and rather, can prove enjoyable as you spend more time with your family and are rewarded with love—the greatest gift of all.
With relationships as your focal point, this month presents a time to commit to your true feelings, and presents an excellent opportunity for marriage, moving in with your partner (or the opposite), as you affirm deep inside you the direction you want to take. If there are rocky relationships in your life, now is the time to address them and work your way through troublesome situations. 
Whilst nurturing, the Personal Month 6 is also highly creative, and as this combines with your Personal Year 3, which is artistic and imaginative at heart, this is a great time to find enjoyment in creative endeavours. Get out your paints or sewing machine, or explore creative writing, poetry, music, or whatever creative pursuits you enjoy, and have fun with your artistic side— if you can do these things with your family involved, even better!
When next month arrives, it will bring with it the energy of 7, offering a period where you can rest, reflect, and recharge your batteries. March sees you investing significant energy in others, but in April, you are given more opportunity to invest in yourself.
.
Personal Year 4
The year 4 presents an opportunity to work hard and plough effort into your projects, and whilst this is a dominant force all year long, in March we find the number 7 entering your chart, and opening up some space for rest and recuperation. The 7 is an energy which calls for considerable contemplation; you have plans to consider and refine, but also deeper questions inside which you want to answer. Your family and friends may wonder what's up with you, as you become a little distant with them—but it's not that you want time away from them, per se,  it's just that you're in a period of self-reflection.
This is a great month to read literature that inspires you or offers spiritual content—evenings spent with your nose in a good book, offer that quiet time out that we yearn for, whilst the words we read bring clarity to our perspective, even offering information for therapeutic healing (if we read the right books).
As you ask your deep questions this month, pay attention to your intuition and signs from the Synchronistic flow and you'll move towards uncovering the answers you desire. When April arrives, it will see you implementing a project of some kind, which will require substantial energy, so take the time to recharge your batteries where you can during March. You'll be ready to meet April with gusto and move forward with your well considered plans.
Walking in nature, witnessing the energy of spring blossoming around you is highly enjoyable. And meditation, of course, is recommended as always, but particularly insightful this month as you deepen your connection with the divine energy.
.
 Personal Year 5
The year 5 brings a chapter of significant change in your life, and with March's arrival we see the energy 8 arriving in your chart, which calls for balance in all areas of your life. The 8 likes for us to weigh up all known factors and make our moves conscientiously. However, after all the reflecting and soul searching you did last month, you will likely know what you now need to do to manifest your plans. The 8 month offers a good opportunity for implementing projects that have been in play for the last year—just take care to avoid get-rich-quick schemes which would likely result in financial hardships, and rather, plough your energy into your well thought out endeavours. You will likely be working overtime this month, so take care to balance your energy with self-care, taking early nights where you can, exercise, and meditate, along with remembering to eat right.
Your relationships also need attention to remain balanced. As you focus on your work so heavily, your loved ones may feel a little neglected. Make time to show them affection, and if you have troubles with your partner playing on your mind, meditate your way to clarity, and then talk to your partner sincerely about how you feel.
When April arrives you will be drawing a part of your life to closure, clearing away any cobwebs, so that you're ready to meet a whole new chapter opening up in May.
.
Personal Year 6
Throughout the Year 6, we are called to focus on our family and relationships, and as this energy combines with the Monthly energy 9, this period can prove emotionally challenging. The number 9 offers a period of closure, where we may have to let go of someone we cared for deeply. However, 9 is also a very compassionate number that is concerned with helping humanity and assisting the greater good. So as you reach out to friends this month to talk through your situation, you can expect that they will also take comfort in confiding in you about their own life predicaments. With your nurturing side naturally stepping forward, these deep heart-to-hearts will prove enjoyable and mutually beneficial.
At work, you will likely receive some reward and recognition for past efforts, which lifts your spirit. This is not a time for starting new ventures, rather it's a time for finalising projects, dotting the i's and crossing the t's to make sure everything is in good order. When April arrives, it will bring with it the monthly energy of 1, and that will see new opportunities opening up and a whole new chapter which will be in play for the following eleven months.
.
Personal Year 7
After February brought some closure to an element of your life, March arrives with the energy of 1, bringing a renewed sense of vitality and the birth of a new chapter. The shakiness you felt last month should now be waning, and in its place you find a new level of confident independence. The whole year offers a period to reflect, connect with your spiritual self, and refine your plans. However, this month, you are feeling more inclined to go out there and make things happen—you have mental clarity regarding what you want to achieve, and there is a feeling in the air that tells you everything is possible and achievable. This is a great time to start new ventures and kick off new projects, and you will likely meet new contacts who offer interesting information. You are sowing seeds now that will come to harvest in autumn.  
With a healthy dose of self-belief, you're energetically buoyant this month, finding excitement in new ventures and opportunities. The only potential troublesome area foreseeable lays within your romantic relationship, whereby your fiercely independent nature might be rubbing your partner up the wrong way—they may find you a little tyrannical this month and somewhat lacking in sensitively, whereas you struggle to understand why they don't see things through the same lens as you. Your optimism for life is however, endearing and respected, so in committed relationships, these disagreements will not rock the boat too much. Remember your partner needs your love, not your leadership. For those who are single, watch out for new romantic opportunities—people who cross your path wanting to discuss the Big Picture of Life, spark your interest and offer interesting conversations and connections.
.
Personal Year 8
After all the excitement of last month's opportunity to open a new chapter in your life, March arrives, bringing the Personal Month energy of 2 into your chart, which encourages you to work behind the scenes to further your success. Partnerships play an important role at this time; your clarity of mind is strong, your vision is clear, and you impress others with your steadfast commitment to your work.
This month you find yourself assuming the position as the natural leader at work, and your colleagues appreciate your tactful, sensitive attitude and cooperation. It's rare that we can achieve success solely on our own, more often than not we need the support of others to achieve our goals. So during this time, progress forward diligently and conscientiously, whilst nurturing those around you and ensuring they have what they need to get the job done. You are highly influential at this time, and others look to you for guidance. If troublesome situations occur at work, it is well within your capabilities to control the storms. 
In your personal life, the 2 encourages you to get closer to your partner—after the independent nature of February, March sees you investing time in your relationship and letting your partner know that your love for them is sincere. If you're single, someone at work may cross your path who catches your eye.
.
 Personal Year 9
This month the creative 3 enters your chart, bringing with it a month of high energy and interesting ideas to develop. The feelings of vulnerability and increased sensitivity that you felt last month have now cleared and are replaced by a more light-hearted and joyful attitude, which makes for a welcome change. Whilst the year 9 sees you finishing up a 9-cycle of life, which can prove demanding at times, the social 3 encourages you to take a break this month—treat yourself to a long weekend away, get together with your friends, and enjoy social elements of life.
With your creativity running high, this is a great time to invest in artistic, imaginative endeavours—and in this mindset, even work can feel like play. The flames of your inspiration energy are fanned by the optimism that resides in your heart. Things at work take a positive turn, and finances improve. You may be considering big changes in your life at the moment, which you're not ready to commit to just yet, so by all means sound out ideas in confidence with people you trust, but guard against sharing your thoughts too widely. Rather bide your time, assess your feelings and experiences as the weeks go by, and allow yourself the space to be more lighthearted this month. Your time for change will naturally arrive in due course, but for now, take a little time out for yourself and enjoy your creative flow.
.
.
***Please note these Numerology readings are provided for your own contemplation and entertainment as you analyse if Numerology resonates with you. The responsibility for your own life and actions remains fully with you, and neither the author nor Celestine Vision accepts any responsibility for any action you may take based upon these readings.
We are delighted to announce that Joanne Louise Hardy's exceptional debut novel, ANA, with foreword by James Redfield, was published February 25th 2021, and is now available to purchase in english on Amazon international marketplaces, in addition to a selection of other vendors. Follow Joanne on Facebook or Instagram