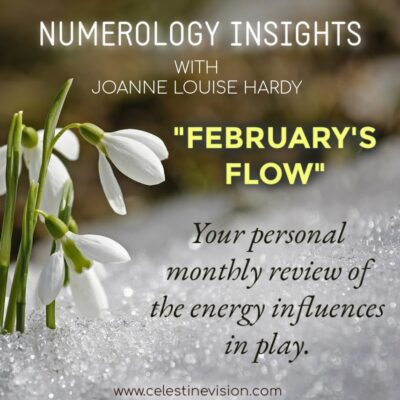 Welcome to Celestine Numerology Insights for February.
 Below you'll find readings for each Personal Year/ Personal Month combination in play this calendar month. To discover which reading is applicable to you, we first need to do a quick calculation. We take your birth day, and your birth month and add it to the calendar year, and then we add the digits of the result together until we find a single figure.
 So,  if your birthday is 1st July, we add 1 + 7 to the calendar year e.g: 1 + 7  + 2021 = 2029. We add 2+0+2+9 = 13, and then we add 1+3 = 4. Here we find the result 4, which means for this year, you would be in a Personal Year 4.
 Once you know your Personal Year number, you can scroll down through the readings and find the one that's applicable to you.
 As we're mid-way through the month it'll be interesting to see if you already feel this energy around you at this time.
 I hope you find this an enjoyable experience!
Personal Year 1: 
This month we see February bringing the Personal Month energy of 3 into your chart, and the combination of this with the Year 1 energy should make this a creatively exciting month. Your desire to socialise and network is strong, and efforts to make new connections are well supported at this time. As the Personal Year 1 brings the opening of a new nine year chapter, and the creative 3 likes to focus on appearances, you may well feel your attention drawn to your physical image and consider the time has come to give yourself a bit of a make-over. Maybe you get a new hairstyle or treat yourself to a new outfit which makes you feel smart and refreshed when you look in the mirror—and this feels great!
It's also a perfect time to focus on new creative projects. Your high energy giving you wings, now is a great time to brainstorm, to pull inspiration from the ether and consider how you can bring it down to earth with your efforts. Be cautious not to be so caught up in your own visions that you dismiss important advice from others. Your independent streak is strong this year, but the 3 energy in play this month will see you benefiting from collaborating with others where you can. Romantic relationships should be light-hearted and enjoyable. Have fun, take time to unwind, and recharge your batteries where you can. March will bring a period of diligent effort being ploughed into your projects. Use February whilst it's here to gear yourself up and prepare yourself energetically so you're ready to meet March with gusto when it arrives.
 Personal Year 2
This month, February brings the Personal Month energy of 4 into play and sees you working hard to strengthen the foundations of your work and creative projects. The Personal Year 2 will likely have you feeling more emotionally sensitive this year. Feelings of vulnerability surfacing from time to time, and when combined with the energy of the 4, which can often make us feel trapped or boxed in, you may find yourself frustrated and somewhat irritable. The 2 is a year that focuses on partnerships—but you may find yourself having to wait on others at times to move things forward. As your patience is likely not at its best this month, any delays you experience can have you climbing the walls with annoyance. All this being said, awareness is our best self-defence, once we realise that everything that's happening is meant to be happening, we can afford to take our emotions a little less seriously.
Go with the flow, however it comes, rather than allowing egoic frustrations to pull you into negativity as you consider how much easier it would be if others would just play ball in the way you want them to! Avoid taking any stress caused by work out on your romantic partner; rather take the time to talk to them about how you're feeling and open up—they'll likely much prefer a heart-to-heart about your circumstance, rather than to feel your energy and wonder if they've done something wrong. Use this month to work hard, put in the hours required to meet your deadlines or milestones, and don't shy away from over-time if it needs to be done—this is important work that you're doing. When March arrives, it should lighten the mood and when you look back on this month, you'll be pleased with everything you've accomplished.
 Personal Year 3
February brings the Personal Month 5 into play. This can be an exciting month. The Personal Year 3 is charged with creativity, and when mixed with the 5, which loves change and adventure, the resulting energy is likely to have you feeling bright and ready to go out there and play with the world around you. The 3 loves to network and socialise, and the 5 likes to encourage you to let your hair down and enjoy a good party. So, this month can see you bringing life and soul to social events. Be cautious not to overindulge in too much of the rock and roll lifestyle (as much as the 5 may call you there!)—there's important creative work to be done, and most likely changes afoot that can fill you with inspiration if you go with the flow.
If you try to grip too hard to directions you've previously imagined, this may be a challenging month for you— the 5 is here to mix things up a bit and offer new perspectives and opportunities. On the romantic side this month, you are light-hearted and playful. Deep and sincere heart-to-hearts with your partner will be cathartic this month as the flow encourages you to be open with your feelings. Trust your loved ones as you share your deepest thoughts and desires. This month, flexibility is the name of the game. Be open to new circumstances when they appear and you'll likely breeze through this month enjoying the highs of creative spontaneity. 
Personal Year 4
February brings the Personal Month energy of 6 into play, and this month will likely see your attention drawn to your family and home life. Whilst the 4 puts considerable work on your plate this year and there is much to be done, the nurturing 6 encourages you to shift your focus to your loved ones. Your work responsibilities are ever present, but may take a little more of a backseat for February in comparison to the rest of the year. Family and friends may seek you out for counsel and loved ones may depend on you more than usual, but being generous with your time and taking extra responsibility without umbrage will serve you well. The combination of the 4, which likes us to form solid structures in life, and the 6, which calls upon us to take care of others, makes dependability the essence of this period.
Your loyalty to others is strong, and you'll likely find that it's your loving relationships that bring joy to your heart and soul at this time. The 6 calls for us to nurture ourselves as well as others, so it's a great time to make healthy changes to your lifestyle—nourish yourself with wholesome food, exercise, meditate, and keep your energy topped up through holistic self-care. It is also a period which may see you making improvements to your home, whether it's repainting a bedroom, finally fixing things which have required attention for some time, or having a new kitchen fitted. Any investment of energy input into improving the four walls around you should yield pleasantly uplifting results.
 Personal Year 5
This month brings the Personal Month energy of 7 into your chart, and you're called to take your foot off the gas pedal, rest, recuperate, and reflect. The Personal Year 5 is typically a year charged with change and adventure, but February sees you withdrawing into more of an introspective period, where your inner hermit takes the steering wheel. You have plans to consider and refine, and after expending much energy in recent months, the time has come for you to put yourself 'on charge' and nurture your inner batteries. There is a spiritual essence associated with the number 7 so you may be asking yourself big questions and going within to find your answers. Meditation, walking in nature to connect to the world around you, and reading books that light a fire inside you, are all cathartic practices that you'd be wise to invest your time in.
The 7 likes to see us study and open up to learning. Dedicating time to the pursuit of knowledge which can help to further your work, mission, and creative endeavours is also well supported at this time. The 5 Year, being a constant feature in the background, is still highly likely to step forward and present opportunities that you might have previously believed unavailable or unattainable. Don't let your desire to reflect hamper your ability to take advantage of favourable circumstances when they come knocking at your door. If you're in a committed relationship, your partner may feel you are pulling away from them a little due to your desire to focus internally this month. However, through opening up and sharing your reflections with your partner, you can quietly reassure them that it's you, not them, and they don't need to be worried. Whether you're single or married, this isn't a time when sexuality features highly on your radar—rather it's a time to focus on taking care of yourself and making your health a priority.
Personal Year 6
February brings the Personal Month energy 8 into your chart, and with it the opportunity for tangible advancement in your work. As the 6 features predominantly in your chart all year, focusing you on your family and life at home, the 8 brings a balancing energy into play and can call you to address any relationships which are out of kilter with your inner nature. If your romantic relationship is not built on solid foundations, now is the time to address the cracks in the walls. Strong relationships should improve, whereas fragile relationships will be less likely to stand up to the test that this time presents.
Financially speaking, you should be karmically rewarded this month for past endeavours, receiving recognition for jobs you've done well, with positive deposits in your bank account. 8 months offer a good opportunity for implementing plans that you've been working towards, and grounding your work with professional diligence. So keep your centre, nurture yourself as well as those around you, ensuring you keep your own energy balanced at this time, and use this period to get out there and make things happen.
 Personal Year 7
February brings the Personal Month energy 9 into your chart and will likely see some kind of closure occurring in a particular aspect of your life. This year you're being encouraged to focus on yourself, the direction your life is going, and your spiritual well-being.  As the 9 arrives to close down a chapter, it's a good time to let go of any unhealthy relationships or habits and clear away spiritual cobwebs.You're naturally contemplating every aspect of your life, the decisions you've made in recent years, and where they have got you. As you look around in deep reflection, be kind to yourself, show yourself love and compassion, and use this month to connect with yourself at a deep level, being sure of who you are and the gifts you have to share.
If inner healing needs to take place, this is the year to make it a priority, and not to shy away from any emotions you've been trying your best to suppress. With the 9 energy encouraging us to let go and let live, this month can bring cathartic release in our spiritual self. Romance can be precarious this month, your inner hermit not caring too much for other people's opinions and the 9 energy wanting to test the mettle of your relationships to check just what they're made of. However, once next month arrives, any irritability or shakiness should disappear as you find yourself transitioned and embarking upon a whole new nine-month chapter.
Personal Year 8
With the Personal Month energy of 1 entering your chart, the stars align, offering you a work-related opportunity that you've been waiting on for a long time. The 8 year loves for us to implement plans and projects that we've held space for and dedicated energy to throughout the last seven years. Now that the 1 month arrives, it's time to get out there and show them what you're made of. This month will require confidence, courage, and a heap of resolve on your part; but the time has come for you to launch your projects and set karma in motion to bring about the harvest you have earned.
The 8 loves balance, so you will reap what you have sown. You shouldn't be lacking in self belief at this point, but any fears you may have can be addressed, and subsequently dropped, in favour of peace of mind. At this point, you should be shining in your being, feeling quietly confident in your abilities and endeavours. Your family and loved ones tell you how proud they are of you, and with karma on your side, you should feel well supported in your quest to manifest your dreams.
As the 8 loves balance, you would be wise to ensure you keep your own energy levels in check this month—don't just work all hours  to get your project launched, rather ensure you make time to eat, exercise, meditate, and engage with loved ones to bring lightness to your days. Remember, taking regular short breaks from work refreshes our energy and allows you to come back with fresh eyes. Pay attention to any potential pitfalls that could feature on your path, and make your steps conscientiously rather than impulsively. Go out there with courage and give your best efforts to bring about the success you desire. Good luck!
 Personal Year 9
This month, February brings the Personal Month energy 2 into your chart, and may have you feeling a little more sensitive and vulnerable than you did in January. The 9 year encourages us to dot the i's and cross the t's with our work-related projects to bring a certain level of closure to the work you've been doing, and be ready for moving forward next year. But this month the energy of the 2 brings partnerships and relationships into focus, and offers a time during which we can gain great insight into the inner workings of the minds of those around us—as well as our own.
Our intuition is powerful this month, and we gain a deeper understanding of those around us. Viewing your learnings with compassion for all of humanity, including yourself, will help you to come through this period on top. The often overly sensitive 2 can tempt us to take any criticisms to heart with a 'poor me' attitude lurking not far behind.  Keep your energy strong by sleeping well, exercising, meditating, and eating right, and know that you don't let any comments that initially irk you get you down. Stay loving no matter what. Recognising that everyone is different and we can't expect others to react to things in the same way we do should help you stay grounded this month.
Romance in committed relationships is favoured at this time. As you open up with your partner your relationship deepens and feelings of love are demonstrated with ease. It's also a good month to keep a dream journal! With your intuition running so high it can be highly interesting to pay attention to messages coming from your subconscious world. Keep a notepad at the side of your bed and write down your dreams upon waking (as details can disappear from memory so quickly), then as the month progresses it can be fun and beneficial to look for patterns or symbolic references and see how these overlay with your waking world. 
***Please note these Numerology readings are provided for your own contemplation and entertainment as you analyse if Numerology resonates with you. The responsibility for your own life and actions remains fully with you, and neither the author nor Celestine Vision accepts any responsibility for any action you may take based upon these readings.
Follow the author Joanne Louise Hardy on Facebook or Instagram to be kept up to date with the upcoming release of her exceptional debut novel, ANA, with foreword by James Redfield, due for publication early 2021.