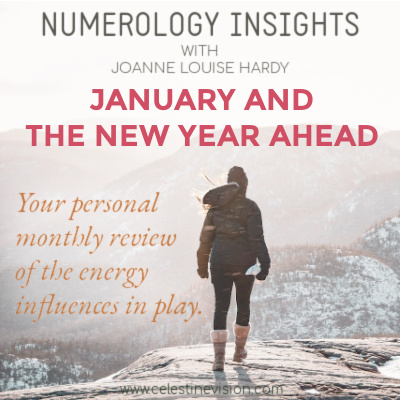 Happy New Year and welcome to Celestine Numerology Insights for January!
 Below you'll find readings for each Personal Year/ Personal Month combination in play for this calendar month. To discover which reading is applicable to you, we first just need to do a very simple calculation. We take your birth day, and your birth month and add it to the calendar year, and then we keep adding the digits of the result together until we find a single figure.
 So,  if your birthday is 1st July, we add 1 + 7 to the calendar year e.g: 1 + 7  + 2021 = 2029. We add 2+0+2+9 = 13, and then we add 1+3 = 4.  Here we find the result 4, which means for this year, you would be in a Personal Year 4.
 Once you know your Personal Year number, you can scroll down through the readings and find the one that's applicable to you.
 As we're already mid-way through the month, it'll be interesting to see if you already feel this energy around you at this time.
 I hope you find this an enjoyable experience!
 Personal Year 1:
With the Personal Year 1 just opening up, you now find yourself at the beginning of a whole new chapter, which will be in play for the next 9 years. This is a year for planting new seeds, for receiving new opportunities, and most likely, meeting new people who will become important to you within the coming years. Having just closed down a nine year chapter with the ending of the previous calendar year, the cobwebs should now have been blown away and the feeling of a fresh new start is evident as this new dawn breaks.  
During January, you are in a Personal Month aligned with the energy of 2. Because this 2 may have you feeling a little more sensitive and emotional than usual, try not to let any feelings of vulnerability bring you down. The 2 is a number for partnerships and cooperation, so whilst the personal year 1 brings a strong streak of independence into your life, this month isn't a time to try to force your own way. You might need to wait on others to progress certain initiatives, but don't let that phase you or frustrate you too much—all will happen in good time. Enjoy your close personal relationships, be open with your loved ones about how you're feeling, and take the time to settle into the new year, knowing that February will bring with it a strong creative and sociable energy that will have you feeling much brighter and more confident.
 Personal Year 2
Now at the start of your Personal Year 2, you will find the seeds that you planted in life last year starting to take root. January brings with it a creative energy that should be highly enjoyable. The Personal Year 2 will be a year where you'll need to work with others closely to move your ambitions forward—the number 2 loves partnerships, even if it means waiting on others some of the time. Your ability to deepen your relationships is strong this year—it may even see you making commitments, such as marriage or moving in with your partner. Your career and personal projects advance through research and the ability to navigate obstacles with gentle persuasion.
For January, you are in a Personal Month carrying the energy of 3, and the creative 3 brings energy into this month which encourages you to get your hair done, get your best attire on, and network with confidence. This month you should see you feeling rather playful, so make the most of social events, and connect with friends and family when the opportunity arises. You should find a light, relaxed energy adds a nice background to this month, and collaboration with others is favoured. Take advice on your projects where appropriate, seek to cooperate with others, share your ideas openly, and you should find this a fruitful month which sees your plans reaching a new level of inspired creativity.
Personal Year 3
January arrives and brings with it the dawn of a new Personal Year 3, which should have you full to the brim with creative energy. Plans that you've been working on for the last two years are now reaching exciting times There is much to be done to further your projects and endeavours to bring your ambitions into manifestation. Your inspiration is high, and this is a year to be enjoyed with your natural sociability helping you to bring life and soul to the party. Be cautious against becoming scattered in your endeavours this year and ensure you don't try to put your effort into doing twenty things all at once—which likely leave you feeling frustrated when nothing really moves forward. 
In January, you find the Personal Month 4 energy with you, and boy does the 4 like to see us work hard! This is a month where we're called to roll up our sleeves and put our noses to the grindstone to further our personal projects and careers. However, this hard work shouldn't faze you, you're ready for the challenge and full of ambition. This is likely a time when you'll shine in your work, impressing those around you. But be careful to balance yourself; guard against both impulsiveness and procrastination! Your positive energy is contagious, and your natural optimism makes you a pleasure to be around. Romance is highly favoured under this combination, so if you're in a relationship, this should be a month where your connection with your loved one deepens. If you're single, it could be a time when a new love interest develops from a friendship that you've already enjoyed for some time.
 Personal Year 4
With January's arrival, the Personal Year 4 opens up, bringing with it a year that calls for hard work and determination. The projects and creative endeavours that you've been working on for the last three years need effort now to ground them. So it's a year that should see you rolling up your sleeves and putting your nose to the grindstone to further your plans. As the 4 is like a square, there's a chance that you may feel a little boxed in this year, and frustrated by this at times. However, this year is here to bring you focus and diligence to support you in laying the foundations for the vision you're building. 
January brings the Personal Month energy 5 in your chart, and as the 5 loves change, you may find a curve ball or two come your way. Unexpected change can cause us to wobble as we fear instability, but keep in mind it also brings forward fresh opportunities. Just when you thought you were going East, you might find yourself led to go West. But overall, you should find yourself optimistic, driven, and rather sociable—the 5 in your chart calling upon your adventurous side this month, whilst the overarching 4 year encourages you to be sturdy and reliable.
Personal Year 5
As you greet this new year, you find the number 5 arriving to play a significant role in your life for the next twelve months, and the 5 is a number which thrives on delivering Change. If you don't have any big changes planned for this year, be prepared for surprises as the year progresses! The 5 year can carry wake-up calls, new professional opportunities, and new perspectives, but overall, it's an energy which likes to see us take an adventure of some kind! The 5 is a freedom-loving, thrill-seeking number, which may tempt you into overindulgence quite frequently this year, so make sure you take time to meditate regularly to keep yourself grounded.
In January, you have the Personal Month energy of 6 influencing your chart, and 6 is the number of the family and home. When the 6 teams up with the 5 year, it creates a strong period which supports change in your home. You might even find yourself moving house this month, or sharing your home with a new addition. The 6 month in play calls upon us to nurture others—not just with the immediate family, but also at work and in your wider social network. Social events with family can be particularly enjoyable this month, however it's likely that, socially speaking, you'll be quieter and stay at home more than other months this year. The prospect of change that underpins the year should likely have you feeling optimistic right now. And whilst you may feel you have a lot depending on you this month, you can look forward to February bringing the reflective Personal Month 7, which will encourage you to pause and relax for several weeks as you contemplate your plans.
 Personal Year 6
As the new year opens up, it delivers the energy of 6 into your life for the next twelve months, which brings your home life, family, and personal connections into a position where they dominate your time and attention. The 6 is a number which calls upon our nurturing side, and this call to nurture doesn't only extend to immediate family, but also to our wider group including colleagues and friends—so it's a year where you can anticipate being called upon for your counsel and loving-support. But this year that shouldn't faze you as you discover the opportunity to find joy in deepening your relationships with those who surround you. It's a year which can see a big change arrive and significantly impact your home life. Whether it's the birth of a child, your son or daughter leaving home, marriage, or even divorce that features this year, it's likely this year will bring you some big family event that will require the lion's share of your energy.  
With January's arrival, you find your flow aligned with the Personal Month energy of 7, which will bring several weeks encouraging pause and reflection. Whilst this year will most likely see you caring for others, this is a month to focus on yourself, your own health, and peace of mind. The 7 month likes for us to rest and recuperate, it calls forward your inner hermit, and encourages us to go within to find the answers to the questions at the forefront of our minds. This month is a time to plan, to sharpen your focus and mental clarity, before you'll be called forward to implement some kind of endeavour next month. Take walks in nature to ground your energy, meditate, take long soaks in the tub, and put your feet up with a good book this month, remembering this is an ideal time to focus on your spiritual side and also to study subjects that ignite your inner inspiration.
Personal Year 7
After the intensity of last year, this new year arrives bringing the energy of 7 into your chart for the next twelve months, which encourages a period of rest, recuperation, deep reflection and planning. It's likely you'll be blocked from charging ahead with plans this year (which you might have rather fancied taking on sooner rather than later!), whilst the Universe pushes you into this 'time-out'. But rather than be frustrated by the lack of opportunity to implement endeavours this year, it would be wise to approach the year in gratitude, appreciating this chance to rest whilst you quietly put in the effort to hone the finer details of your plans. 
That being said, as the year opens up, you find your monthly energy aligned with the number 8, and the 8 is a number which likes to implement projects particularly in the career world, reaping rewards karmically and materialistically. So this month, you may well find success and recognition rewarding you for energy you ploughed into endeavours last year. Overall, the year 7 isn't particularly associated with making money—it's a year that focuses on spiritual growth rather than the material aspects of life—so it's wise to be careful with your finances during this time. You might find yourself wanting to be alone more than usual this month, whilst you contemplate the big questions in your mind. It's not really a time where romance occupies the driving-seat, but rather a time for us to focus on any inner healing that needs to take place, and strengthen our core being. Take the time to connect with nature, read, meditate, and recharge your batteries, and also take note of any big ideas for future projects that come to you this month. This is a good time to develop new healthy practices, creating sources that you can draw energy from to help you to journey through any intense moments which may come up as you are led to move deeper within. Your intuition is high, and any idea that sparks your inspiration energy is worth taking seriously as you contemplate where you will place your energy as you deepen your plans and advancement of personal mission.
Personal Year 8
Ok, are you ready? This is the year you've been waiting for to charge ahead and manifest your ambitions. After the Universe pushed you into what may have felt like an enforced 'time-out' last year, this new year dawns and carries with it the chance to implement your plans and make tangible progress in your personal endeavours. Something you've been working towards in the Big-Picture for the last 7 years is now coming to its point in your cycle where you materialistically harvest your crop and reap the rewards of all the effort you have input prior to now. Last year was more of a spiritually focused year than a year that brought financial stability, but now, you find a twelve month period opening up which bears the promise of grounding your endeavours and delivering to you what you have rightfully earned. It will likely take significant investment of further hard work to bring your projects to fruition, but if you planned well last year (as the Personal Year 7 calls us to do) you now know exactly what you need to do to make things happen and all is within reach. The Personal Year 8 carries a tone of leadership—and benevolent leadership at that. So it's a time to have confidence in your abilities, and put your best foot forward to lead your teams to success. 
January is aligned with the Personal Month number 9, and the 9 is a number which likes to see us finalise plans, to dot the I's and cross the t's, rather than to encourage the launch of our projects just yet. Bide your time, finish up any admin that needs to be done, and set yourself up to reach a milestone by the end of the month. Next month will see the arrival of the Personal Month 1 in your chart, so use the energy of the finishing 9 to make sure all is in order. The 9 month also encourages us to let go of any unhealthy relationships or aspects of life that are not serving our better nature. You may feel a little vulnerable or emotionally shaky this month as you choose to leave behind any negatives which may have been clinging to you for some time. Not to worry though, you've got this. Get your house in order, centre yourself with meditation, and prepare to move forward with gusto as the year progresses.
Personal Year 9
As the new year arrives, it opens up twelve months in your chart which are aligned with the energy of 9, bringing closure and a sense of wrapping up this chapter which has been in play for the last eight years. After bringing plans to fruition last year, this month may well see you contemplating what lies ahead in coming years and where you want to focus your time and energy going forward. The 9 year also encourages us to sweep away any cobwebs and to tidy up our life, letting go of activities or relationships that no longer serve our spiritual health. 
In January, you find the Personal Month energy of 1 in your chart, and 1 is an independent number which loves to sow seeds of inspiration. As you engage in deep reflection, you may well find yourself revisiting dreams and ambitions you envisaged much earlier in life and feel drawn to explore these notions once again. However, your main focus this year is to complete the projects you already have in progress, and finalise endeavours that you've been ploughing your energy into during the last 8 years. The independent 1 in your chart this month may cause you to feel a little hot-headed and emotional at times, especially as it's backed by the 9 year, which compels us to only take healthy relationships into the future with us. Be careful not to ride rough-shod over others or become judgemental with your independent streak this month. And if you find yourself testing the strength of your relationships to establish if they are founded in true love, you can expect the structure to shake if the foundation is not solid. However, where true love is in play, relationships will remain strong and unphased by your inner-housekeeping. The number 9 also carries the energy of compassion and being of service to humanity, so any work you can be involved in this year which serves the greater good will prove enjoyable and raise your spirits. Remember to meditate daily to keep yourself centred this month—focusing on the energy of love, drawing it into your being to recharge your batteries should help to keep any emotional hotspots in check.
***Please note these Numerology readings are providing for your own contemplation and entertainment as you analyse if Numerology resonates with you. The responsibility for your own life and actions remains fully with you, and neither the author nor Celestine Vision accepts any responsibility for any action you may take based upon these readings.
Follow the author Joanne Louise Hardy on Facebook or Instagram to be kept up to date with the upcoming release of her exceptional debut novel, ANA, with foreword by James Redfield, due for publication early 2021.