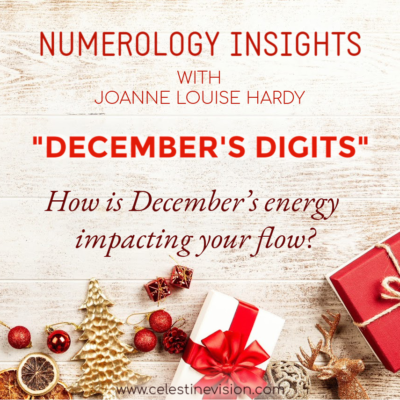 Hi Everyone, and welcome to Celestine's Numerology readings for December. 
Below, you'll find overviews of how the energies aligned with each type of Personal Year are impacting us this month.
Before we start, we just need to determine which Personal Year you're currently experiencing, so that you can identify your reading. And to do that, we'll simply add your Birth Date and Birth Month to the Current Year.
For example if your birthday is 1st July, we'd add 01+07+2020. Which equals. 2028. We then take this number, and keep adding the numbers together until we've reduced it down to a single digit. So, in this example, we add 2+0+2+8, to find 12, and then we'd add 1+2 = 3. So if your birthday is 1st July, we'd see that you're in a Personal Year 3.
OK, now you know which year you're in, you're all set to scroll down and find your reading.  As we're already halfway through December, I hope you'll find it interesting to see if you can already feel the influence of your number affecting your life journey as you're progressing through this month.
Let's see if this resonates with you.  Have fun!
Personal Year 1 
December Energy: Personal Month 4
With the energy of the Personal Year 1 dominating your chart all year, it's likely that you've found this year to be a key turning point, where you've opened up a whole new chapter in life. New ideas, new projects, and maybe new people have come into your world, and inspired you with new opportunities for personal growth and mission. With the arrival of December we find the Personal Month 4 energy entering your chart, offering the chance to ground your projects with diligence and effort. The 4 is a number which likes us to work hard, and supports us in putting our noses to the grindstone, and delivering high quality results—this is an excellent month for your career. 
As the 4 can be seen like a square, there's the chance you may feel a little boxed in, or trapped this month—all work and no play making Jack a dull boy. But try not to let any feelings of frustration bring you down this month. The festive season is here, and the reliable and sturdy 4 energy gives a solid base for family and relationships to be enjoyed with an air of calmness that helps you to find relaxation and joy during your down time.
Have courage and go with the flow. Plow your energy into your endeavours, and know that January will see the transition from your Personal Year 1 to 2, bringing with it a Personal Month aligned with the energy of 3, which should grant you more social opportunities and vibrancy. 
Personal Year 2 
December Energy: Personal Month 5
As your Personal Year 2 draws to a close this month, you've likely found this year to be one of working in partnerships, maybe suffering some delays in your projects where you've had to wait on others. The seeds that you sowed last year are now taking root, and as you hit December, you find the energy of the Personal Month 5 arriving and bringing with it an opportunity for change. And it's a change you're ready for. Last month, you may have felt boxed in by your circumstances, however December offers much more opportunity for sociability, and transformation—so it should be anything but boring!
The 5 is a number which likes to spice things up, to change your ideas and your perception. It can be an exciting time. As 5 is the number of the physical senses, this can be a sexy month, and as the Personal Year 2 focuses on partnerships, you may find sensuality featuring highly on your radar at this time. If you're single, you may meet someone new who sparks your interest this month. However, for those already in committed relationships, you may find yourself needing to air any anxieties that you've been bottling up this year. Trust your partner with your vulnerability if you feel able, and know that as January arrives you will transition into your Personal Year 3, which should have you feeling more confident and secure in yourself.
Just a light word of caution, the 5 is a thrill-seeking number which can tempt us to over indulge in the physical world—alcohol, sex, and the rock and roll lifestyle offering us temporary highs. So, try to keep your world in balance and remember it's usually wise to guard against impulsive behaviour and do things in moderation.  
Enjoy the festive season, and remember to stay open to the changes that may come your way.
Personal Year 3
December Energy: Personal Month 6
As your Personal Year 3 draws to a close this month, you've likely found this to be a year of networking and highly creative energy. You've been developing the projects that you began 2 years ago with gusto, and you've been called to step forward and meet the world with courage and a smile to advance your efforts. 
Now, as December arrives, it brings with it the Personal Month energy of 6, and your attention is pulled to your family and loved ones. The 6 is a number which calls for us to nurture others. You may find you're called on to help others more, and that your responsibilities around the family increase. However, at this time, this shouldn't phase you—you're naturally feeling more inclined to be close to those you love, deep and meaningful conversations are uplifting to your own energy as well as theirs.
When the creative Year 3 teams up with the family focused Month 6, any creative endeavours that you can do with your family should bring real joy. Whether this is baking a cake with the kids, writing a story with your partner, or knitting with your mum! Creating things with your hands alongside those you love can make us remember the value of the simple things in life, as well as how much laughter they can bring us.
Things at work are generally smoother now, and you should be receiving recognition for your hard work. Romance can be exciting at this time—December may even bring with it a marriage proposal or a further commitment of love in some way.
Personal Year 4
December Energy: Personal Month 7
As the calendar year approaches closure, you've likely found that this year has been one that required much hard work and effort invested on your part. You might have spent much of the year feeling boxed in by your circumstances, however as December arrives, it brings with it the Personal Month energy 7 and the opportunity for a well deserved period of rest and recuperation.
No doubt, you still have work that needs to be done, but things should seem calmer this month as the Universe offers you a little respite from putting your nose to the grindstone with such vigour. It's time to focus on you and your own health. Breathe, and calm your inner self. Last month likely called for you to give all your attention to your family, but this month you may find yourself wanting to be alone more as your inner hermit steps forward and calls for you to go within to find your answers and your peace.
Walks in nature, long soaks in the tub, and of course, meditation, will help you to find your balance. It's also a time when you'll likely enjoy reading and furthering studies into areas that interest you. 
When we transition to January, you'll find the Personal Year 5 comes knocking on your door, bringing with it the opportunity for change and excitement. So, make the most of the calming influence that December offers whilst it's here, and enjoy the festive period and season of goodwill with loving awareness.
Personal Year 5
December Energy: Personal Month 8
As your Personal Year 5 draws to a close with the end of the calendar year, you've likely found this to be a year which turned elements of your life upside down and brought about much change. It's most likely been a year which offered excitement, and a year that's offered significant advancement in your work—although not necessarily in the direction you'd first imagined. 
As December arrives and brings with it the energy of the  Personal Month 8, you should find the wind is now in your sails, delivering you a chance to tangibly implement some kind of project that is at the forefront of your mind. The 8 is a powerful number attached to leadership, so this is a month where courage should be easier for you to draw upon as you feel an air of natural confidence in your endeavours. Finances should improve as the 8 is closely linked to progression in the material world, but be careful not to be frivolous with your money when party season comes around—we don't need to flash the cash to appear successful in life. The energy of the Personal Year 5 is still dominating your month, and that can lead us astray with temptations to overindulge if we're not mindful.  
Overall, this is a buoyant month, fully supporting any chance to launch an exciting endeavour. Both your career and the romantic side of your life are looking good at this time. Enjoy the ride and the festive parties as you journey through December.
Personal Year 6
December Energy: Personal Month 9
As December draws your Personal Year 6 to closure, you've likely found yourself experiencing a year which focused your attention primarily on your family and loved ones. This year has seen a big change in your immediate family life—maybe a marriage, the birth of a child, or even a divorce has taken place. And, as these changes have come to life, it's taken some adjustments on your part to process the change and adapt accordingly. Having spent so much of the year focused on your home-life, December arrives, bringing with it the energy of the Personal Month 9, and offers an opportunity to draw an element of life to a close. The 9 is a finishing number—a number that likes to sweep away the cobwebs in preparation for a new cycle waiting around the corner. 
The 9 challenges us to let go of things that no longer serve our highest path, and this can bring with it certain amounts of stress and anxious contemplation. However, if you do feel closure arriving in a relationship, it's likely that this is balanced with the sense of deep-knowing that the relationship has run its course, and that there will be the opportunity to find a greater sense of personal freedom once you've moved through this stage. This is not a time for beginning new ventures. It's a time for healing and nurturing yourself. If you're in a committed, stable relationship, you may still feel that this month brings its ups and downs to your personal life. December feels a little like a rollercoaster as you journey through feelings of sensitivity. 
By the time the month changes, things will have calmed, and with January 1st, your Personal Year 7 arrives, bringing with it a period that encourages you to rest, recuperate, contemplate, and meditate—and that's really not far away now.
Personal Year 7
December Energy: Personal Month 1
As December draws your Personal Year 7 to a close, it's likely that this year has given much opportunity for soul-searching, recuperating, and healing. After investing significant effort in your work since this chapter began 7 years ago, this year saw you not charging ahead as you might have initially desired, but rather taking a step back to accommodate a reflective position. This period has allowed you the time to identify your best plan for how you intend to move forward next year. It's likely that you're chomping at the bit to now get things manifesting, and as December brings with it the energy of the Personal Month 1, it's likely that you'll be able to sow some seeds this month that will deliver fruitful results next year.
You've worked hard to get where you are right now, and whilst the Year 7 isn't associated with money, you may have had to make material sacrifices this year to accommodate your path. However, as the 8 year approaches in January, know that the break that you've been waiting for is just around the corner, and come the new year, your finances should improve—rewarding you Karmically for all the effort you've invested up until now.
In January, you'll experience a 9 month, which will call for you to tie up loose ends and finalise projects. And then in February you'll find the Personal Month Energy 1 comes knocking at your door once again—this time, backed up by the strong 8 year, it will offer one of the most significant months in your 9 year chapter relating to your career. Make the most of the 7 Personal Year's energy whilst it's still in your chart this month—hone your plans and do your best to set yourself up for making the most of February's energy when it arrives. The numbers are looking down favourably on you  to start taking the steps you've been wanting to make in your career, and to make your ambitions a reality next year. 
As the 1 is an independent number, it can sometimes bring instability to our personal relationships. So use the soul-searching element of the Personal Year 7 whilst it's still in your chart to reflect upon the bigger picture. Be honest with yourself and others about your feelings, whilst still remaining compassionate and loving towards all. Enjoy the festive period whilst it's here, making sure you still make time to rest, meditate, and to get out in nature to balance your energy. 
Personal Year 8
December Energy: Personal Month 2
As December draws your Personal Year 8 to a close, it's likely that this year has seen you make real advancements in your career. The seeds you sowed 8 years ago have come to harvest, and the rewards you've received are karmically aligned to the amount of effort you've invested in the 7 years prior. Now, December arrives and brings with it a Personal Month Energy 2, and this brings partnerships and relationships to the forefront of your attention. 
You may be called on by colleagues for assistance with their projects, and there may even be drama in the workplace which you're asked to help smooth out. Your level of sensitivity and compassion for others this month is high, so the role of the Peace-Keeper comes naturally to you at this time—both at work and at home. You should find yourself having a way with words that can be soothing to others as you take on the role of the benevolent leader and pave the way towards harmonious relationships.
Romance can be intense and enjoyable this month, but any issues relating to money in the partnership may be a trigger for conflict. Use your intuition to keep the peace in all areas of your life. And, know that as the new year approaches, it brings with it the year which will draw this nine year cycle to a closure—ready for a whole new adventure and cycle opening up the year after next.
Personal Year 9
December Energy: Personal Month 3
As December brings this Personal Year 9 to a close, you find yourself in the month which marks the end of a 9 year cycle—and boy what a cycle it's been! In the last 9 years, you've journeyed through each personal year number/ personal month combination. Your life events and achievements have led you to this point, where a new dawn is breaking just around the corner—you now find yourself on the cusp of a whole new chapter in life. When January arrives, it will bring with it your Personal Year 1, but it will take until September for the Personal Month 1 to team up with the Personal Year's energy and bring a significant change or transformation/ transitional point. However, throughout the entire new year, you'll find yourself planting new seeds and enjoying renewed energy.
As the Personal Month energy 3 is highly creative and sociable, you can hopefully afford to take life a little less seriously this month. Take rest, take pleasure in artistic endeavours, and enjoy the festive season. The 9 year encourages us to let go of elements of life which are no longer serving our highest path, so if there are still any unhealthy situations or relationships clinging to you, take the courage to tidy up your life, so that you can meet your new chapter in the best possible light. 
You should find December offers festivities and events to be enjoyed, so put on your party dress or Christmas jumper and get out there and have some fun. You've earned it!
***Please note these Numerology readings are providing for your own contemplation and entertainment as you analyse if Numerology resonates with you. The responsibility for your own life and actions remains fully with you, and neither the author nor Celestine Vision accepts any responsibility for any action you may take based upon these readings.
Follow the author Joanne Louise Hardy on Facebook or Instagram to be kept up to date with the upcoming release of her exceptional debut novel, ANA, with foreword by James Redfield, due for publication early 2021.