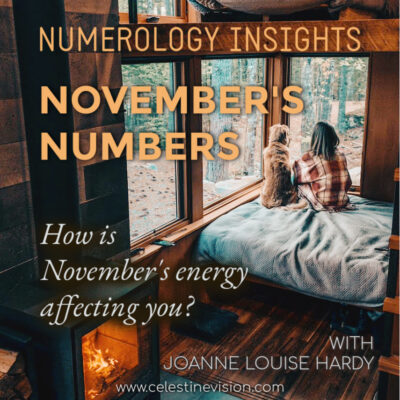 Welcome to November's Numerology Insights! 
In this article you'll find Numerology readings for this month for each Personal Month/ Personal Year cycle currently in play. To calculate which Personal Year and Personal Month energies are influencing you right now, which we'll use to discern your reading, we just need to do two really quick calculations. You may want to grab a notepad.
And just to note, if you read last month's Numerology article and remember clearly what number your Personal Month was, this month's number can be found just by adding 1 to the number you had in October. So, if in October you found you were in a Personal Year 5/ Personal Month 6, you'll now be in Personal Year 5/ Personal Month 7—so, in this case you can skip past the sums below and head straight down to the readings. 
To calculate your Personal Year Number we add your Birth Day and your Birth Month to the Current Year. Then, we add the digits of the result together, and keep doing so until we arrive at a single number. 
For example, if your birthday is 1 July, we do the sum 1 + 7 + 2020 and we find the total 2028 which we reduce by adding 2+0+2+8 = 12 and then reduce further by adding 1+2 = 3.  Here we see if your birthday is July 1st you're currently in a Personal Year of 3.
To then find your Personal Month Number, we add the number of the current month to your Personal Year number. So for November, we take the number 11 and add it to the number you found above for your Year. 
In the example of your birthday being 1st July, you'd add your Personal Year number of 3 to 11 = 14, and then reduce this to a single digit by adding 1+4 to find the number 5. So, for those born on 1st July, we see you are now in a Personal Year 3, Month 5 combination.
OK, so with the maths now done, you're now ready to scroll down and find your reading! As we're publishing this with November already underway, it'll be interesting to see if this resonates, and if you're already feeling these energies around you this month. I hope you find this an interesting experience!
NOVEMBER NUMEROLOGY READINGS
Personal Month 1 (Personal Year 8)
As the calendar year approaches closure next month, November arrives and brings with it a window of opportunity for embarking upon new endeavours. The powerful 8 influence, that's been with you all year, has likely pushed you into manifesting projects that you've been working on for a considerable length of time. And now, for the second time this year, with the arrival of the Personal 1 month, you will likely experience energy that opens up new career opportunities or significant life events. This isn't a time for standing still or holding back, it's a time for driving forward your ambitions, which bring with them a big hit of Inspiration Energy. With 1 being the most independent number, it's a time to trust your intuition and be bold in the steps you make. Pay attention to your relationships with others, so as to stay loving and not ride roughshod over opinions which may differ from your own. 
The number 8 is associated with the material world and money, so you may see the chance for improvement in your finances this month, however it's worth keeping in mind that the number 8 is also a number that encourages you to be the benevolent leader. Be discerning about how you invest your time, money, and energy, and make the moves you've been planning conscientiously. Your energy is high and your company generally very pleasant to be in. However, if you're in a committed relationship, keep in mind that your partner wants you to love them, not necessarily to lead them. Avoid being aggressive with your spouse—it's likely you don't have patience for any pettiness or trivialities this month! If you're single, you may well meet someone that excites you this month, but again be cautious to not be too assertive with them as you assess if the relationship has substance.
Personal Month 2 (Personal Year 9)
As November plays out, it's likely that you're feeling more sensitive and sentimental than you were last month. Throughout the year, you've likely experienced significant closure as this year draws your nine year cycle to a conclusion—setting you up, ready for your new chapter beginning next year. And whilst this can be an exciting time as you sense your new life chapter waiting on the horizon, your emotions may well be running high as you process everything that's happened, and may even start questioning the direction you're taking. Try to avoid dwelling on anxieties that may be bubbling beneath the surface, and instead use this time to nurture yourself, regularly connecting with Love through Meditation, and consciously try to let go of these lower emotions.
You may well feel tired this month, you might struggle to progress your work as you find yourself waiting on others, and you'll likely take any criticism to heart as you find yourself feeling more vulnerable. Use this time to focus on any inner healing that needs to be done. Take soaks in the tub or walks in nature, and you'll find that you can connect to the inner strength that you know lies deep down within you—you've got this. As we know everything happens for a reason, it'd serve you well to try your best to simply lie back and float on the energy that's guiding you forward, rather than trying to use your energy to swim in any other direction. As the number 2 loves partnership, romance can fare well this month, especially if you open up to your partner about how you're really feeling—rather than trying to hide any insecurities. Remember, no one expects you to be a superhero… Also, know that the 3 energy arriving next month should see you feeling brighter and more creative, and that's only a few weeks away.
Personal Month 3 (Personal Year 1)
OK, now this is a month that is to be really enjoyed! Your energy is high, you're feeling bright and sociable, and your inner confidence is noticeable—which can see you bringing life and soul to the party. This year has likely been an exciting year as you've set out towards new horizons, and now for the second time this year (the last being in February) the Universe is calling on you to get out there, network, and make your mark. This month sees you dusting your shoulders off, sprucing yourself up, and putting your smart clothes on to meet the world with a smile. The 3 is a highly creative number, and when teamed up with the 1 year, you should find yourself with the opportunity this month to develop your ideas and projects with gusto. Be careful not to get scattered amongst the many exciting ideas you conjure up.
You might feel a little as if your internal browser window has twenty different pages open right now, each holding ideas that make you tick. But staying focused with your creative energy will help to make the most of the opportunities this month brings. Choose one or a few areas to really develop, rather than flitting between projects and getting nowhere fast, as this will only irritate your urge to make significant progress. Be careful not to come across as superficial as you play the role of social butterfly. And try to avoid the temptation to overindulge in any frivolous activities, which would lower your energy the next day. Enjoy this time and all it naturally offers, making the most of your high energy and moving forward with a real sense of inspiration.
Personal Month 4 (Year 2)
After the creative ideas you advanced last month, November brings with it an energy that encourages you to put your nose to the grindstone and work hard to ground your projects. This year so far has seen your initiatives develop and take root, and this month calls for a burst of dedication and energy to further solidify your work. As the number 4 loves a hard worker, the effort you plough into your endeavours now will yield results in the years to come. However, as the 4 can also be seen like a square, there's a chance you might feel a little trapped or boxed in this month. To take the edge off your responsibilities, make sure you make time for meditation and connecting with nature. Centre yourself with confidence in your ability to make things happen.
It's not a month for cutting corners, it's a time for diligence and efficiency in all you do. The 4 brings with it a sense of reliability and strength. Your energy is strong now, your sight is set on your goals, and your ability to concentrate is high. With your 2 year in play (which is a number that loves partnership) you should find that your romantic relationship becomes stronger and sturdier this month if you are in a committed relationship. For those who are single, it's likely that your attention will be more focused on your work this month than anything else. However, remember next month, the energy of the 5 will arrive bringing with it a sense of change and adventure, so this spell of 'all work and little time to play' will only be here for a matter of weeks. Make the most of this energy and use the time to deliver the high quality outputs you know you can achieve.
Personal Month 5 (Year 3)
This is a month to expect the unexpected. The number 5 is a catalyst for change, and it also loves adventure. Be prepared for new opportunities coming your way, and/or significant changes happening within your life. As your 3 year has been encouraging you to get out there, network, and go get 'em with confidence, you're naturally more sociable and ready to engage creatively with others this year. And when the Sociable aspect of the 3 teams up with the thrill-seeking 5, it's likely you'll find it impossible to resist anything that resembles fun.
Whilst we should, of course, be cautious about overindulging in late nights and rock and roll lifestyles, it's likely you won't care much for sensibilities right now. Take care not to be superficial or insensitive towards others; avoid conflicts, and this month should see you feeling excited and buzzing with a delightful energy. You've worked hard to get where you are right now, so take pleasure in this lighter period whilst it's here and enjoy being in your flow. The 5 also loves to travel, so if any opportunity opens up that allows you to change your scenery, this is well supported.
Personal Month 6 (Year 4)
As we arrive in November, it's likely you've expended a lot of energy in your work so far this year—your career likely taking centre stage and consuming much of your attention. However, the 6, which arrives in your chart this month, shifts your focus and brings your family and loved ones into the spotlight. You will likely be needed at home more this month, but that shouldn't phase you as the ability to nurture others comes naturally this month. Your counsel may be sought, your shoulder needed to cry on, or your ears required to listen to a loved one pour their heart out to you—but again, that shouldn't inconvenience you or disturb your flow.
Whilst the 4 energy that's dominated your year has no doubt challenged you to put your nose to the grindstone, any frustrations, or feelings of being trapped that you might have felt earlier this year are easing now. You have a "can do attitude", and your sense of self is strong. At this point, it's probable that you're receiving the recognition that you deserve for all the hard work you've ploughed into the year as well as the respect that is rightfully yours. Your relationships will strengthen at this time as you show your loyalty and commitment to others. And even relationships that have been inharmonious this year should come to a head, paving the way for a more peaceful future and a dynamic new year that's fast approaching.
Personal Month 7 (Year 5)
After a year that's brought with it much change, November arrives, bringing the chance to take your foot off the pedal and take a pause to calm and reflect. This month, the 7 energy encourages a period of rest and recuperation. After so much energy spent this year, this month can be used to contemplate your plans—next month will likely see you implementing a project or life change, so this is the time to garner your energy, ready to make that big change when the time comes. You may be a little more drawn to spending time alone this month—the inner hermit in you coming forward as you reflect upon your plans and life situation.
There are likely big questions in your mind as you soul search and contemplate the life you really want, along with what you're prepared to do. The 7 calls on us to develop our spiritual connection, whilst also encouraging us to work on our self-awareness and any inner healing that needs to take place. Make time to meditate and to connect with nature to ground your energy. Read books which stimulate your soul, and keep in mind that journaling can be a great way to pour your reflections out. As the winter nights draw in, make your plans, do your inner work, indulge in long soaks in the tub and put your feet up when you can. 
Personal Month 8 (Year 6)
Whilst your family and home situation has taken centre stage so far this year, November arrives and brings with it an opportunity to implement a project or life change that you've been working towards for considerable time. This can be a very rewarding business period, and the recognition you receive will be directly proportional to the energy you've ploughed into your efforts up to now—the 8 loves to balance effort with reward. As the 8 is concerned with the material world, it's a good time to bring your financial situation into focus.
And as your year 6 still focuses on the family, any financial matters (especially those relating to your loved ones) can benefit from being settled this month. Be wise about how you invest your time, money, and energy, and avoid taking on any new debt if you can. As far as romance is concerned, this can be a highly enjoyable month where passions run deep and your relationship soars to heightened levels of intimacy. For those who are single, it may be a month where things develop with someone you've had your eye on for some time.
Personal Month 9 (Year 7)
With the Personal Year 7 dominating your chart, it's likely you've spent much of your time this year in a state of deep reflection, planning, and discerning where you want to go and what you want to do with your life. Now, as the end of the year approaches, and you can sense the dawn of the new year starting to reach out to you, it's probable that you now have a firm sense of faith in the future, knowing where you want to go and how you plan to get there. As November arrives, it brings with it the energy of the 9, which calls on you to finalise the plans you've been making—dot the i's and cross the t's, and be as thorough as you can be in making sure that your plans for next year stack up. It's possible that you'll need to review legal documents or new contracts at this time; so again, use the strong Year 7 reflective energy to ensure that what you're signing meets your needs and expectations.
The 9 calls on us to clear out the cobwebs in preparation for the new chapter that's about to open up, bringing with it an element which encourages us to let go of any relationships or circumstances that are no longer serving our best interests. Over the course of this year, you'll have been called on to do an immense amount of inner-work; and, as you've changed and evolved in your being, you may have found your social circle change, or that you've become somewhat estranged from your partner if your relationship doesn't have strong foundations. This is a time to consider your future and the elements of your life that you want to take forward with you. If things are rocky in your relationship, it may be time to determine if you genuinely do want to stay together, or if you'd be healthier apart. Otherwise, use this time to plan, reflect, and take rest where you can.
Follow the author Joanne Louise Hardy on Facebook or Instagram to be kept up to date with the upcoming release of her exceptional debut novel, ANA, with foreword by James Redfield, due for publication early 2021.
***Please note these Numerology readings are providing for your own contemplation and entertainment as you analyse if Numerology resonates with you. The responsibility for your own life and actions remains fully with you, and neither the author nor Celestine Vision accepts any responsibility for any action you may take based upon these readings.