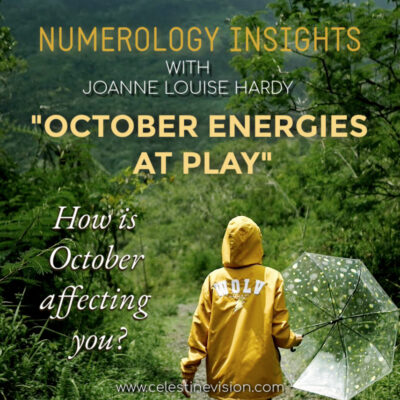 Welcome to October's Numerology Insights! Since running our first Numerology feature on Celestine Vision last month, I'm delighted to tell you that we've decided to continue providing Numerology reviews on a monthly basis going forward!
If Numerology is new to you, then please do take a quick look through last months' article, which gives you the background to what Numerology is all about and how we can use its Insights to help us navigate the journey of life—and then come back here for this months' reading! 
To decipher which Personal Year and Personal Month energies are influencing you right now, which we'll use to discern your reading, we just need to do two really quick calculations. You may want to grab a notepad. And just to note, if you read September's Numerology article and remember clearly what number your Personal Month was, this month's number can be found just by adding 1 to the number you had in September. So, if in September you found you were in a Personal Year 5/ Personal Month 5, you'll now be in Personal Year 5/ Personal Month 6—so, in this case you can skip past the sums below and head straight down to the readings. 
To calculate your Personal Year Number we add your Birth Day and your Birth Month to the Current Year. Then, we add the digits of the result together, and keep doing so until we arrive at a single number. 
For example, if your birthday is 1 July, we do the sum 1 + 7 + 2020 and we find the total 2028 which we reduce by adding 2+0+2+8 = 12 and then reduce further by adding 1+2 = 3.  Here we see if your birthday is July 1st you're currently in a Personal Year of 3.
To then find your Personal Month Number, we add the number of the current month to your Personal Year number. So for October, we take the number 10 and add it to the number you found above for your Year. 
In the example of your birthday being 1st July, you'd add your Personal Year number of 3 to 10 = 13, and then reduce this to a single digit by adding 1+3 to find the number 4. So, for those born on 1st July, we see you are now in a Personal Month 4, Personal Year 3 combination.
OK, so with the maths now done, you're now ready to scroll down and find your reading! As we're publishing this with October already underway, it'll be interesting to see if this resonates, and if you're already feeling these energies around you this month. I hope you find this an interesting experience!
OCTOBER NUMEROLOGY READINGS
Personal Month 1 (Personal Year 9)
As you're now 75% of your way through your 9 year, it's likely that you've experienced a substantial amount of closure so far this year. You've likely had to come to terms with letting some aspects of your life go as you've ridden the waves of this year. Maybe relationships or situations that no longer served you have shed their skin, and conscious release has been the name of the game. However, in October we find the 1 energy arrive, and bring with it some promise of a new adventure lying ahead. With the 9 year still in play until the end of December, this isn't the best time to fully launch new projects or endeavours, however the energy felt this month can give us a preview of the new year that's fast approaching. And this can be enjoyable to experience as we sense a new chapter opening up. This year you've been winding down a cycle that's been in play for the last 9 years, but as the new dawn is just starting to break upon the horizon, let the new rays of energy coming into your perception ignite your excitement for exploring new ventures. The 1 energy felt this month brings with it feelings of self-confidence and calls for you to be independent in your actions. Listen to your intuition and trust your judgment of situations as you make your moves.
Personal Month 2 (Personal Year 1)
The Personal Year of 1 opens us up to a whole new chapter of life, which we'll reside in for 8 more years to come. As we discussed last month, this is really a time for sowing the seeds for big projects and advancing your personal mission in an exciting new direction. However, after all the independent energy expended this year, the 2 energy at play this month may cause your sensitive side to come forward. You may take things to heart a little more than usual, you may find yourself a little emotional at times, and any criticism may hit you hard. Try your best to avoid being melodramatic and to not let old triggers pull you down, or wind you up. It's a time for cooperation with others, where healthy partnerships will serve you better than trying to push your own ideas forward without the backing of others. If you feel a bit wobbly at times, remember that meditation is a great way to calm the ego and focus on your soul. Let love be your guide—being kind, tolerant, and compassionate of others, no matter how wrong you might consider they are at times! Where romance is concerned, this month can see your connection with your partner deepening healthily, and if you're single this might well be a month where someone special comes into your life.
Personal Month 3 (Personal Year 2)
Now three quarters of the way through your Personal Year 2, the seeds you planted in your life last year are now starting to develop and sprout. October's arrival will likely see you feeling brighter and less sensitive than earlier in the year. 2 is the number of partnerships, and the 3 loves to see us getting creative, networking, and socialising. So, this month your relationships, conversations, and collaborations with others will be the driving forces which move you forward. Your independent nature from last year has likely calmed and developed to a place where you're now unable to move forward without assistance from others—and that's OK, that's what the energy surrounding you was encouraging! You might have found yourself waiting for others to undertake some action earlier this year, but any frustration you may have felt should be starting to melt away. As October opens up a highly creative energy, it gives you a sneak peak at the year to come when you'll step into your 3 year in January. If you're in a romantic relationship, this can be a very loving time with your partner, as your creative energy has your inspiration levels naturally running high—delightful date nights which lead to talking for hours on end are highly likely and enjoyable this month. And if you're not in a relationship, note this could be a month where you find your head turned and yourself opening up to a new love interest. Enjoy!
Personal Month 4 (Year 3)
After the social networking highlights of last month, October delivers the mission of rolling up your sleeves and putting your nose to the grindstone. You might feel that this month seems like all work and no play, deadlines or pressure from work most likely consuming you. But just know that this is a short sharp burst of intense energy, and is required for just a handful of weeks before November brings a change to your energy, which should lighten the mood as more opportunity for adventure opens up. Although the energy of the 4 month can make us feel frustrated or boxed in at times—as if there's no escaping the four walls that surround you— the 3 energy of your Personal Year should help to alleviate this somewhat, as your entire year encourages you to be creative and sociable. Try to look at the 4 energy as being a dependable, sturdy, reliable energy that can help you to push yourself forward, giving all your best efforts to move your work and life forward in the direction you want to go. Keep an eye on your finances, be practical, and note that it's definitely not a time for gambling any of your income. It's a time to manage your budgets wisely and plan for the future.
Personal Month 5 (Year 4)
After a lot of hard work and dedication given this year, this month should bring with it a significant change of some kind, giving you a sneak peak of the energy to come next year when you hit your 5 Personal Year. From a career perspective, this can be one of the most significant months you'll experience during your current 9 year cycle. Be bold, and make your well-thought out moves with confidence and conviction when opportunity arises. You may get a promotion this month, or find your game raised in an inspirational direction. The 5, by nature, loves a little play-time and adventure, but stay conscious that it can tempt us to over indulge in the physical world if we're not careful. Use this energy to blow off a little steam if you need to, but with the Personal Year of 4 continuing until January, it's likely that the reliable energy of the 4 will keep you somewhat reined in and focused on progressing your goals. Expect the unexpected this month, and do your best to keep centred—going with the flow with conscious flexibility will nurture the most positive outcomes. If you can travel and attend social events this month, it is well suited for your energy.
Personal Month 6 (Year 5)
It's likely you've already experienced much change in your life so far this year—the 5 year bringing with it some of the most significant change that you'll experience during this 9 year chapter of life. However, this month your attention will likely be drawn to your homelife as your family becomes your main focus. The 6 is the number of nurturing, so expect that loved ones may well depend on you more this month to care for them, and taking on extra responsibilities without umbrage will serve you well during this time. If things aren't shipshape at home, then dramas within the family may rear their heads to pull issues into focus so that their resolve can be found. If your romantic relationship is unhealthy, you could experience a break-up this month if that's what's needed. But regardless, your joy can be found in your relationships with your nearest and dearest. Focus on caring for others this month, with your 'mother-hen' hat on, but also don't forget to apply that same nurturing to yourself. The 6 month in our 5 year can inspire us to make healthy changes to improve our well-being—it's a great time to give up any unhealthy crutches you may have used in the past, and replace them with new activities which naturally raise your vibrational level. Any health problems experienced should now be starting to alleviate too. All in all, the energy you expend this month will set you up nicely for a much needed rest coming next month when you hit your 7 month in November.
Personal Month 7 (Year 6)
It's likely that this year your family and homelife have been consuming much of your attention. You may have found yourself getting married, or divorced, or having a new addition to your family arrive this year. The 7 energy of October brings with it a little respite from the merry-go-round, as it's calming influence encourages you to take some time out for yourself. As the autumn nights draw in, you may feel long soaks in the bathtub beckoning you to relax, or evenings on the sofa in your pyjamas calling your name. Don't feel guilty for taking time out wherever you can, the restful energy is just what you need to set yourself up for next month when the 8 energy will arrive, encouraging you to implement plans of some kind. Now is a time of inner healing, where you can work through past hurts—even if that brings with it feelings of sadness at times. Sitting with the sadness long enough to embrace it and then let it go will help you to move forward positively. Don't avoid your spiritual work by getting sucked into box-sets or movies on Netflix, instead invest some time (from the comfort of your sofa albeit!) in reading and researching subjects that will help your personal growth. This is a time for rest, recuperation, studying, and focusing on your spiritual self. You may well feel drawn more inward this month as you contemplate your life and where you're going. Whilst your 6 year focusing on your family still remains in play, use this time to take your foot off the gas pedal a little, and show your inner hermit some love as you shine your light on yourself and reflect upon your soul urges. Time spent in nature, connecting with mother Earth, will also serve you well as you contemplate your life.
Personal Month 8 (Year 7)
With three quarters of your 7 year now passed, you will likely have spent much of your time this year working on plans for where you want to take your future self, and how you can best move forward to harvest the fruits of your labour (which you've ploughed your effort into over the last 7 years). This October, the 8 energy, which loves to implement ideas, will bring with it a chance to significantly move forward in your career and offer a sneak peek into what next year will bring. It's time to be bold. Put forward your well thought out ideas with confidence and expect advancements to be made. Whilst the 7 year isn't typically a year associated with making money, the 8 month can bring with it opportunities for financial improvement. Be wise regarding how you invest your time, money, and energy, whilst still working on your big picture plans for the coming year. With your 7 personal year still in play until the end of December, ensure you still take time to rest, reflect, read, and contemplate your spiritual side this month—knowing next year will bring with it the opportunity to really make things happen. Gather your thoughts and resources during this time to make sure you're setting yourself up for the success you desire.
Personal Month 9 (Year 8)
It's likely that last month you implemented a significant plan or project of some kind—something that you've been working on for years has likely just come to the point of manifestation. And the harvest you're reaping is karmically aligned to the amount of energy you've input throughout the previous 8 years. Throughout October, your focus is now likely still drawn to that big investment of energy, however the 9 at play this month will be calling on you to refine your projects, drawing a certain phase to a closure by methodically dotting i's and crossing t's. The 9 energy encourages us to let go of aspects of our life which no-longer serve us, and it can be unsettling, but also seen as the start of finding release from dramas, relationships, or anything else which are no longer meant to be part of our path. You may find yourself reacting to people with high emotions, provoking those who you're closest to with confrontational behaviour as you test the strength of your relationships—so remain self-aware and conscious not to drop into any control dramas as you naturally review the people in your life and the relationships you have. Let go where you need to let go, and know that this period of closure is here for a reason, and it will continue next year as you wrap up this 9 year chapter of life and prepare for the evolved path opening up in just over a year's time. With the 8 year still in play, it's likely that your work life is consuming much of your attention, however the energy of the 9 felt during October is also creative, so any opportunity you have to be involved with arts and crafts will help you to find balance—using your hands to draw, paint, play music, sculpt, get creative with wood-work, or any tangible creation you can imagine will be cathartic at this time.
Follow the author Joanne-Louise Hardy on Facebook or Instagram to be kept up to date with the upcoming release of her exceptional debut novel, ANA, with foreword by James Redfield.