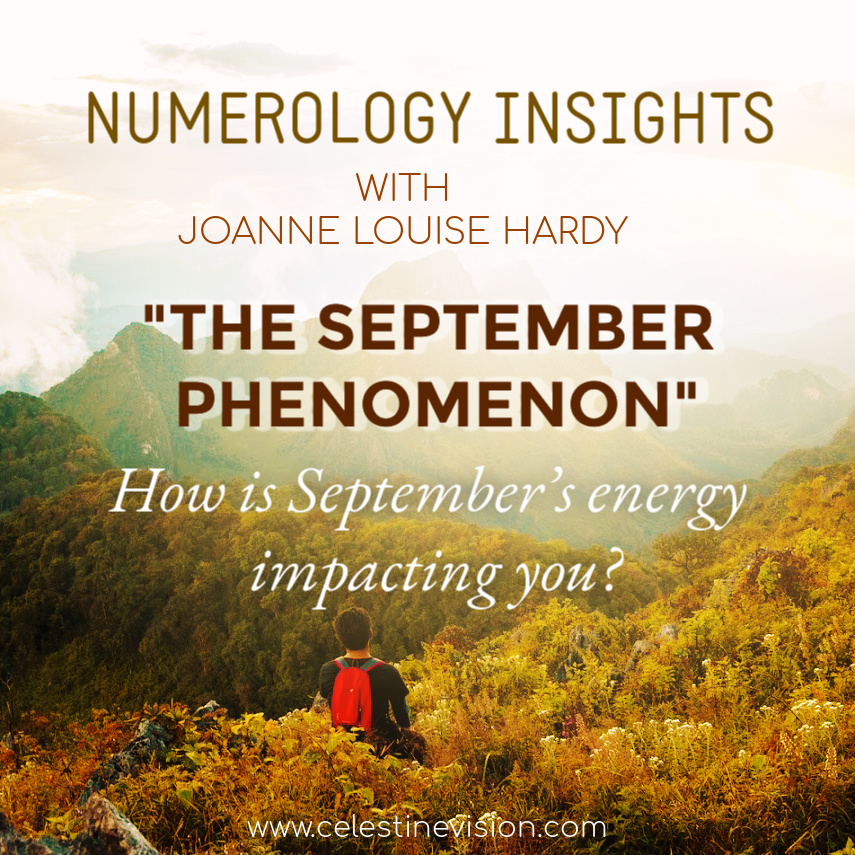 Have you ever come across Numerology? 
According to Numerological theories first explored by Pythaorus, the nature of human life is underpinned by a mathematical programming which flows around us, constantly influencing the energy and circumstances of our daily lives. Numerology suggests that numbers are much more than simple symbols used for counting, and that each number has a personality, if you will, and its own influencing energy. 
 By following a set of formulas which work with our date of birth and the letters contained within our birth name (for every letter has a numerical value), we can create our Numerology Birth Chart, which shows the key numbers that it says will impact us at varying levels, as well as the kind of life experience we are here to have. Plus, we can also use Numerology to anticipate what the future holds in terms of the energies that will come into play as our lives progress.
If you research Numerology or get a Birth Chart done, you'll find that it states you have one Life Path number, which is the number that bears the most dominance in your life. Then supporting this, your life is split into 4 key chapters, each of which will have its own influencing number attached to it. Within these life stages, each Year that passes has its own number associated, then, underneath our Personal Year numbers, each Month also has a number which changes sequentially as the year progresses. What we're therefore able to do with this information is to look at our Personal Year combined with our Personal Month, and build a reading for each month of the year—similar to horoscopes looking at how the stars align with our birth dates.
 I've been studying Numerology for seven years now, and since becoming aware of the energy of Personal Years and Personal Months, the relationship between life events and the forecasts made for me through Numerology have been phenomenal. And personally, I find there is great value in taking these readings seriously. They say that we can never know what's coming around the corner, and that's true, but if Numerology is the discovery of the mathematical coding that underpins Life (like the coding written into computer systems), then once we understand this code, we can have an idea of what opportunities are in store for us in the months and years ahead…and surely that's an exciting concept?
 What's prompting me to write this article now is that this month a phenomenon is occurring which happens every year in September, whereby our Personal Year number and our Personal Month number come into alignment for everyone on the planet—meaning that for this month, your Personal Month and Personal Year numbers are the same. What I find interesting about this is that September has offered us the prime opportunity to make real progress with the energies we're each meant to be focusing on this year—and our focus is sharpened, collectively, at exactly the same time. During September, your Personal Month number is amplifying the number of your Personal Year, which can bring about significant events and energies for us to work with. And the fact that this is happening for EVERYONE, makes this a very powerful month.
Which Energy Has Been Influencing You This September?
To work out your Personal Year number, add your Day of Birth and your Month of Birth, to the Current Year. So, if your birthday is the 1st January, you'd add 01+01+2020, and then reduce this number down to a single digit, so in this example we'd arrive at the number 6.
 Then, to work out your Personal Month, you take your Personal Year number and add it to the numeric value of the current month. So, again taking the example above, if you were born on the 1st Jan, and your Personal Year number is 6, to discover your Personal Month number for September, you'd add the number 6 to the number 9 (September being the 9th month). This would give us 15, and we'd then reduce this number down to a single digit, by adding 1+5, and we'd find the Personal Month number of 6. From this we'd learn that the 6, which is a number associated with family and nurturing, would be your key focus in life at this time. And whilst the whole year brings you events which focus on your family, it's likely that something key with the people surrounding you will happen during this month, and this is where you'll find your energy and attention naturally flows.
 As we experience a different Personal Year each year, running in cycles of 9, it's worth noting that this experience of this particular Year/Month alignment will only happen for you once every nine years. This month will give us 30 days of opportunity to discover what that energy has to teach us, during which we're offered a key learning, event, or growth stage—and it will take you 9 years to spiral forward to a place where you will receive this alignment again. 
 If you've never checked out your own Numerology Birth Chart, it's obviously an activity that I'd recommend—and I'm sure you wouldn't be bored by the results. Personally, I first chose to buy a book to study Numerology because I wanted to be able to define Birth Charts myself, and then I went on to further my research online. But a simple web search will provide you with easy access to Numerology basics to get started, and there are many sites with Numerology calculators to help you to define your personal numbers.
To finish off this review of what September has brought into the foreground for each of us, I invite you to determine the energy of your current Personal Year/Personal Month as a first step using the formulas above, and then let's take a look at the energies of each of the numbers from 1-9, and what they offer us. As we're now well into September, it can also be interesting to look back at what you've experienced in the month so far and see if it aligns with your reading, this way, you can try to affirm if there was any truth in the reading and feel out if it could be worth your time to take note of Numerology in the future.
Number 1:
The most independent of numbers, 1 brings us an opportunity for a new chapter beginning. It's a time for sowing the seeds for new ventures and focusing on new ideas. During September, it's likely that a significant new initiative will come into play for you. Let's not forget that you've been in a 1 year, all year this year, so it's likely that the months leading to now will have already been bringing forward new ideas and opportunities. But as we discussed, the amplification of the 1 month aligning with your 1 year suggests that this month is really a key time to be watching out for synchronicity and new ventures which raise your inspiration level. And remember, the seeds that you sow this year will be in play for the next eight years. They will need your time, energy, and attention in order to make a good harvest, but this is the time when you can really feel a new era arriving. Due to your independent focus, you may find yourself susceptible to being a little brash with others this month—it tends not to be a time when you can tolerate other people's emotions with your utmost grace. Be conscious of this as events and situations play out this month, and remember it always pays to be compassionate to those around you, no matter how focused you are on your mission and your perspective.
Number 2:
The number of partnerships and cooperation. This is a time when you will need to work with others around you in harmony in order to progress forward—it's not a time to force your will on others. Depending on what's happening in your life, you might well be feeling more sensitive than usual. If so, try not to take your feelings too seriously and remember that meditation offers us a great natural boost and an anchor to steady ourselves if we start to feel a bit wobbly. You might find some relationships are a little fragile this month, but if that happens just centre yourself in Love and offer Love to everyone around you. Watch out for your ego-traps that might pull you into lower emotions or trigger control dramas. However, if you focus on seeking to work in cooperation with others, being tactful, compassionate, and harmonising the relationships in your life, you should find this an enjoyable and successful month.
Number 3:
The 3 is a highly creative energy. It's the number that's calling on you this year to gain real enjoyment and satisfaction from developing your creative endeavours. A 3 year is also a great opportunity to network and to gain new contacts which can help to move you forward in your mission. It's a time which encourages us to give ourselves a bit of a makeover, to get a haircut, get a new suit, and spruce yourself up, ready to go out there and get them! In September, you'll find the energy of the 3 amplified in your life to a point where your communication skills will be at a natural peak. It's a great time to be social and to take enjoyment from your meetings with others. Your natural optimism this month will make you shine, and as you engage with others and uplift them, their elevated energy will come back to you, rewarding you with good karma.
Number 4:
Ooo the 4 loves to work us hard! This is a square, no nonsense number that encourages us to roll up our sleeves and get our nose to the grindstone. Practical, dependable, but often a number which frustrates us as we feel boxed in or trapped, unable to break out of the square as we feel we just go round and round and round. All work and no play might sum up how you feel. But don't fear, this energy is only temporary, and next year your breakthrough will come… which is only a few months away. September may bring an intense workload and timetable, but remember, it only lasts for 30 days, and in October the personal month of 5 should bring you a bit of relief to tide you over until January arrives and changes start to emerge. The positive of this month is that later you will reap the rewards of the intense effort you're ploughing into your endeavours now—and focusing your energy on work that inspires you will bring about your best results in years to come. Of course, managing your energy levels is important as you're called on to work hard, so it's a month to make sure that we eat healthy, go to bed at a reasonable hour and still take time to meditate at least once a day. Keep your own energy topped up, give your best efforts to your work, and later in life you'll look back and see how this hard labour set you up for success.
Number 5:
5 is a number which brings great change. It's a time when something happens that changes the course of your 9 year chapter, and puts us on a path to bring home the desired results in the final 4 years. It's a number which offers Adventure, and calls for you to be flexible in your life so that you can ride with the changes and adapt your energy so you can flow rather than struggle. If you thought you were going east, this year might show you the need to actually go west to arrive at your destination. It's also a number which loves us to travel, so any opportunity which takes us to new places should be taken with enthusiasm. The number 5 also really likes us to have some fun. It's a playful, sexy number, which likes to party—sometimes a little too much if we're not careful! And during September, with the 5 month amplifying your Personal Year, you should find that social events and romance feature highly on your radar. The 5 can often tempt indulgence in the physical world, so it's important to manage your energy well and remember moderation is key. Stay spiritually grounded and be careful not to overindulge in alcohol, sex, drugs, or rock and roll! Overall, enjoy the spirit of the 5 energy, go with synchronistic flow, and you should find yourself in an improved situation by the end of the month.
Number 6:
As we touched on slightly earlier, the 6 is the number focused on the family. It's a number which calls on us to nurture those around us and to give our love freely and without hesitation. This year, you might find yourself getting married, or maybe even divorced. As our energy focuses on our personal relationships, at times you may feel consumed by family-related events or happenings. But remember, this energy changes at the end of the year, so it's wise to accept responsibilities now without resentment—just be giving to others, and know that next year will be a year for rest, reflection, and recuperation. September amplifying this family-focused energy, will likely call upon your loyalty to others, and your relationships will be your highest priorities. Be generous with your time and energy, and remember Karma rewards a giving attitude. You might find you're forced to deal with legal matters at this time, but just go with the flow, take care of what you need to take care of, and you can look forward to a much needed rest period arriving next year.
Number 7:
Ok, so this is a year when the pace of life eases a little, and after a busy six years leading to this moment, the time has arrived to turn your attention inwards and to focus on yourself. It's a time of self-development at the soul level, where you can work on any inner healing you need to do, and grow stronger in the process. It's also a year for studying, reading, researching, and honing your skills. And whilst you might have been chomping at the bit to race ahead with projects, this year will enforce a time-out period, where you can consider everything you've been doing, and make sturdy plans for next year, when your time will come to reap what you've sown. If you don't make time to rest, you may well find the Universe finds a way to make you slow down. And in September, the amplification of the 7 energy is key. You likely won't be able to avoid the need to focus on your spiritual self. Remember, this 7 year and 7 month only comes around once every 9 years, so this month, make the most of the energy to focus on finding ways to heal yourself, to raise your spiritual vibration, and everything you do in the coming years will benefit from this grounded centredness that is yours for the taking this month. You may find yourself wanting to spend more time alone this month, but you can assure your loved ones that it's you, not them that is causing your inner hermit to come into play. It's a time to seek to connect with the Light, to strengthen your energy, whilst also giving reflection to all aspects of your life. And despite your need for time alone to figure things out, romance can do surprisingly well in this period as you naturally desire deep and meaningful conversations with your partner, and your bond can strengthen through intimacy. Spending time in nature can also be particularly beneficial this month. It's a time to connect with the Universe and to find your centre with loving grace.
Number 8:
Ready, Set, Go! 8 is a number which loves to see us implement our plans. As the 8th year in a 9 year cycle, the seeds you planted in your 1 year now come to harvest. Now, just how bountiful your harvest is depends directly on how much effort you have applied to your endeavours in the prior years. But if you took advantage of last year's encouraging energy to make plans, then you already know exactly what to do and how to put actions in motion. With September's energy amplifying the 8 in your chart, this month has the ability to bring financial gain and advancement in your career. You are starting to approach the closure of a 9 year chapter in your life, and you may well have ideas in mind about what the following chapter will bring, but now is the time to focus on matters in hand and to bring things to fruition. The number 8 speaks to us on a material level, but remember that our inspirations should run deeper than just the desire to make money. It's a time to go forward with initiatives that lift your spirits and propel you forward in your mission.
Number 9:
The 9 is a number which gives us closure. Events of the previous 8 years now need attention—I's dotted and T's crossed—so that you can clear the path for a new life chapter of 9 years beginning in January. You've got 3 months left of this year, so during September, the 9 energy of your personal month is encouraging you to bring things to a natural close. It's likely that your desire for change is running high as you sense a new chapter in life approaching. You might feel a little shaky at times, but the 9 encourages us to let go and to flow forward, releasing any aspects of life we've outgrown. You can find a need to clear the cobwebs both literally and metaphorically. Make space for new by letting go of the past. You might be considering leaving a job, or even ending a relationship, and if so, these will be dominating thoughts to work through. However, now is not the ideal time to begin anything new, rather it would be prudent to wait for the new year to roll around before commencing any new initiative.  The 9 is also a number which calls on us to be of service to humanity, so anything that you can be involved in at this time which benefits others should, in return, serve you greatly as time goes on. The 9 is also appreciative of the arts, so if you need a little time out, consider getting creative with painting, music, theatre, sculpting, etc to naturally raise your energy in an enjoyable way.
I hope you've found this an interesting experience and that this month brings you synchronicities and key opportunities for personal growth.
Until next time,
Joanne-Louise.
Follow the author Joanne-Louise Hardy on Facebook or Instagram to be kept up to date with the upcoming release of her exceptional debut novel, ANA, with foreword by James Redfield.