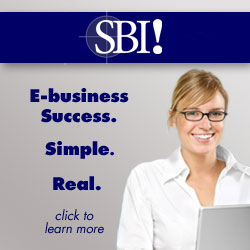 When I first set out to learn about website development and online business, Site Build It, was where I began. If you are considering a website business, they will walk you through the process of determining your goals and helping you achieve them. This program is a beautiful place to start.
Site Build It, popularly known as SBI, is a truly unique and comprehensive method that can be implemented, operated and maintained by anyone, whether you are an individual or the owner of an established small business. This all-in-one, step-by-step system will help you develop a successful, thriving business without ever needing to invest in anything more.
Other products and systems that imply they can help you create an online business, are nothing more than site-building or blog building tools, and neither of these is enough to establish a successful business. SBI not only gives you the tools but also provides you with a reliable process, timely updates, and helpful guidance as you walk along the path to attaining your dream.
Building a website or blog is one of nine steps in developing an online business, but other software systems only assist you with one or two of them. With SBI, you will have more than 80 tools at your disposal, and their support is available 24 hours a day, seven days a week. In addition, you will be taught all of the following:
• How to prepare your business
• How to obtain visibility on search engines
• How to build traffic in the top 1 percent
• How to get your visitors to spend money
SBI Teaches You How People Use the Internet
When you take a look at profitable online businesses, you will notice that they all have one thing in common: They operate according to the fundamentals of online behavior. SBI uses this simple principle to your advantage, while allowing you to focus on establishing a thriving business through a process dubbed CTPM.
CTPM is an abbreviation that represents SBI's proven method for building an online business:
• Content – Most people using the Internet are seeking information that provides one or more solutions. They are oblivious to you and your company, but they may be attracted by your knowledge and the information you can provide. It is up to you to turn your knowledge into website content, and the right content will earn you high rankings in search engines, such as Google and Bing.
• Traffic – When your targeted content ranks high in the most popular search engines, you attract visitors with no advertising costs. It doesn't get any better than this. As a whole, your website visitors are known as traffic, and you will learn how to generate it by using your primary website, mobile websites and social media (such as Facebook and Twitter).
• Presell – Once you have attracted a sufficient number of visitors, you will want to presell them in order to build confidence and trust in you, your information and your business. This is accomplished by delivering what they are seeking, which is original, relevant content, in quantities much higher than they require. Confidence and trust can then be reinforced by interacting with your prospects through social media. The best part is that you will do all of this in your own voice and style. In doing so, your visitors will begin to feel they trust and like you, not only as an expert in your field, but also as a person.
• Monetize – The final step is to convert your presold visitors into paying customers. When the first three steps are done correctly, the monetization step becomes the easiest of the four. Unfortunately, this is where most businesses falter and, ultimately, fail.
Content, traffic, and preselling can be thought of as the collective engine that takes you to monetization, and SBI is like the GPS navigator that gets you there. SBI teaches you how to develop multiple streams of revenue simultaneously. Rather than focusing on one source of income, like most small businesses do, you can diversify to maximize your profit and potential for growth.
SBI is a Guide To Your to Success
Most site-building tools disclose that they are quick and easy and will list your new website on all of the major search engines. But only SBI uses the CTPM strategy that has been proven to steer many to success. You can pay $10,000 or more to build an appealing, functional website only to have it fail in inactivity, incapable of generating targeted visitors ready to buy your products or services.
While it is true that millions of people search the World Wide Web every day, it is still a big place, and no one will simply wander onto your website. Not until you build a road that leads directly to it. One mistake that many who are new to the online business world make is to believe that people will be searching for it. The fact of the matter is that no one is looking for you or your website. They don't even know you exist. This is why CTPM is so important.
SBI includes the entire process of bringing an online business to monetization rather than concentrating only on the website. Before you can make money, you have to presell your visitors. Before you can presell your products or services, you have to generate traffic. In order to generate traffic, you have to provide content. You can't reach the all-important monetization stage without going through the complete process.
Site Build It Provides Everything You Need
SBI is a content platform, such as WordPress and Joomla. When you enter the program, you are provided with everything you need to build a profitable online business:
• Action Guide – The Action Guide is your step-by-step manual that leads you through the system. It is available in a written format for your computer or mobile device and as a video.
• Timely updates – SBI is constantly evolving and being updated to make use of the latest information and technology, which ensures it is always on the cutting edge.
• Preparation – Brainstorm and other tools help you find a niche and create relevant content.
• Site building and management – Build a working website with domain name registration and website hosting.
• Traffic building – A robust package of tools helps you generate traffic to your website.
• Trust building – Build trust through blogging and social media.
• Monetization – Generate multiple revenue streams.
• Support – Take advantage of a full suite of support options.
In my opinion, Site Build It is the most comprehensive and efficient system for learning and developing a profitable online business available today.
Visit The Site Build It Website http://www.sitesell.com
---