Monthly Astrology
Read how the movement of planets, New and Full Moons, Mercury Retrograde, Eclipses, Void of Course Moons and other fascinating nuances of the stars affect your sign; astrological tips for when to move forward with opportunities and when to stay put.  See The Signs of the Times below and more about Albert Gaulden.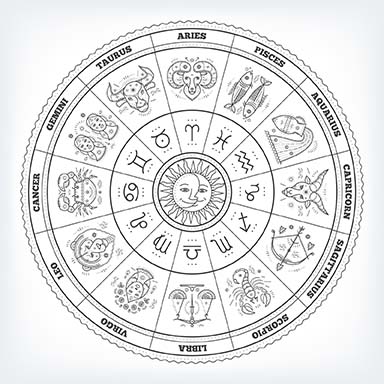 Click On Your Sign For Your Monthly Horoscope
The Signs of the Times
by Albert Gaulden
Passover starts on April 20. There will be a New Moon on May 4 at 14 degrees of Taurus. This lunation affects all Taurus and has a minor effect on other Earth Signs, Taurus and Capricorn as well as Water Signs, Cancer, Scorpio, and Pisces.
There will be a Blue Full Moon on May 18 at 27 degrees of Scorpio. There is a warning for Scorpio specifically as Full Moons signal the end of the matter. It can mean the end of a personal relationship or a transition in one's career. 
Jupiter is still retrograde in Sagittarius, and Saturn and Pluto retrograde in Capricorn. Retrogrades in these signs lessens the affects that the planets in their signs has on those with these signs prominent.
We are in the warm-up time period before the Presidential Election in 2020. Pay close attention to not only what candidates are saying but what they are not talking about. Use your intuition and be as open minded as you can be to elect someone who really cares about all the people all the time.
Founding Director, the Sedona Intensive(TM) Astrology has been dated to at least the 2nd millennium BCE with roots in calendrical systems used to predict seasonal shifts and to interpret celestial cycles as signs of divine communications. As an intuitive therapist using Jungian constructs to counsel clients, I look at planets in signs in Angulation and other configurations as a celestial GPS or a sky map.
All of us travel the same highway, but our past lives distinguish what challenges we have that differ from someone else in the same sign. And as in the School of Life on Earth we are not all in the same grade.
Our attempt will be to bring weekly astrological information in the vernacular of millennials. The term or designation, millennial, refers to a generation born from the early 1980s to late 1990s that believe in a coming millennium, as of prosperity or justice.
Astrology does not follow the Gregorian calendar but rather aspects are given according to when the Sun moves into the subsequent Sign. With each sign's forecast, we will let you know when the Sun moves into the various signs of the Zodiac.
These daily horoscope entries are general aspects for all of us. To get specific insights about your personal astrological birth book a private astro-intuitive sessions on Skype or to inquire about the Sedona Intensive program please contact info@sedonaintensive.com or call 928-301-0780.
Important News Flash! 

Five Days that will Change Your Life- Find Out Who You Really Are… Discover Your Authentic Self
Click HERE  to see this program and all of the services available by Albert Gaulden. 
or call 928-301-0780 or email  info@sedonaintensive.com.
Copyright © 2019 Albert Clayton Gaulden